Here's Who Jarrod Schultz Is Dating Now Since His Split With Brandi Passante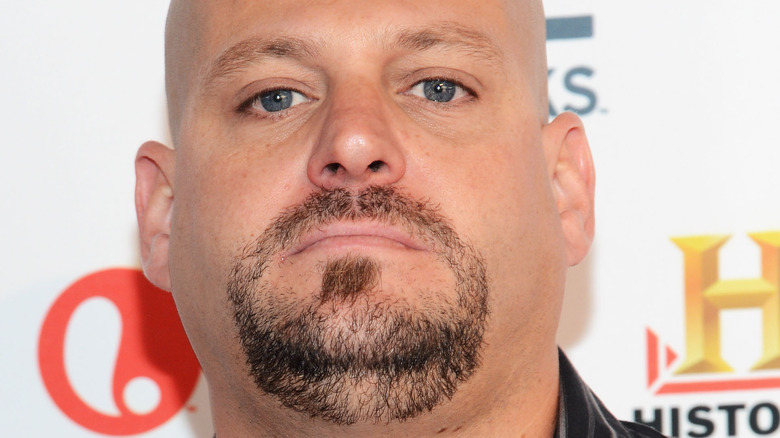 Jason Kempin/Getty Images
Jarrod Schultz and Brandi Passante were a fan favorite couple on A&E's "Storage Wars." The former betrothed duo owned the California thrift strore Now and Then, and fans just couldn't seem to get enough of seeing them together, so much so they got a better glimpse at what life was really like for the reality stars and parents of two kids (named Cameron and Payton) in the spin-off "Brandi & Jarrod: Married to the Job," which first aired in 2014. But while they may have been married to the job, they were never officially married to one another, and things sadly fizzled for the longtime couple.
During the Season 13 premiere of "Storage Wars," which aired in August 2021, it was revealed that the two had split — and quite a while ago too. The former couple had actually gone their separate ways around two years before the big announcement (how did they keep that such a secret!?) with both confirming it was officially over on the show. They made it pretty clear they weren't together anymore, with both turning up to an auction separately as Schultz (who left the reality show later that season) explained (via People), "Just because me and Brandi aren't together anymore, doesn't mean we can't go to an auction — but separately."
But what's going on with Schultz's love life today?
Jarrod Schultz moved on with Rochel Beckman
It seems Jarrod Schultz has very much moved on from his romance with Brandi Passante. The reality star appeared to go public with his girlfriend back in January 2020 when he shared a photo on Facebook of himself cuddling up to his new love, Rochel Beckman, during a trip to Disneyland. The two rocked sunglasses during their sunny vacation, while Schultz told fans he was "feeling happy" with his new love.
It seems the two are still going strong, too! Schultz later began sharing photos with Beckman on Instagram to introduce his new love to his 61,000 followers, including posting a photo of the two during a trip to a spa in June 2021 as he tagged his girlfriend's account on the post. He then followed up with another photo of himself and Beckman in May 2022. That sweet snap showed Schultz smiling from ear to ear in a selfie with his love of at least a couple of years, though he didn't tag Beckman's Instagram account (which is set to private but does feature a filtered snap of herself and Schultz as the profile image) and left the caption empty. Not everyone has moved on from his days with Passante though, as plenty of fans took to the comments section to remind Schultz of his former love. "[Brandi] n you were great pair. Patch up with her and get back to the show," one fan commented, while another asked, "Where is [Brandi]?"
Rochel Beckman gushed about her romance with Jarrod Schultz
Though Rochel Beckman's Instagram account is now set to private, it turns out she has a few sweet posts for her boyfriend, Jarrod Schultz, hidden behind her privacy wall. According to TV Shows Ace, Beckman has posted about the "Storage Wars" star on Instagram on at least one occasion, gushing in an upload shared back in December 2019, "It's crazy how much happier life can be when you are appreciated and cared for the way a person should be." She's also posted a number of loved-up snaps with her man on Facebook, including upload a seriously cute snap of the two at a gig, which she uploaded in December 2020.
As for what else you need to know about Beckman? According to her Facebook (where her profile picture is another sweet photo with Schultz), she studied at Concordia University Irvine and appears to be from California, as she attended El Toro High School in Lake Forest. Beckman is also a grandmother, as she shared an adorable photo on the social media site in March 2022 showing her planting a kiss on her baby granddaughter's face. So cute!