Ricky Martin Reveals How He Met Husband Jwan Yosef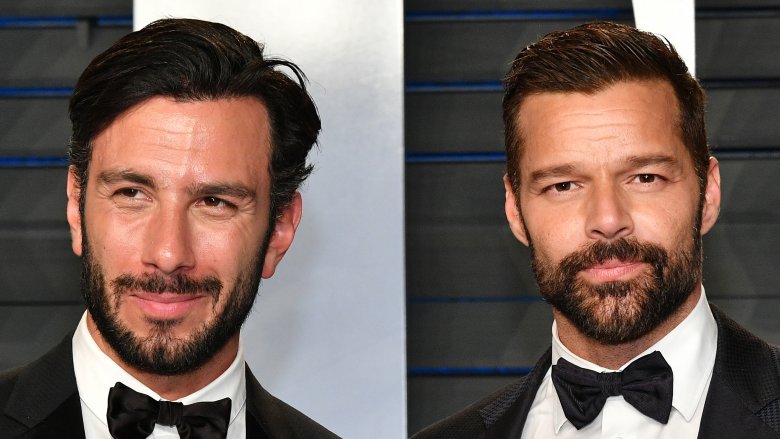 Getty Images
Ricky Martin is opening up about his real-life meet-cute.
During an interview with Attitude, published on Thursday, March 29, 2018, the Assassination of Gianni Versace star revealed how his relationship with his husband, contemporary artist Jwan Yosef, began when they met online.
"I contacted him, and we talked for six months. We were just sending messages, talking about life and existential issues," the "Livin' La Vida Loca" singer began. "Nothing sexy, nothing sexual. It's not that he was sending me sexy pictures and vice versa, I swear." 
Martin, who is father to 9-year-old twin boys Matteo and Valentino, added, "But when I first saw him, I said, 'I am going to marry this guy.' And apparently, he said exactly the same thing. Obviously, he only told me this, later on, you have to keep it to yourself at first! But I lost my breath when I saw him. Six months' build-up and it was very romantic."
He went on to say that he hopes their visibility as an out and proud gay couple will serve as an inspiration to people around the world. "We love it! It's not even for us; it's for our kids," Martin explained. "It's for my kids to look at us on that red carpet and say, 'Ah, those are my daddies, how cool!' And to boost my children with self-esteem and let them understand how amazing it is to be part of a modern family."
"We know that we carry this flag and if we're going to carry this flag, let's sway this flag really loudly. Because at the end of the day, we're proud of who we are," he continued. "Just being visible is a lot of help. That's my activism. Every time I post a picture of me and my husband on Instagram, that's my activism. And we'll keep fighting."
As Nicki Swift previously reported, Martin, 46, confirmed that he and Yosef, 33, had gotten married in January 2018. "I'm a husband, but we're doing a heavy party in a couple of months," he told E! News at the time. "We exchanged vows, and we've swear [sic] everything, and we've signed all the papers that we needed to sign, prenups and everything."
He added, "It feels amazing! I can't introduce him as my fiancé. I can't. He's my husband. He's my man."