Jane Fonda Can't Stop Gushing About Meeting Tom Brady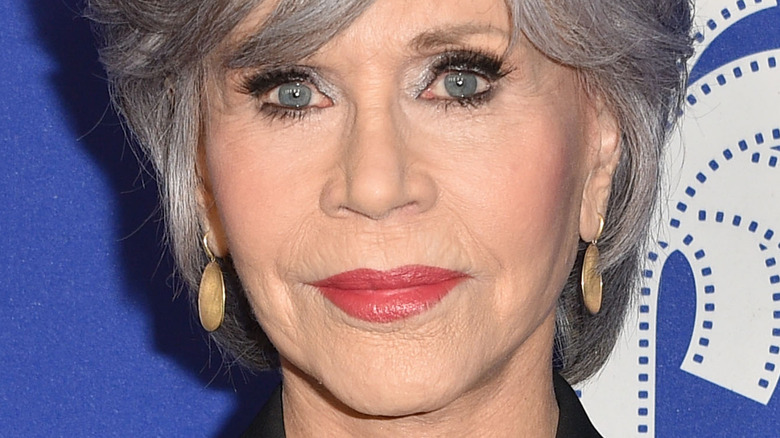 David Crotty/Getty Images
Jane Fonda has undoubtedly become one of the most legendary actors in Hollywood. The "Grace and Frankie" actor truly got her start in acting in 1960 when she starred in the film, "Tall Story," per IMDb. From that point on, Fonda's career only took off. She has received two Academy Awards for her work in "Klute" and "Coming Home," and those barely scratch the surface of her ground-breaking film career. And we can't forget the iconic workout videos that sparked the at-home aerobics trend. Besides her work on set, Fonda has also become an activist behind many important causes. She has solidified herself as one of the best in her profession and some may even call her the G.O.A.T –- greatest of all time.
With such a marvelous career it's hard to believe the actor would get starstruck by anyone. However, Fonda is just like us and is aware of the incredible impact Tom Brady has had on football. Similarly, Brady is known by many as the G.O.A.T. due to his career. According to SportsSkeeda, Brady has won seven Super Bowls, five Super Bowl MVP awards, and three NFL MVP awards. His impressive career as a quarterback has left its mark on the sport and apparently on Fonda as well.
Although it seemed unlikely the two celebrities' paths would cross, fate had other plans. This is because the two legends are set to star in the upcoming film "80 for Brady."
Jane Fonda weak in the knees for Tom Brady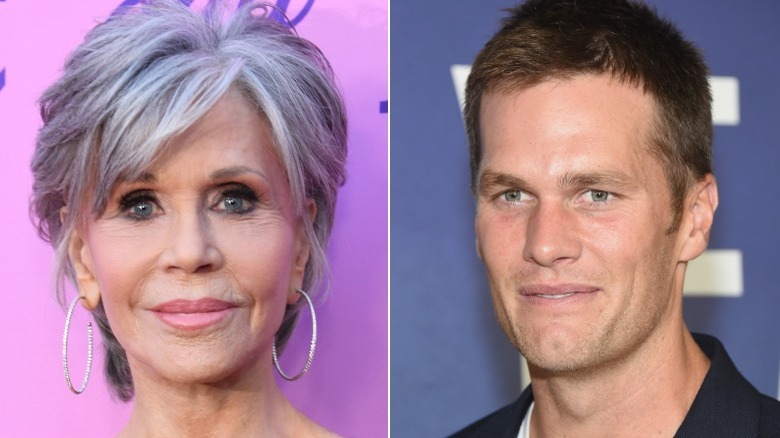 Jon Kopaloff & Michael Loccisano/Getty
"80 for Brady," is a true story about four older friends who decide to take a once-in-a-lifetime trip to see Brady play in the 2017 Super Bowl. During filming, Jane Fonda had the opportunity to meet football star, Tom Brady. The "Barbarella" actor had nothing but nice things to say about the Tampa Bay quarterback, per Extra TV. Fonda said, "I mean he is the G.O.A.T. I was awestruck to tell you the truth. I really was ... my knees actually started to give way." Fonda talked about how amazing Brady is and said the football player is "gorgeous." The actor was even surprised at how humble he had been, knowing how big of a star he is. Although she told the interviewer she's not a football fan, she still recognizes Brady's talent. She said, "I've watched Tom Brady play, and it's just jaw-dropping. I know enough about it to truly admire it."
Brady appears to have a mutual feeling for Fonda and the other ladies in the film, per People. He said, "The opportunity to work alongside these four amazingly talented women has truly been a once-in-a-lifetime experience," he continued, "Not only are they true professionals and experts at their craft, but they are even better people, and it was an honor to be on set with them." Brady shared his excitement for people to see the upcoming film that will be released in February 2023.