The Truth About Jane Fonda And Tom Brady's Relationship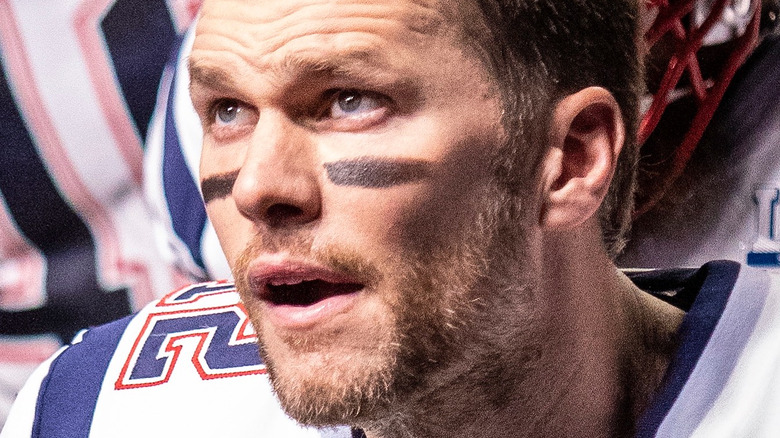 Arturo Holmes/Shutterstock
Despite keeping us guessing about his retirement status, Tom Brady is definitely working on his post-NFL career. It's still unclear exactly when "post-NFL" will begin, as Brady changed his mind about his retirement, but there are certainly things in the works.
There was much speculation during 2022's Super Bowl LVI with people wondering whether or not Brady would, in fact, retire. In a February 1 Instagram post, the Tampa Bay Buccaneers quarterback gave his answer, stating, "I am not going to make that competitive commitment anymore," and that he would be retiring from the NFL "to focus my time and energy on other things that require my attention." As far as what those "other things" might be, Brady mentioned the companies he co-founded, like his Brady clothing company and his fitness company TB12, and his desire to "spend a lot of time giving to others and trying to enrich other people's lives." He also mentioned his family, wife Gisele Bundchen and his three kids, thanking them for their support, but said he would take things "day by day."
Well that announcement didn't last long — 40 days, to be exact. Brady tweeted on March 13 that he would be returning for the Buccaneers' new season despite some of the reasons Bundchen was happy for his retirement. But he's still working on some non-, or at least tangentially-related football projects, including a film with none other than Jane Fonda. So, what kind of relationship does Brady have with the beloved actor?
Tom Brady has a budding friendship with Jane Fonda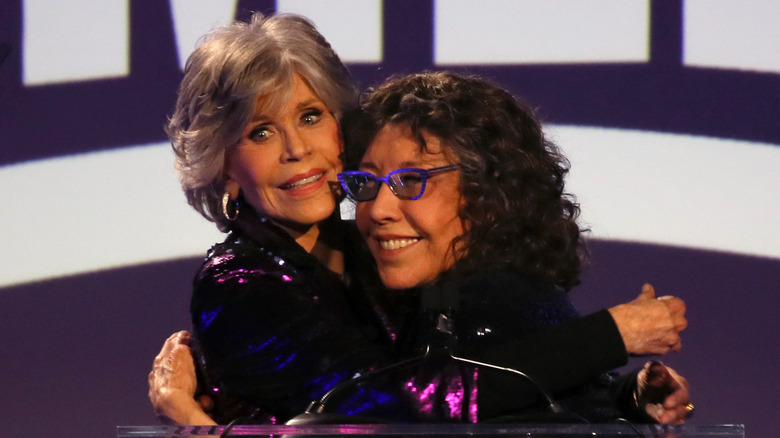 David Livingston/Getty Images
In addition to the many potentially lucrative television projects being thrown at Tom Brady since his "retirement," one project he said yes to is a new film with an all-star cast. Brady will produce, with his company 199 Productions, a Paramount film called "80 for Brady," according to The Hollywood Reporter. He'll also appear in the film, probably as himself — a role he's played onscreen a few times before. Jane Fonda, Lily Tomlin, Rita Moreno, and Sally Field star as real-life-inspired, 80-something New England Patriots fans who take a road trip to the 2017 Super Bowl.
Though Brady and Fonda haven't met IRL yet, Brady sent the Hollywood icon a bouquet of flowers as a way of starting a budding friendship with the star. (See what we did there?) "He sent me a humongous thing of orchids because I had my shoulder replaced," Fonda told People when she co-hosted with Tomlin at the latest Lo Máximo Awards fundraiser for Homeboy Industries on March 12. "I think it's going to last forever ... the shoulder and the orchids."
Tomlin, who appears with Fonda in "Grace and Frankie," as well as in their brilliant 1980 comedy, "9 to 5," said Brady "phoned [Fonda] to tell her he was trying to make a movie about them," calling it "just really delightful to see." "It was wonderful ... we look like your typical Tom Brady fan." She also joked about wanting her own flowers: "I'm gonna get my shoulder replaced so he'll send me some."