Tom Brady's Comment On Retirement Leave NFL Fans Scratching Their Heads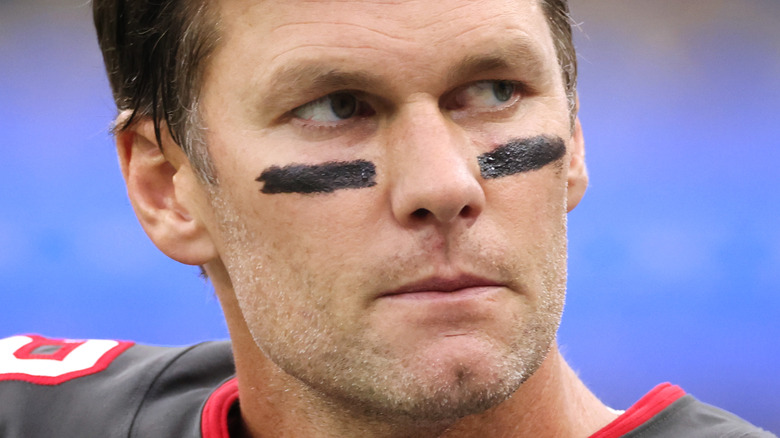 Harry How/Getty Images
Tom Brady is undeniably an NFL legend. After his debut in the league in 2000, Brady spent 20 seasons with the New England Patriots, where he earned an astounding six Super Bowl wins. Brady then became a Tampa Bay Buccaneer in 2020, leading the team to a Super Bowl win in 2021. Football superfans have long argued over Brady's status as the Greatest Of All Time, and Brady himself has been known to humblebrag about the GOAT title. "I would say, 'OK yeah, I've won a lot of games, Super Bowls and so forth,'" Brady said on "The Shop," per Sportscasting. "But my style of play might not fit everybody else's, what their view of what that position should be." As Brady's hands get heavy from wearing so many Super Bowl rings, many are wondering about his expiration date in the NFL.
Brady, who celebrated his 44th birthday in August 2021, is in the spotlight after the Bucs suffered a devastating 30-27 loss to the Los Angeles Rams on January 23. The heartbreaker game saw Brady receive an unsportsmanlike conduct penalty for arguing with an official over a hit that led the superstar quarterback to suffer a bloody lip, per CBS Sports. The dramatic victory for the Rams effectively shut out Brady's shot at an eighth Super Bowl ring this year, which has led retirement rumors to swirl for the aging athlete. However, Brady opened up about his future with the NFL after the game — but his comments leave little in the way of actual answers.
Tom Brady's future in football is unclear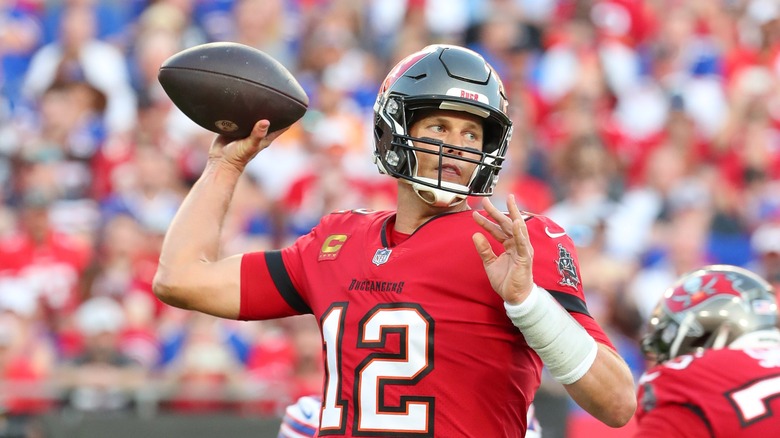 Steve Jacobson/Shutterstock
Tom Brady revealed that he is still undecided about returning to the NFL after the Buccaneers' divisional loss to the Rams. "I haven't put a lot of thought into it," Brady said of retiring at the Buccaneers press conference. "So, we'll just take it day by day and kind of see where we're at." Brady continued, explaining that returning to the 2022 season wasn't on his mind in the heat of gameplay that evening — rather, he was "thinking about winning" only. "I'm not thinking about anything past five minutes from now," he said of his headspace before the Rams' victory.
Brady's current contract with Tampa Bay is set to run through the 2022 season, according to Forbes. Meanwhile, the star quarterback has previously expressed playing in the league until age 45. "I felt for a long time, I could play until I was 45 years old," Brady said on an episode of SiriusXM "Town Hall" in July 2021. "I think I committed to say, 'Hey, I'm going to play till I'm 45.' And this year I'll be 44, which naturally takes me to the next year. I've got a two-year contract. We'll see what happens beyond that." In August 2021, Brady said he will "know when the time's right" to hang up his jersey. "If I'm not a championship-level quarterback, then I'm not gonna play," he said, per NBC Sports, before teasing his career wasn't over. "But if I think I can win a championship, then I'll play."
Tom Brady may 'keep going' in the NFL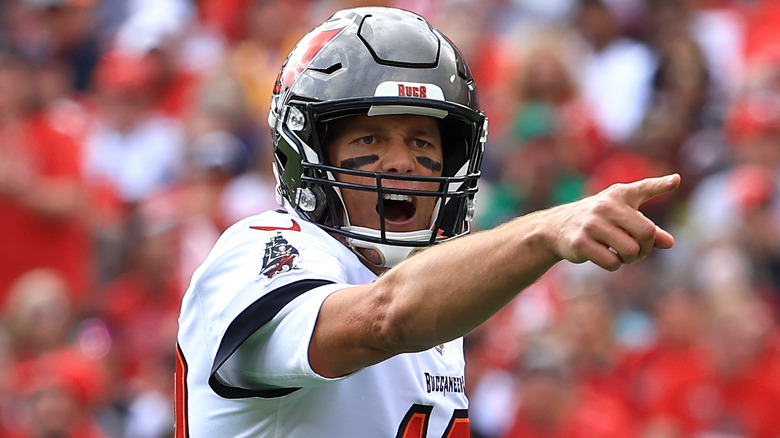 Mike Ehrmann/Getty Images
While retirement isn't totally off the table for Tom Brady, the legendary football star is known to defy expectations. Brady's company, TB12 Sports, teased on Twitter after the Buccaneer's loss to the Rams that Brady's reign wasn't over just yet. Tom's company offered a message about picking oneself up after falling. "Now we look back on an incredible season, learn our lessons, and get up... because even greater things are coming," TB12 tweeted, adding the hashtag #KeepGoing.
Brady said on Hodinkee Radio in May 2021 he has "a lot to give" before the end of his career, per Fox News. "I think there's a lot of time and energy still focused on being a great quarterback, that when that's done, although I'm a little fearful of it ending, I am open to the belief that there will be a lot of opportunities for me to do things that I haven't had a chance to do, that I really think I can help a lot of people," he said of his future plans.
Brady will ultimately keep fans guessing his next move as he remains publicly undetermined about what's to come. "I really think I can play as long as I want," he told sportscaster Andrea Kremer in October 2021. "I could literally play until I'm 50 or 55 if I wanted to. I don't think I will obviously... my physical body won't be the problem." Brady added that his family life will determine his final NFL season.