Diana Jenkins Declares Her RHOBH Fate Ahead Of Season 13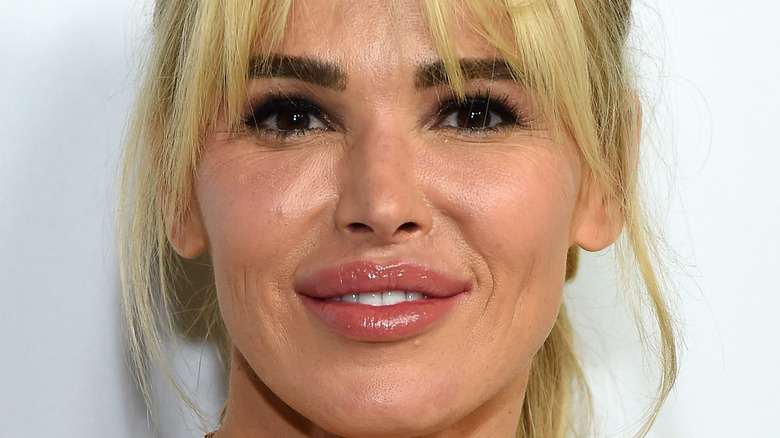 Michael Kovac/Getty Images
It's only been a couple of months since the dramatic Season 12 finale of "The Real Housewives of Beverly Hills," and we're already seeing monumental shakeups to "RHOBH" Season 13. First, Lisa Rinna announced that she would be leaving the show after eight seasons, according to People — the biggest cast-member exit for the franchise since Lisa Vanderpump's bombshell departure in 2019. Now Diana Jenkins, who made her "Real Housewives" debut in season 12, has made an announcement about her own future on the show. 
Jenkins didn't have the most successful freshman season as a Real Housewife that we've ever seen, and soon became best known on internet fandom circles for just two things. One was her unrelenting (and at times baffling) dislike of cast-mate Sutton Stracke, and the other was her habit of frequent lip-licking. One typical tweet reads, "sending Diana Jenkins a cease and desist to stop licking her lips."
Honestly, how is one supposed to follow up on a reputation like that?
Diana Jenkins is exiting 'RHOBH'
Randy Shropshire/Bravo
Well, it looks as if Diana Jenkins has lip-licked her last as a cast member on "The Real Housewives of Beverly Hills." In a statement published in People, Jenkins announced that she would not be returning to the show for Season 13. "As many of you know, Asher and I are expecting our second child later this year. You also know that due to many factors, this pregnancy is considered high risk and I am on doctor-advised bed rest," Jenkins said in her statement. "To that end, I am not able to devote myself fully to filming the next season of 'Real Housewives of Beverly Hills.'"
It was, in fact, the issue of Jenkins' recent miscarriage during Season 12 that caused her first major dust-up with Sutton Stracke, so we can understand why she'd be reluctant to put her current pregnancy under more stress. At the same time, pregnancy or no pregnancy, many fans of the show were less than surprised that Jenkins decided not to return for another season. "Diana Jenkins you were never coming back to #RHOBH pls stop acting like your pregnancy is why you aren't filming," one fan tweeted. "Today in least shocking news ever," tweeted another. 
We're sure someone will miss seeing Jenkins on the show, we're just not sure who or where that person is.