Diana Jenkins' Vulgar Comment To Sutton Stracke Has Fans Disturbed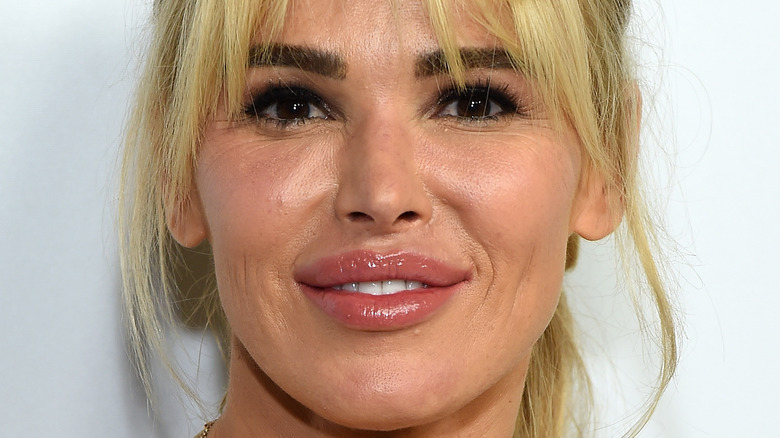 Michael Kovac/Getty Images
Diana Jenkins and Sutton Stracke are beefing for the nth time — and once again, nasty words were exchanged.
Their feud started when "The Real Housewives of Beverly Hills" went on a trip to Punta Mita, Mexico, where the two got into a heated argument. Stracke made Jenkins cry when she shouted at her because she felt Jenkins refused to hear her out. When Stracke attempted to apologize weeks later at Garcelle Beauvais' birthday party, it seemed that their beef had gotten much worse. "You're phony. You are the fakest person I've ever met in my life, literally," Jenkins told Stracke at the time (via People). "By the way, also, you're boring. I could forgive everything. I can't forgive being boring. You are really boring." Stracke couldn't tolerate the jabs, prompting her to tell Jenkins she was a "soulless person."
In the 12th episode of Season 12, eagle-eyed fans also noticed that Jenkins gave Stracke the finger, albeit subtly when they were having lunch. "Anyone catch the sly bird Dianughhh threw at Sutton?" a fan questioned on Reddit, along with a snap of the apparent flip-off.
It's been weeks of endless drama between the two, and it doesn't look like it will end anytime soon.
Diana Jenkins called Sutton Stracke the C-word
In a shocking swing of things, Diana Jenkins and Sutton Stracke's feud reached a whole other level when Jenkins called Stracke the C-word during their trip to Aspen.
In the video posted by an "RHOBH" Instagram fan account, "Real Housewives News," a clip from the trip showed the whole incident, which garnered varying reactions from the rest of the cast. Stracke said, "I haven't heard y'all say one thing about her [Jenkins] calling me c***." Lisa Rinna then asked, "Why do we need to?" To that, Jenkins responded, "Because you are one." Some of the cast, like Erika Jayne, burst out in laughter, while some displayed disgust, like Crystal Kung Minkoff. It was only Garcelle Beauvais who expressed disappointment verbally. "Did you just say that? Diana, that is not okay," she said.
Meanwhile, fans did not hold back in sounding off their thoughts in the comments "Diana is the definition of money can't buy class. I hope she doesn't come back next season!!!" one fan commented. "Fire Diana already," another chimed in.
It's unclear what Bravo would do to Jenkins, but Kyle Richards once said that she feels bad about the hate her castmate is getting — claiming that Jenkins is nicer in real life. "I just feel bad when someone's new," she told Insider. "And I'm like, 'Oh my gosh, you signed on to do this, and you're just being dragged, and these people have never met you.'"