Donald Trump First Met Melania When He Was Still Married To Marla Maples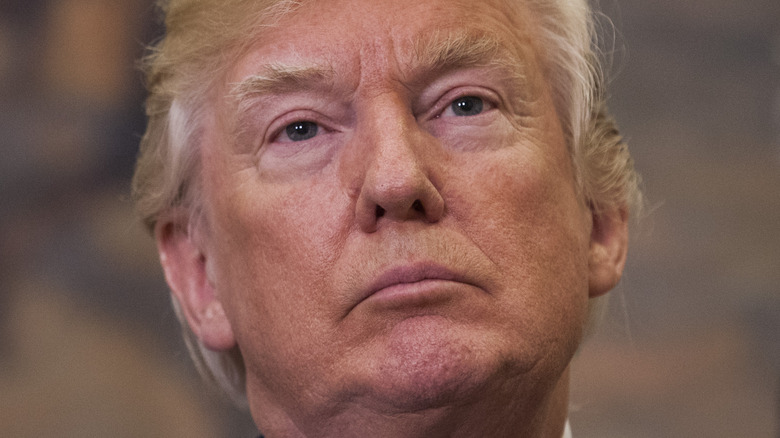 Pool/Getty Images
What is there to say about Donald Trump's marriage that has yet to be said? It turns out a lot — because Trump has had a lot of marriages. Three, to be exact. Currently, Trump is happily married to former lingerie model Melania Trump, whom he's been with since the '90s and with whom he shares one son, Barron. However, Melania is just the third wife in a long string of lovers. 
Back in 1977, Trump married the late Ivana Trump, a former professional skier from then-Czechoslovakia. Donald and Ivana had what would likely become one of the messiest divorces in New York's history, per People. The breakup was made all the more chaotic because Donald met his second wife, Marla Maples (with whom he shares Tiffany Trump), while he was still married to Ivana. In one tabloid-worthy scene, Ivana and Maples reportedly met while skiing in Aspen and got into a mountaintop argument over who loved Donald more. "This young blonde woman approached me out of the blue and said, 'I'm Marla, and I love your husband. Do you?'" Ivana wrote in her memoir, "Raising Trump" (via The Daily Beast). "I said, 'Get lost. I love my husband.'" Shortly after that, the Trumps decided to split, and Donald ended up paying Ivana $25 million plus a house in Connecticut, and a place in Palm Beach, per The Atlantic.  
This chance meeting proved to be prophetic (in a way), as years later, Donald would meet Melania while still married to Maples. 
For Donald and Melania Trump, it was love at first sight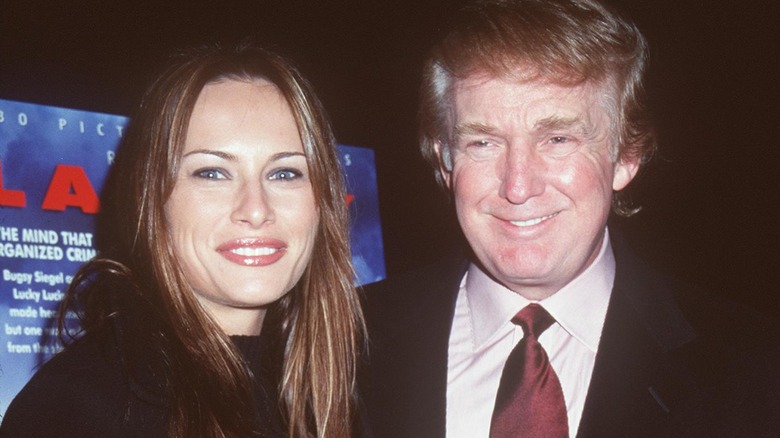 Robin Platzer/twin Images/Getty Images
Before you get too excited, things weren't anywhere near as dramatic between Marla Maples and Melania Trump. Yes, Donald Trump met Melania while still married to Maples, but by that point, they were only together in the legal sense, as they were still hammering out the details of their divorce. Either way, Donald was ready to move on, and Melania came into his life at the perfect time. 
Donald famously met Melania at the now-defunct New York City KitKat club, and apparently, it was love at first sight, per Vanity Fair. Donald was actually supposed to meet someone else that night, but he couldn't take his eyes off Melania. "There was this great supermodel sitting next to Melania," Donald explained during a 2005 interview with Larry King. "I said, 'Forget about her. Who is the one on the left? And it was Melania." Melania and Donald hit it off that night, but the future first lady was well aware that Donald was still very much married (and on a date), and she wanted to take things slow. 
During an interview with Harper's Bazaar, Melania claimed that she wouldn't give Donald her number that night. Instead, she wanted his. Melania thought she'd better understand his intentions based on the type of number he gave her — business, home, etc. Donald, in turn, gave her every number he had. Melania called one of them a few days later, and the rest is history. 
Marla Maples got stiffed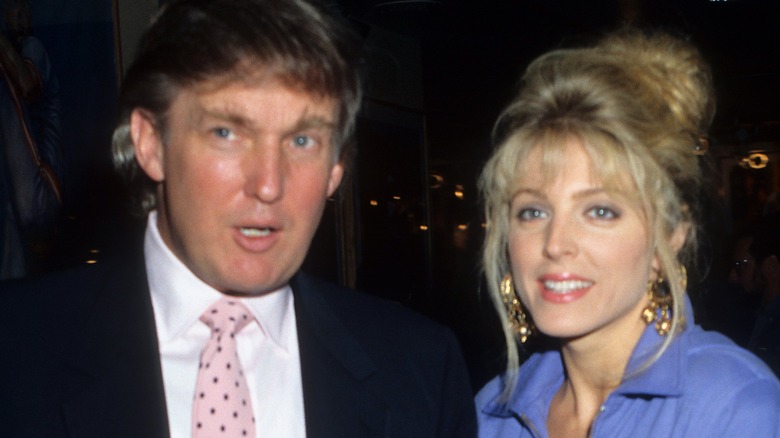 Donaldson Collection/Getty Images
What about Marla Maples, you may be wondering? While Donald Trump was busy falling in love with Melania Trump, Maples was fighting for her fair share of her soon-to-be ex's assets. Maples and Donald tied the knot in 1993, but by May 1997, they had filed for divorce, per People. Though they both moved on quickly — Donald met Melania the following year — in true Trump fashion, the divorce was almost as long as the marriage. 
While his divorce from Maples was not easy by any definition, it seems that Donald had learned a thing or two from battling it out with Ivana years earlier. At the time of their marriage Donald claimed to be worth more than a billion dollars, while Maples had a little over $100,000 in her bank account, per Vanity Fair. Following in Ivana's footsteps, Maples reportedly asked for $25 million in the case of divorce, but Donald flat-out refused. Instead, the real estate mogul would only agree to pay a lump sum of $1 million, an additional million for a house, and $100,000 a year until Tiffany turned 21. 
Compared to what Ivana walked away with (a house in Connecticut, a house in Palm Beach, $25 million), that was nothing. "People saying, 'He takes care of her' — that's not true," Maples said after the split, per People. "I feel very blessed for how my life is, but I do have to laugh when people think I walked away with a fortune."