Jana Kramer Teases New Long-Distance Romance Following Mike Caussin Divorce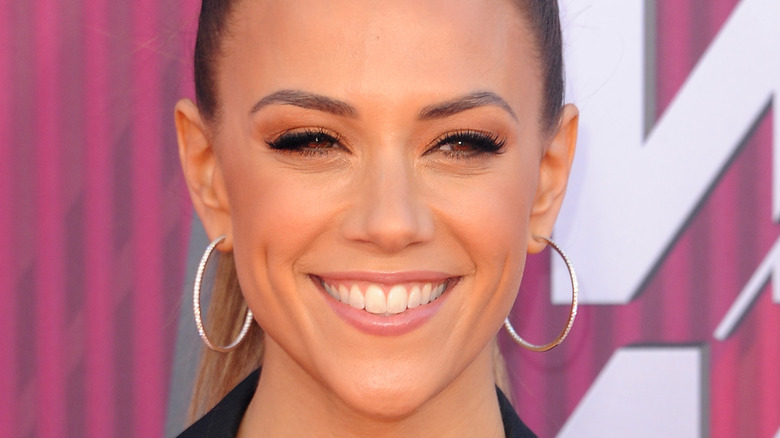 Tinseltown/Shutterstock
The following article includes allegations of domestic abuse and mentions of suicide.
Jana Kramer's relationship history is filled with extreme highs and lows. She married her first husband, Michael Gambino, in 2004 when she was just 19 years old, with the union lasting one year, per People. Gambino was regularly physically abusive toward Kramer, with the "One Tree Hill" alum later detailing on "Good Morning America" his 2005 attempt to kill her (Gambino was sentenced to six years in prison and died by suicide in 2012 after his release.) In 2010, Kramer went on to marry her "Prom Night" co-star Johnathon Schaech. Unfortunately, her second marriage was even briefer, lasting all of 12 days, per People. 
Kramer's most recent marriage — to former NFL tight-end Mike Caussin — is still fresh in public memory, thanks to candid revelations made on her podcast, "Whine Down." A few months after Kramer gave birth to their daughter in 2016, the couple split amidst reports of Caussin's repeated infidelity, per E! News. Despite their reconciliation after Caussin entered rehab for sex addiction, Kramer filed for divorce in April 2021. As she shared with followers on Instagram at the time, "I've fought y'all. I've loved hard. I've forgiven. I've put the work in. I've given everything I have, and now I have nothing else to give."
Given how many frogs she's kissed, could it be finally time that Kramer found her prince... all the way across the pond?
If you or someone you know is dealing with domestic abuse, you can call the National Domestic Violence Hotline at 1−800−799−7233. You can also find more information, resources, and support at their website.
If you or anyone you know is having suicidal thoughts, please call the National Suicide Prevention Lifeline by dialing 988 or by calling 1-800-273-TALK (8255)​.
Jana Kramer feels secure in her new long-distance relationship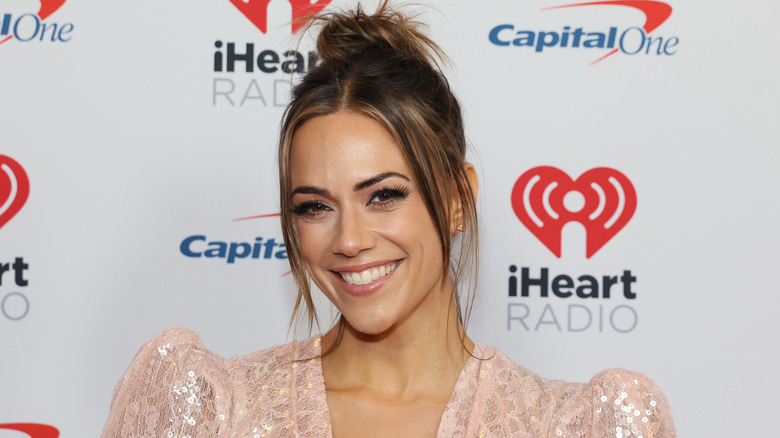 Dia Dipasupil/Getty Images
Jana Kramer returned to her podcast, "Whine Down with Jana Kramer," on January 9 with some great relationship news. As she shared on her latest episode, she has recently been cocooned in England with her new beau (whom she did not name). Although Kramer didn't know if this was her "forever person," she also wasn't going to "push away love just because I've been hurt before." The entertainer continued explaining that something about her new mystery man felt different. "I would pull so many tactics to, like, try to push someone away," Kramer said of her past dating habits. "But who I am in this relationship is who I've always wanted to be."
Kramer also dished how she and her unnamed paramour are handling the distance. "We're trying not to go more than three weeks without seeing each other," she shared, admitting that she's "never done long-distance before." Luckily, Kramer shared that her new man gives her "zero worries or fears." As she vowed, "I'll never get into a situation again where I don't trust someone." 
In an October 2022 episode of "Red Table Talk," Kramer revealed when she finally stopped trusting ex-husband Mike Caussin after his infidelity. After Caussin told her, "Now I'll know I'll never do it again," after getting caught for the last time, Kramer simply responded, "You know what, for that person, she's going to be real lucky that you won't." Good for you, girl!