What Donald Trump Jr.'s Ex-Wife Had To Say About Kimberly Guilfoyle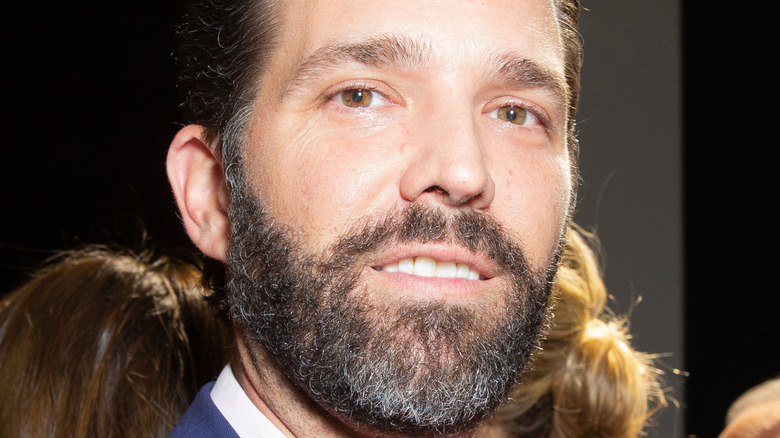 lev radin/Shutterstock
Three times was the charm for Donald Trump Jr. and his first wife, Vanessa Trump (née Haydon). That was the number of times the couple met before deciding to pursue the relationship, according to Romper. But despite welcoming five children, their marriage had its difficulties. In 2011, Donald Jr. had an affair with Danity Kane singer Aubrey O'Day, who spilled the beans on MTV's "Ex on the Beach" (via People). "We both thought we were each other's soulmates," O'Day revealed. Per Us Weekly, Vanessa learned about the fling when she found emails between her then-husband and his mistress. "[Vanessa] called Aubrey with her kids on the phone," a source told the outlet. "Vanessa went crazy and was super jealous."
Though Donald Jr. had reportedly told O'Day that his marriage with Vanessa was over at the time of their affair, Vanessa and Donald Jr. stayed together for another six years, keeping Donald Jr.'s dalliance with O'Day under wraps. When they eventually split, it was about more than just his affair, according to Page Six. "They were having problems before they even got married," an insider explained, adding that Donald Trump's presidency had only exacerbated their issues. "He won and she decided to stay until his term [was] over. But she just couldn't stand it anymore," they added.
Since the split, Donald Jr. has found love with TV presenter Kimberly Guilfoyle, and the pair often broadcast their love for one another all over social media. How's Vanessa coping with that?
Vanessa Trump leapt to Kimberly Guilfoyle's defense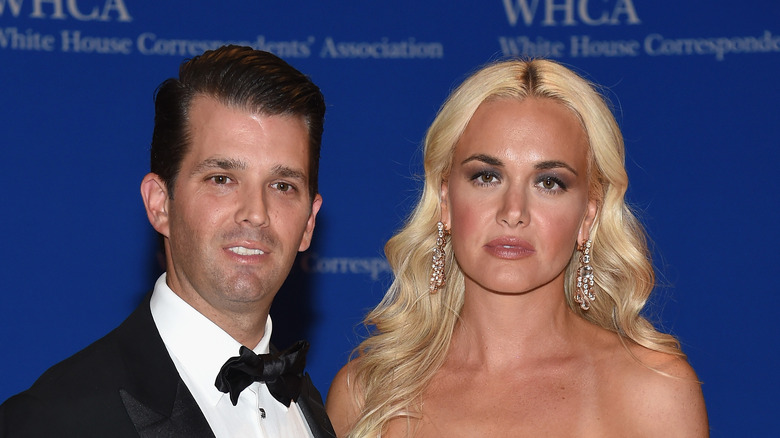 Larry Busacca/Getty Images
Per Page Six, Donald Trump Jr. began dating Kimberly Guilfoyle while he was still finalizing his divorce from Vanessa Trump. Elle reported that the divorce was announced in March 2018; a month later, Junior and Guilfoyle were dating. Despite the quick turnaround, Vanessa bore her ex no ill will, and even hopped to Guilfoyle's defense when critics called for her to step down from her position at Fox News. "The lengths people will go to attack a woman simply because she's dating Don," Vanessa tweeted, responding to Donald Jr.'s impassioned defense of his girlfriend. She added, "[Donald Jr. and I] have been separated for over 9 months and respect each other's decisions and privacy. We'll focus on raising our great kids. Would be nice if the press did the same rather than obsess over our pvt lives!" Given the nine-month separation period Vanessa references, the timing of Donald Jr.'s lightning-fast romance with Guilfoyle makes more sense.
The former model appeared to back up Donald Jr. after he tore into a journalist who'd suggested that Guilfoyle "would be better off picking grapes" than men. "I guess hypocrisy, sexism & racist rhetoric are alive & well," he tweeted. However, the journalist in question responded that she'd had "absolutely no idea that Kimberly Guilfoyle is half Puerto Rican." Intentional slur or not, the whole mess united Donald Jr. and Vanessa in defense of Guilfoyle.
Vanessa Trump and Kimberly Guilfoyle once traveled in the same social circles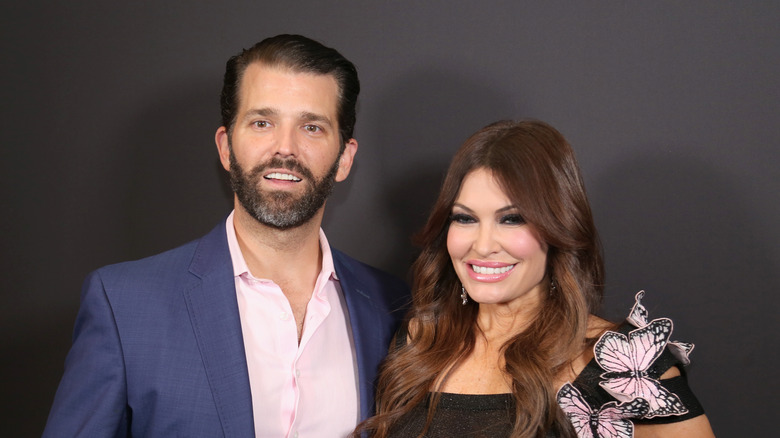 Manny Carabel/Getty Images
Vanessa Trump hasn't said much publicly about Donald Trump Jr.'s romance with Kimberly Guilfoyle, but it's possible she appreciates the organic nature of their relationship. As the ex-wife of California governor Gavin Newsom, Guilfoyle has long operated in the political sphere, and she told Metropolitan Luxury Magazine that she and Junior had known each other "for years." SCMP even notes that Vanessa and Guilfoyle were "friends," as evidenced by group pictures of them hanging out together.
"We are similar in many ways and beautifully complement one another in other ways, a true yin and yang," Guilfoyle gushed to Metropolitan Luxury Magazine of her relationship with Donald Jr. This comes in stark contrast to Donald Jr.'s short-lived fling with Aubrey O'Day, whom he met on Season 5 of "Celebrity Apprentice," per Page Six. Following the affair, O'Day told the outlet that she believes she'd dated "a different human" than the Donald Jr. she now reads about in the news.
These days, Vanessa isn't spending too much time obsessing over her ex and his new fiancee. She might feel fine about Guilfoyle, but Donald Jr. is a different story, according to People. That said, the pair's five children remain her priority. "Donald Jr. and Vanessa are not fond of each other, but will do what is necessary to protect the kids from any issues," a source revealed. Perhaps things will smooth out when Donald Jr. officially weds his "Pooh Bear."