What Really Happened Between Jennifer Lawrence And Darren Aronofsky?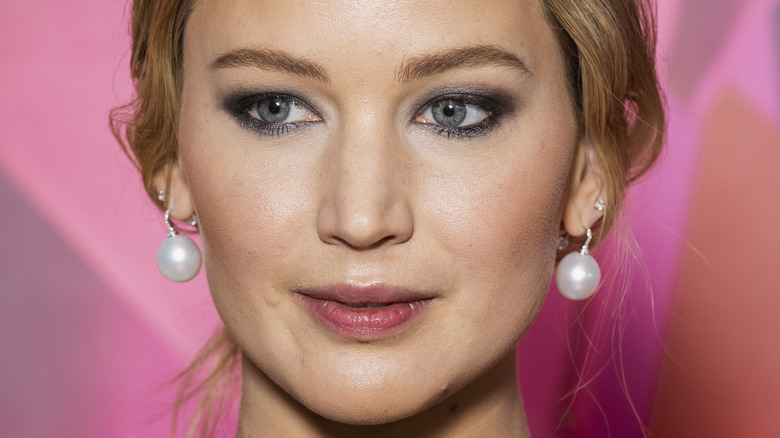 Gareth Cattermole/Getty Images
Picture this: it's 2013, and Jennifer Lawrence (aka "The Girl On Fire") is one of the hottest actors in Hollywood thanks to her starring role in "The Hunger Games" franchise. Playing Katniss Everdeen helped Lawrence clinch more high-paying gigs, including roles in "Joy" (for which she was Oscar-nominated), "Passengers," and "American Hustle." Between 2015 and 2016, she was the highest-paid actress in the world (via Vogue), netting herself a cool $46 million. But then, in 2018, Lawrence stunned fans by announcing she was taking a year off to focus on activism. "I'm going to be working with this organization as a part of Represent.Us ... trying to get young people engaged politically on a local level," she told Entertainment Tonight.
Since then, we haven't seen much of Lawrence on the big screen. In addition to turning her attention toward causes close to her heart, the actor was displeased with her recent projects, telling Vanity Fair that she wasn't "pumping out the quality that I should have." Oh, and in between all of that, she got married to Cooke Maroney, and welcomed baby Cy. All these life milestones contributed to JLaw's decision to step away from the spotlight — and so, if it feels like you haven't heard from her in years, it's because you probably haven't. That's why it's easy to forget about Lawrence's relationships before she found her happily-ever-after with Maroney. No, not Chris Martin — we're talking about her year-long romance with director Darren Aronofsky, whom she met while filming "Mother!"
Did Jennifer Lawrence and Darren Aronofsky break up because of their movie?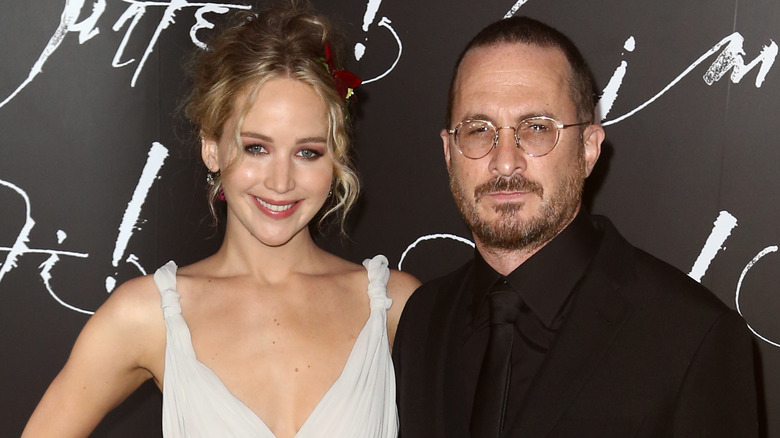 Debby Wong/Shutterstock
Twenty-two-year age gap not withstanding, Jennifer Lawrence and Darren Aronofsky had plenty of chemistry on-set. "We had energy," the "Silver Linings Playbook" alum told Vogue in 2017. Per E! News, the duo made their red carpet debut that year at the Venice Film Festival; however, the relationship seemed mismatched from the start. For one thing, being a Harvard grad, Aronofsky wasn't JLaw's type. "I normally don't like Harvard people, because they can't go two minutes without mentioning that they went to Harvard," the actress dished to Vogue.
Secondly, there was Lawrence's well-documented love of reality TV. In order to help the actress cope with the dark thematic material of "Mother!," the film crew created a "Kardashian tent," where she could relax while watching her favorite show. Aronofsky was reportedly confused by the whole thing. "I was like, 'What are you talking about, the Kardashians?'" the director told Vogue. Jlaw added that he found her taste in reality TV to be "so vastly disappointing."
In the end, the very movie that brought Aronofsky and Lawrence together tore them apart. When "Mother!" was panned by critics, it put a strain on their relationship. "Normally, I promote a movie, ask people to go see it, and then it's just out of your hands. I normally just kind of let it go [but] dating the director was different," Lawrence said in an interview for Variety's "Actors on Actors" series.
Jennifer Lawrence and Darren Aronofsky's age gap was another source of tension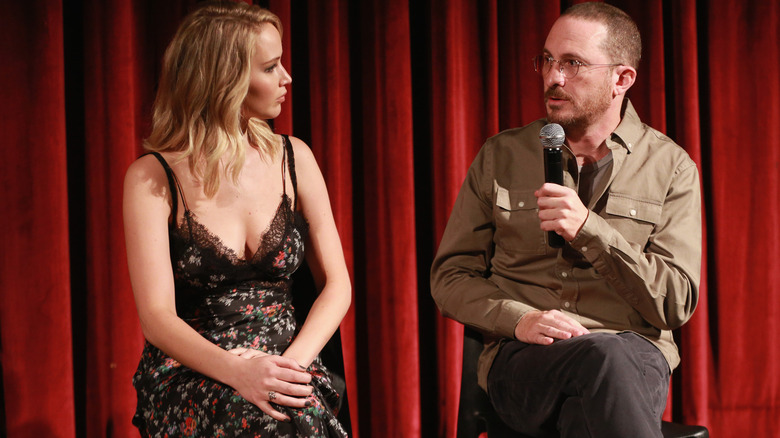 Robin Marchant/Getty Images
Other sources speculated that Jennifer Lawrence and Darren Aronofsky's age gap led to their split. "There is a huge age difference, and they are different people," an insider told People, adding, "they were never destined for marriage." But to hear Lawrence tell it, the negative reviews surrounding their movie acted as the final nail in the coffin. Appearing on Variety's "Actors on Actors" series, the Oscar-winner revealed that she was the one to pull the plug on the year-long romance. "I finally was just like, 'It's not healthy,'" she said, of how reading bad press about "Mother!" put her in a terrible head space.
In the end, that breakup was for the best because it opened the door for Lawrence to meet her husband, Cooke Maroney. Per Page Six, the two were engaged as of February 2019, though the actress didn't publicly reference Maroney as her fiancé until June, when she told Entertainment Tonight that saying "yes" to him was "a very, very easy decision." She continued to gush over her now-husband on Catt Sadler's "Naked" podcast, telling the host, "[Cooke is] my best friend, so I want to legally bind him to me forever. ... You find your favorite person on the planet, and you're like, 'You can't leave.' So I wanted to take up on that offer." We have just one question: What are the odds that Maroney is a fan of Lawrence's "Kardashian tent?"