Shakira Doesn't Hold Back On Ex Gerard Pique In Viral Performance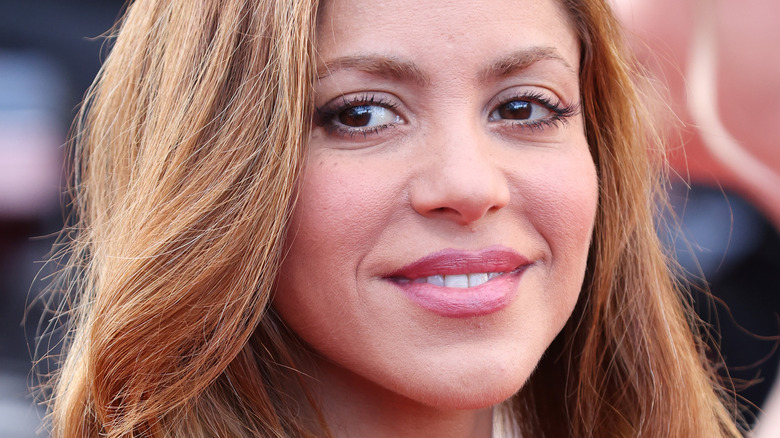 Vittorio Zunino Celotto/Getty Images
Shakira is seemingly lashing out at her former partner, soccer star Gerard Piqué, with a scathing rap — and fans think she might be taking aim at his new girlfriend, too. Shakira and Pique announced they would be calling time on their 11-year romance in June 2022, saying in a joint statement (via Independent), "We regret to confirm that we are separating. For the well-being of our children, who are our highest priority, we request respect for [our] privacy. Thank you for your understanding."
The two never officially confirmed why they split, though there were cheating rumors aplenty when the Spanish site El Periodico claimed Piqué was no longer living at home after he'd reportedly been seeing another woman — who El Periodico also reported was supposedly a hostess. Though those reports were never confirmed, Shakira hasn't exactly shied away from suggesting she and the father of her two children may not be on the best terms post-split. Many fans believe her track, "Te Felicito," may have been about their split, with the Miami Herald breaking down what appeared to be some pretty telling lyrics about the end of a romance. And now she might just be doing it again.
Shakira is 'cashing in' and calling out Gerard Piqué
Shakira appeared to call out Gerard Piqué on the track "BZRP Music Session #53," which dropped on January 11, with many claiming she appeared to slam her ex and his girlfriend, Clara Chia Marti. The Spanish language song seems pretty scathing, with Shakira stating in the stylized video that she'll never be getting back together with her ex. She doesn't name names, though Billboard reported the lyrics translate to, "I'm not getting back with you, don't cry for me, nor beg me / I understood that it's not my fault that they criticize you / I only make music, sorry that it bothers you." Yikes. In another section, it becomes pretty clear the song is personal as Shakira addresses her high-profile tax case. "You left me the in-laws as my neighbors, media outlets at my door and in debt with the government / You thought you hurt me, but you made me stronger. Women don't cry anymore, they cash in." You go, girl!
Of course, social media had plenty to say about the apparent diss track. "I wish y'all understood Spanish because Shakira just ended Piqué with this song and everyone deserves to understand such brilliant lyrics," one person wrote. Others speculated Shakira even slid in a play on the name Clara, which means "clear" in Spanish. The lyric in question? She sings, "She has the name of a good person. Clearly, mind you, it's not what it sounds like. She's just like you." Shade? Probably!