Pamela Anderson's Odd Friendship With Julian Assange Explained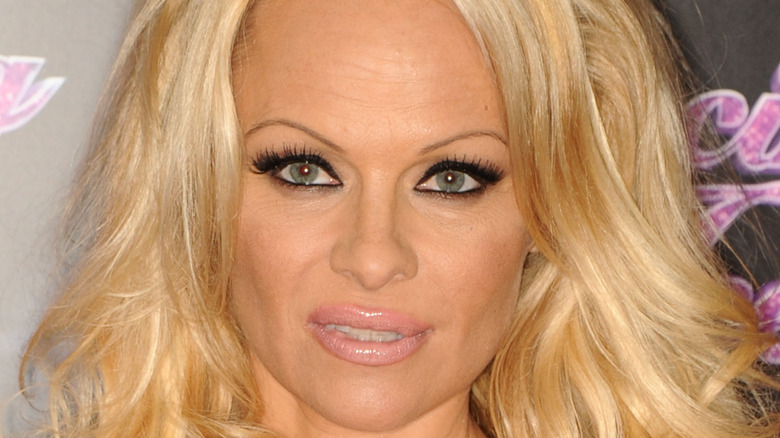 Featureflash Photo Agency/Shutterstock
This article includes mention of rape.
Julian Assange is a polarizing figure. Some argue he's a freedom of speech champion who's been targeted by the U.S. government, whereas others claim he's a traitor who placed the lives of the U.S. military at risk. Then, some view him as an accused rapist, while others believe he's a Russian stooge and a coward who's hiding away scared. However, Pamela Anderson is #TeamAssange, through and through. She's been a fierce and outspoken defender of him ever since he began squatting in the Ecuadorian Embassy in London.
The Guardian reports that in 2012, the WikiLeaks founder took "diplomatic refuge" in the building after two arrest warrants demanded his extradition to Sweden on charges of rape and molestation. Assange has denied all accusations and argues that he'd be packed off to the U.S., where he'd be incarcerated over WikiLeaks' alleged hacking of highly classified government files.
However, according to CNN, the embassy grew tired of sheltering Assange in 2019, deciding that after seven years, he'd outstayed his welcome. Not to mention being the worst house guest ever, allegedly​ "riding scooters around the cramped embassy hallways, insulting staff and smearing feces on the walls." Oh, and Assange was also tweeting about the Ecuadorian President's corruption probe and suing the country for violating his human rights by enforcing new house rules at their embassy. Given all of the above, it might be difficult to understand Anderson's odd friendship with Julian Assange.
If you or anyone you know has been a victim of sexual assault, help is available. Visit the Rape, Abuse & Incest National Network website or contact RAINN's National Helpline at 1-800-656-HOPE (4673).
Pamela Anderson is Julian Assange's biggest cheerleader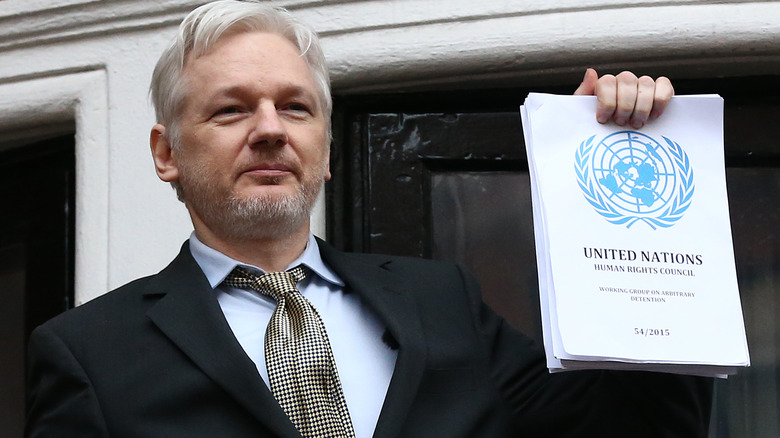 Carl Court/Getty Images
The exact nature of Pamela Anderson and Julian Assange's relationship has never been revealed. However, there's no doubt Anderson had serious feelings for him and was a regular visitor at the Ecuadorian Embassy. "Every chance I get lately, I've been spending a lot of time with Julian Assange," she said on Swedish TV (via Vogue) in 2017. She also called him "very sexy" and "charming" before admitting, "he's very important to me."
Anderson expanded on her feelings in a blog post. "Mr. Assange and I have become very dear friends over time. That's all I'm really comfortable saying," she revealed. "Of course, this is not an ideal situation — It's not indicative of any rational relationship. I wouldn't know what that is anyway. Faith has been lost in modern romance." Meanwhile, The Guardian reports that Assange has been banged up in Britain's Belmarsh since 2019 as he continues to battle extradition.
Meghan McCain and Anderson clashed on "The View" in a spectacular fashion over his incarceration. Ever his cheerleader, she tore into McCain for calling Assange a "political terrorist." Anderson shot back, claiming he's "gone where no man has gone before" to "expose governments" and alleged war crimes committed by the United States. Anderson's in a drama-filled marriage with her bodyguard, now while the Guardian reports that Assange tied the knot with his longtime partner and the mother of his two kids, Stella Assange, in a 2022 prison ceremony.
Pamela Anderson and Julian Assange are kindred spirits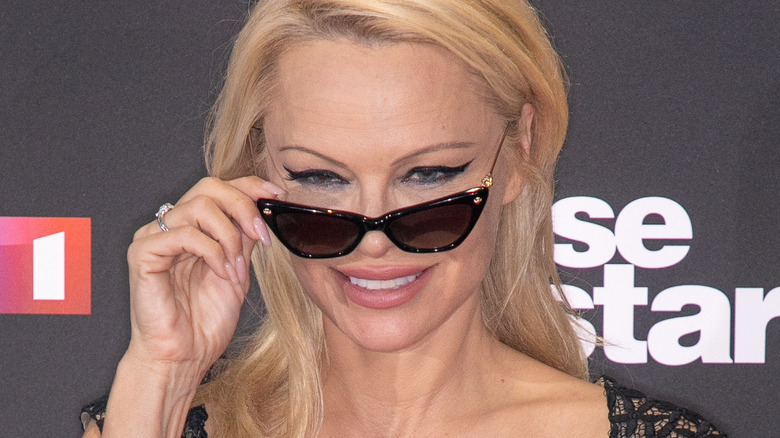 Marc Piasecki/Getty Images
At first glance, you'd think Pamela Anderson and Julian Assange have nothing in common, but it turns out the couple shares considerable common ground. They're both politically aware and engaged. Assange is angry about absolutely everything, while Anderson's a passionate animal and human rights advocate. She's also taken much keener interest in politics since meeting Assange, ranting about U.S. government abuses and raving about the importance and bravery of whistleblowers on her blog. Plus, neither are great lovers of the press.
Anderson told She Knows that she felt violated and treated as "public property" by the media following the release of her and Tommy-Lee's sex tape. Elsewhere, Mashable printed a flurry of Assange's bitter texts about the "cretinous media" using "physically confining metaphors" to attack him, Vladimir Putin, and Donald Trump. They're also public figures who are subject to controversy. Anderson's work with PETA has sparked a few storms over the years. 
The former "Baywatch" star once dressed as a "sexy" half-naked TSA agent wielding a giant baton for the organization's bizarre "Cruelty Doesn't Fly" video. Assange has been raked over the coals many times himself. "Julian Assange Got What He Deserved," The Atlantic charged in a scathing take-down. "Don't continue to fall for his phony pleas for sympathy, his megalomania, and promiscuity with the facts."  Assange and Anderson have both had their share of legal scrapes too, although he definitely came off a lot worse than her on that front. Oh, and they're both platinum-haired!