Why Pamela Anderson's Work With PETA Sparked Controversy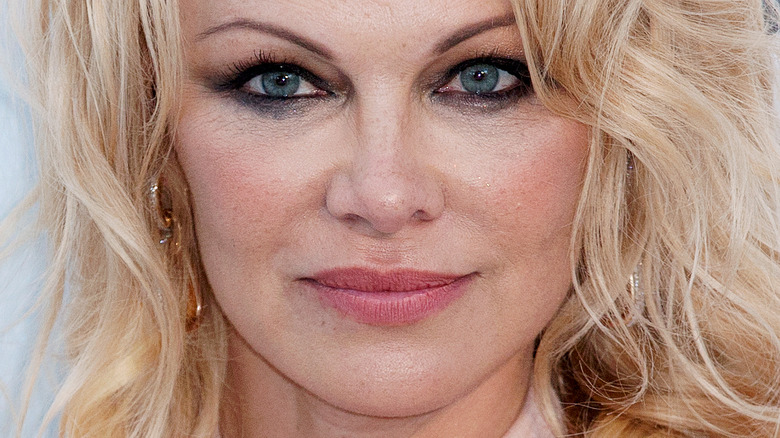 Andrea Raffin/Shutterstock
Pamela Anderson is by far one of the biggest names in the entertainment industry and she's also winning over a new generation of fans thanks to the Hulu limited series "Pam and Tommy," which she apparently wanted nothing to do with. While Anderson's transformation over the years has certainly been a sight to behold, she's still someone who manages to cause a stir these days, even if she's not making illicit tapes with her ex Tommy Lee — or getting friendly with Russian President Vladimir Putin. With that said, Anderson isn't the kind of person to kiss and tell or stir up the kind of controversy that's often associated with the tabloid media. As she told Interview back in 1998, "I've always been very positive, the eternal optimist. My brother—who runs my website, has been my best friend my whole life, and knows me better than anyone—always asks, 'God, Pam, are you ever going to say a bad word about anybody?'"
Even though Anderson has been keeping very busy saving seals off the coast of Russia, making visits to Julian Assange in London, and trying to keep her personal life under wraps, it's her work with PETA that has sparked the most controversy during her career.
Pamela Anderson knows everyone's got the same body parts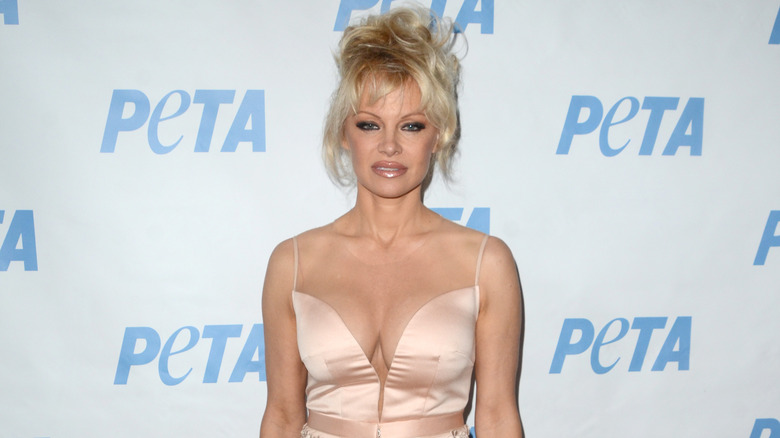 Kathy Hutchins/Shutterstock
Pamela Anderson has done a lot of controversial things in the past, but if there's one thing that she's known for most outside her work in Hollywood, it's her association with PETA. One of her ads for the organization was so controversial that it was actually banned in her home country of Canada, according to the Daily News. That's because she posed in a body-baring advertisement that featured the caption: "All Animals Have the Same Parts." While that might have been factual to some, others deemed it too much, which prompted Anderson herself to respond after the ad was specifically banned in the city of Montreal. 
She said in a statement, "In a city that is known for its exotic dancing and for being progressive and edgy, how sad that a woman would be banned from using her own body in a political protest over the suffering of cows and chickens." Anderson added, "In some parts of the world, women are forced to cover their whole bodies with burqas — is that next? I didn't think that Canada would be so puritanical."
But that wasn't the only time that Anderson and PETA managed to raise some eyebrows. In fact, she's partnered up with the group plenty of times over the years.
Animal cruelty doesn't fly with Pamela Anderson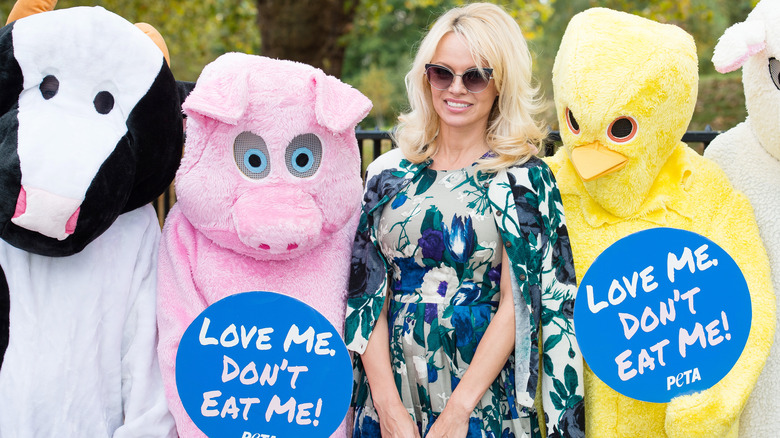 Jeff Spicer/Getty Images
In another ad dubbed "Cruelty Doesn't Fly," Pamela Anderson can be seen stripping passengers while wearing a barely-there TSA uniform herself. In the short clip, she makes sure that no passenger wearing fur, leather, or other animal skins makes it past the security checkpoint. The Hollywood star also took part in PETA's Valentine's Day Campaign in 2022 with a billboard that has Anderson posing in a candy heart with the caption, "Vegans Make Better Lovers," per People. The candy boxes came complete with vegan chocolates that included cherry, lavender, raspberry and green tea lemon flavors. "I believe that having a big heart is the sexiest thing in the world," Anderson said in a statement. 
Despite causing a little commotion with her PETA ads over the years, one thing is certain: Anderson has always remained consistent with her same message that love comes before leather bags and chicken dinners. Anderson might not be the kind of person who'll say a bad word about anyone, but she will definitely stand her ground when it comes to the ethical treatment of animals everywhere.