Alex Cooper: Why She Wants You To Call Her Daddy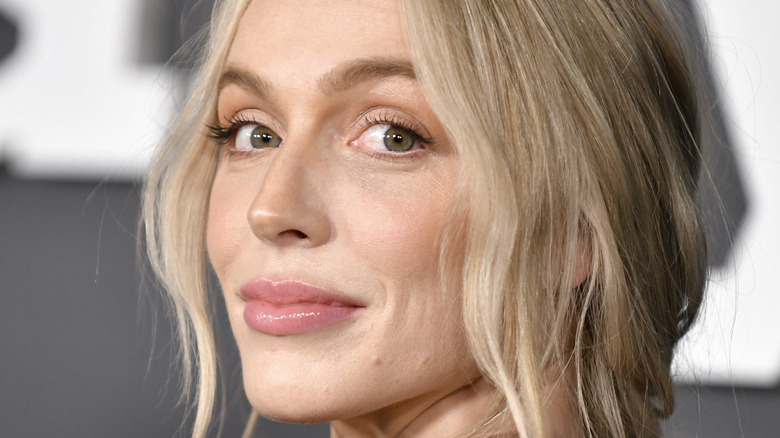 Rodin Eckenroth/Getty Images
It's the podcast that brings girl talk to a whole new level, changing the way society views women dishing on sex and their private relationships. If you haven't heard of it already, we're talking about "Call Her Daddy." The podcast, hosted by Alex Cooper, is everything that misogyny is not. It offers a safe space for women to freely express themselves about their sex lives, hear from experts, and get advice from Cooper herself. As the podcast continues to grow, so does the guest list. Cooper has interviewed everyone from Miley Cyrus to John Mayer to Spencer Pratt. She's also taken on key issues — like access to abortion and the growing debate over Roe v. Wade. 
 The road to being a household name was anything but breezy for Cooper, who battled against a male-dominated workplace with odds stacked against her. While she may have signed an exclusive $60 million dollar deal with Spotify, she's quick to remind listeners she's still the same girl from Philly who was once on unemployment checks. Her self-deprecating humor and her open-book personality make her a hit with fans, who feel like Cooper could be their older sister. It's not just the conversations that girls are used to having in line at a nightclub while clutching their cranberry vodkas. She's expanded her reach by inviting guests on her show that share their own life stories, from pansexuality to struggles with mental health and body issues. We're diving into Alex Cooper and why she wants you to "Call Her Daddy." 
The podcast was born while she was on vacation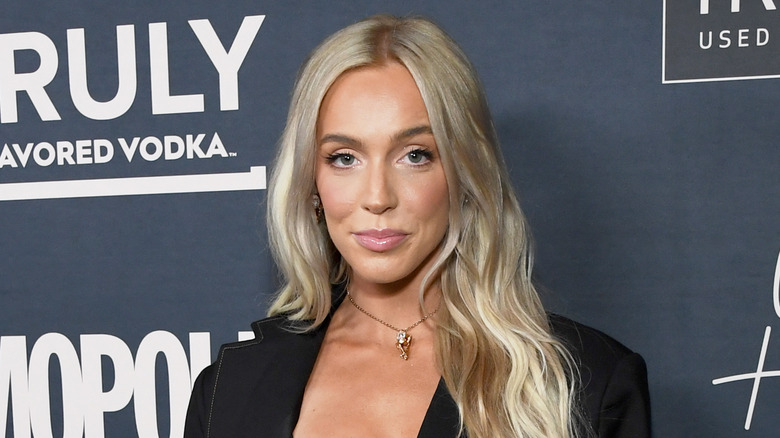 Jon Kopaloff/Getty Images
Imagine being on a girl's trip and coming up with the idea for a podcast that would ultimately make you millions of dollars richer. That's exactly what happened to Alex Cooper, who originally came up with the idea for "Call Her Daddy" alongside her roommate Sofia Franklyn. The two were roommates at the time attending a festival in Texas when they were having an open conversation about sex in public. Their shameless dishing began to gather an audience at a bar. "People came up to us and said 'You need a show, because I would listen to this every day,'" Cooper told the New York Post. 
The two ladies embarked on their co-host journey together, recording the first episode of "Call Her Daddy" in 2018. The podcast was quickly picked up by Barstool Sports, skyrocketing from 12,000 downloads to 2 million in just the first two months of its launch. The title of their podcast had everything to do with flipping the script on men being in charge, a play on words that represents women in the driver's seat. "This is a women's locker-room conversation that we should be able to have," Cooper confessed. 
Franklyn and Cooper garnered an audience split 50/50 between men and women, an achievement that was rare for the typically male-dominated audience at Barstool Sports. The two former roommates had professional jobs before the podcast turned their life around, with Cooper working in sales at Gotham magazine and Franklyn working at a prominent financial firm.  
She's the highest-paid female podcaster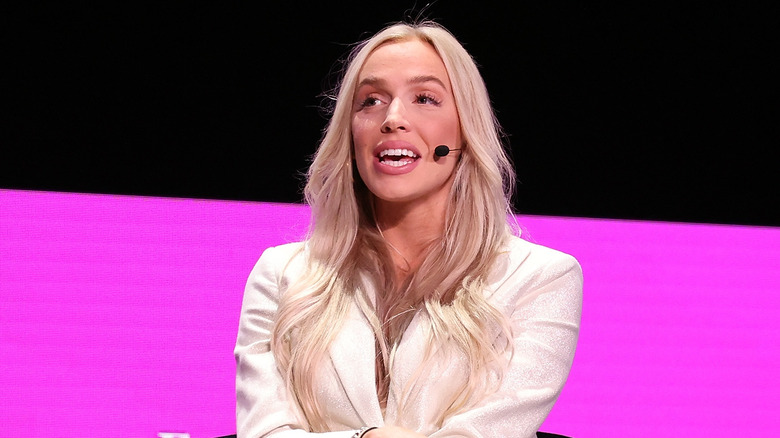 Taylor Hill/Getty Images
Alexander Cooper broke some serious barriers when she became the highest-paid female podcaster on Spotify. She's second only to Joe Rogan, and she's admitted that she is vying for his spot at the top. She proved her worth when she landed an exclusive three-year deal with Spotify worth $60 million. But transitioning from her previous platform on Barstool Sports to Spotify wasn't as seamless as one might expect, especially tying in new variables like video and sit-down interviews. With the help of her father, who works for Comcast SportsNet Philadelphia, she trained for her new platform. With her Spotify deal, she delved into personal one-on-one interviews with some of Hollywood's most famous celebrities. 
Cooper also spoke at the Forbes Under 30 Summit where she opened up about her enormous payout on the streaming tycoon. "I'm only licensing it to Spotify. So after three years, I can either re-license it or sell it," she revealed. The reason why she moved on to the platform had a lot to do with her being able to keep her intellectual property. "I know the amount of time that I put into this brand — every single Instagram caption, every single post, I still do to this day. I don't have an intern that does it for me, the brand's voice is so my own — and I knew that the minute that I would hand that over, it would lose the authenticity that once was the beginning of why everyone was so attracted to it," she said at the summit. 
She parted ways with her former co-host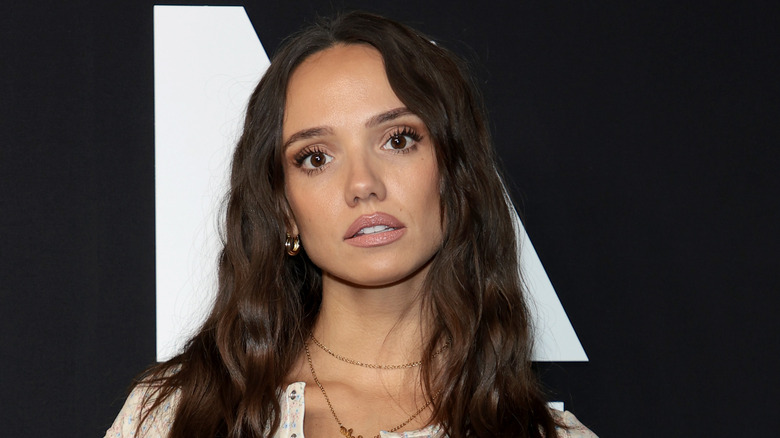 Dimitrios Kambouris/Getty Images
The podcast launched by two former best friends ultimately ended with the end of a friendship and the beginning of two solo careers. Alex Cooper and Sofia Franklyn's journey as co-hosts came to a bitter end when the two couldn't reach an agreement while they were renegotiating their contract with Barstool Sports in 2020. Franklyn discovered her co-host was making a higher salary than her and attempted to negotiate a deal with a higher payout. "Sofia did not take the deal and when it got held up and there were no more points coming from her side, we had to move forward without her. That's all it is. Everyone realized she's never gonna be happy," Cooper said on an episode of "Call Her Daddy."
As per Franklyn's side, she has a different interpretation of events. She took to her Instagram Stories, saying, "I found out that Alex had gone behind my back and done something. And I found out it wasn't the first time. And that's why we're here. I trusted Alex. I feel betrayed." At the time, Cooper and Franklyn were shopping around for other lucrative offers with the help of Franklyn's then-boyfriend and HBO Sports mogul Peter Nelson. Franklyn ultimately walked away from the deal, alleging Cooper wanted control of the show. 
Franklyn hosts her own podcast "Sofia with an F," though wildly less popular than Cooper's platform. As for if the two will ever work together again, Franklyn told The Morning Toast, "I mean, if she wants to Venmo me $30 million." Ouch.
Alex Cooper dated a Red Sox player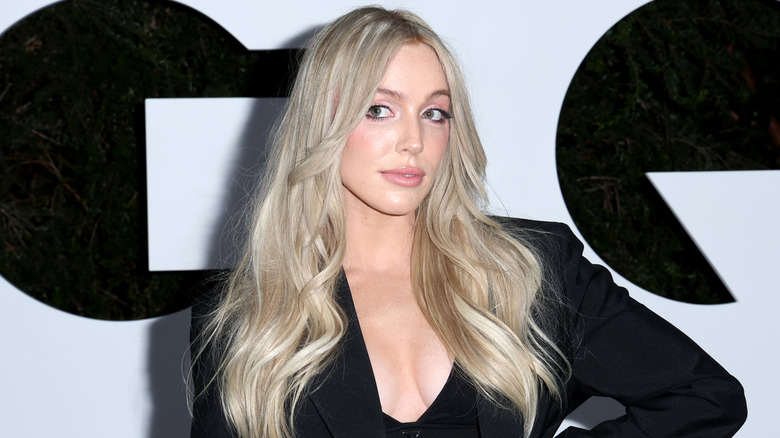 Phillip Faraone/Getty Images
Alex Cooper struck out with a former love connection — literally. As per Time, the "Call Her Daddy" host dated a Red Sox player who had "f**k you money" while still in college. She described it as her first serious relationship, and one with a man more than a decade older than her who had just won the World Series. Though she detailed the experience as "intoxicating" on her podcast, it proved to be as toxic as it was enticing. "I think having that be my first experience so young in college f**king with this dude who was way ahead of me in terms of dating and girls ... it was like he put me through training camp, and I came out not really alive," Cooper revealed. 
Though the relationship didn't last, the tokens of wisdom she learned from the manipulative relationship inspired her to give advice to listeners of "Call Her Daddy." She learned to be emotionally unavailable in future connections, saying, "He opened my eyes to truly some of the most psychotic, intense games to be played in a relationship." She soon played her own games, flying across the country and meeting up with professional athletes. "Those hotel moments, or whatever, they all taught me something. And yes, of course, the caliber I was doing it, people maybe think of that as aspirational. But we all go through our sh**t. But you're going to be able to figure it out."
She was once on unemployment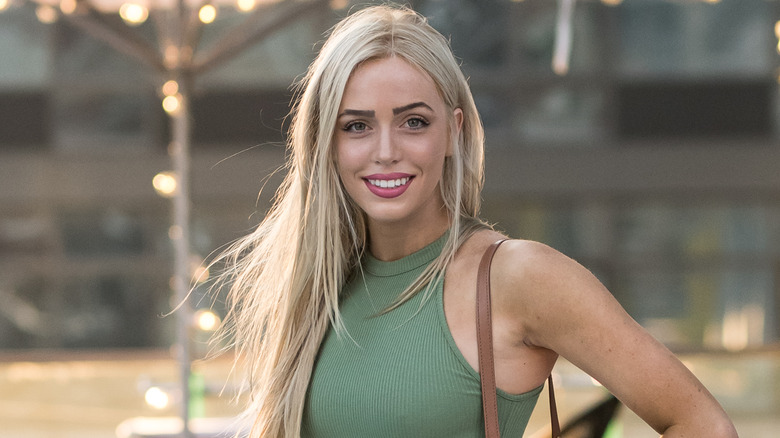 Mark Sagliocco/Getty Images
It's hard to imagine the highest-grossing female podcaster was once a struggling New Yorker on unemployment. Before she got her big break with "Call Her Daddy'" the Philadelphia native was laid-off, on unemployment, and vlogging on YouTube while trying to pay rent. She signed up for Seeking Arrangements to pay her bills. "The goal was I never wanted to do anything with these men, it was just to go get drinks and dinner, and by the end of the night have enough money for rent," she said on her podcast (via Time). In those days, Cooper always brought along a friend for extra security in case anything went wrong. "We did crazy fun sh*t like that, though in retrospect, I want everyone to be careful. I don't even know if you should be on that site," she confessed.
Cooper told E! News that her rags-to-riches story has not only humbled her, but it drives her to continue to work harder. "There's definitely a different element that I didn't have in the beginning, which was something to lose. In the beginning of creating something, it was like throw it all in there. I was on unemployment checks and now I feel a greater sense of responsibility knowing there are millions of people listening to my voice every week." To be exact, Cooper brings in a whopping five million listeners each episode.
She advocated for abortion rights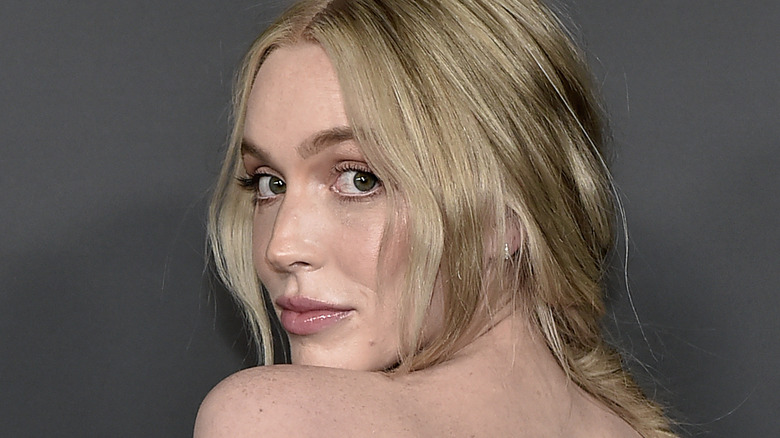 Rodin Eckenroth/Getty Images
Alex Cooper is using her giant platform to not just speak to millions of women, but advocate for their access to abortion. Following the shocking overturn of Roe v. Wade, the "Call Her Daddy" host released "An Abortion Story," a video podcast episode dedicated to shedding a light on access to abortion or lack thereof. In the documentary-style video, Cooper interviews pro-life supporters, pro-choice supporters, as well as women who have undergone abortions in the past. The special episode also told the stories of rape and sexual assault survivors as well, caught in the midst of one of the country's tensest debates. 
Cooper flew to Charlotte over two weekends to shoot the project. She spoke with women who traveled across state lines to receive care. "I would watch as the anti-abortion people would stand outside of the clinic as these women, a lot of them minorities, [were] coming to get an abortion and these people are screaming at them, calling them murderers, shaming them," Cooper told The Hollywood Reporter.
Cooper said she hopes to shed a light on the lasting effects of the overturned law. "I am a white woman of privilege living in Los Angeles, California, and I think I do know a lot of my listeners relate more to me than maybe what I'm showing in this documentary. And that's why it's so important for me to show this, because this should affect every single woman in America and it is eventually going to," Cooper shared.
​Alex Cooper was a Division 1 athlete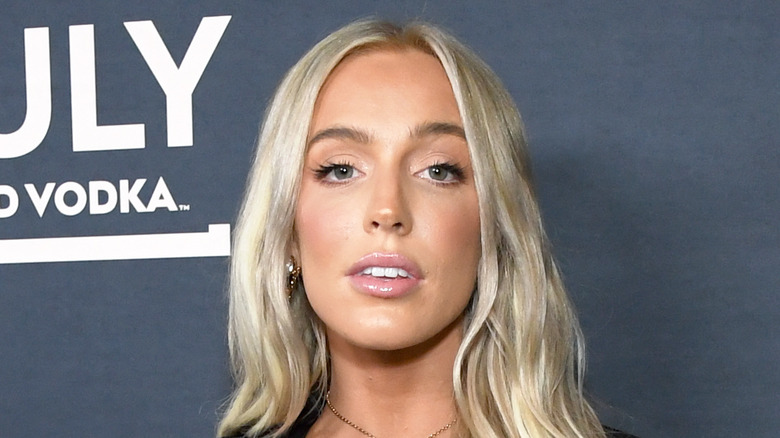 Jon Kopaloff/Getty Images
Alex Cooper is a woman of many talents. The "Call Her Daddy" host was a Division 1 athlete before making her way to the airwaves. She played soccer for Boston University for three years. She boasted an impressive soccer career, assisting in game-winning goals and playing in 21 games in both her junior and sophomore years. 
Before Cooper was a leading lady for Barstool Sports with her widely popular podcast, she was their "Smokeshow of the Day." She told Bustle that the Instagram account for Barstool Sports DM'd her asking to repost a bikini photo of Cooper, to which she obliged. A mere 24 hours later, Cooper's college soccer coach called her and demanded the photo be taken down. It was too little too late, however, as Cooper's inbox flooded with messages from professional athletes, and she quit the team after the following season. But despite her soccer career ending early, she never lost her competitive edge. "Whether it's sports or literally for a guy or for a dating situation, or to get into a club, I love a good little competition," Cooper admitted. 
She was told she would never make it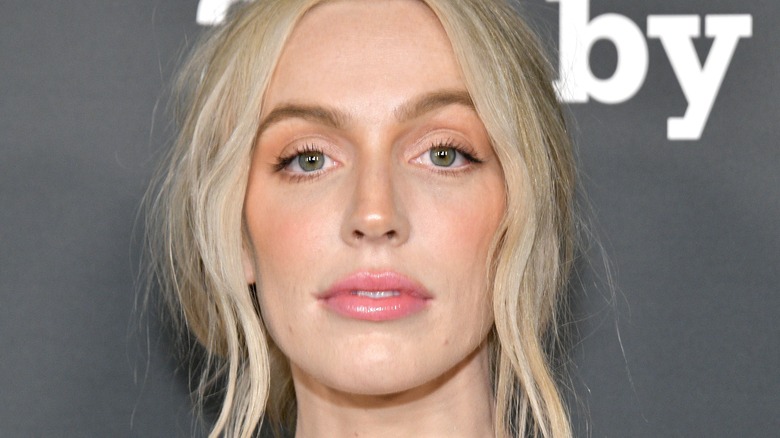 Araya Doheny/Getty Images
Alex Cooper's journey to fame and fortune wasn't without its hiccups. A producer for the former film production giant, The Weinstein Company, told the podcast star she would never make it. Her relationship with the executive started while she was in college when she was asked to make a short silent film for one of her finals. She produced a moving story about a friendship between a woman and a homeless man she had always seen on a nearby street. When her project was voted best in the class, the Weinstein representative reached out about re-making and backing it with a budget.
She told Bustle that the movie executive took her to a fancy dinner, where he lay out the proposal. It ended with him trying to make moves on her in his office. Cooper returned to the drawing board, which meant trying to make something out of her YouTube vlogs and a decent amount of social media followers. But the Weinstein executive reappeared in 2018 with a proposition for a new podcast for Cooper. "I was like, 'I guess, because what else am I doing?'" Cooper recalled to Bustle, asking her roommate to tag along. "And I was like, '[Sofia,] would you, after your work, want to come record something with me?'" They hired a film crew to record the first episode, which turned out to be a hit that Barstool Sports picked up. The Weinstein producer was less than pleased, telling Cooper, "she'd never work in this town again."
She's reportedly dating movie mogul Matt Kaplan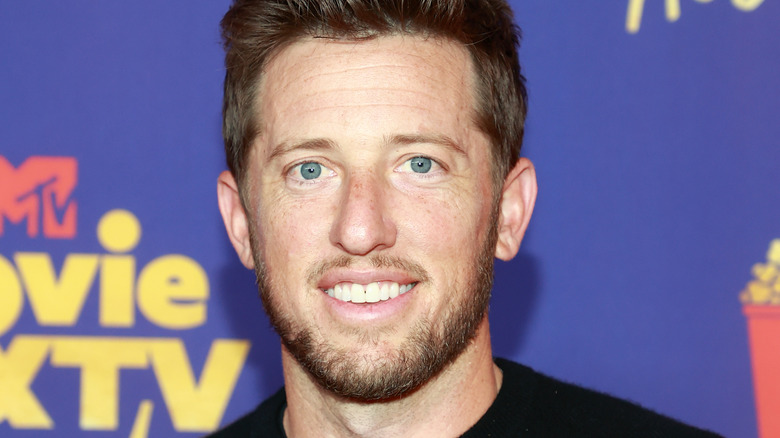 Matt Winkelmeyer/2021 Mtv Movie And Tv Awards/Getty Images
Though, as of this writing, she has yet to confirm the widely speculated buzz, the rumor mill has linked Alex Cooper to Hollywood film producer Matt Kaplan. Thanks to Cooper's curious "Call Her Daddy" fans who used details from the podcast to piece it together, Kaplan is rumored to be the "daddy" in the podcast host's life. Kaplan is best known for his work on successful films like "To All the Boys I've Loved Before" and "Before I Fall." Cooper attempted to keep her love life a secret by referring to him as "Mr. Sexy Zoom Man" on her podcast, referencing the business zoom meeting where she met the movie producer. 
"I think in the beginning it was a secret. I actually don't really care that much anymore," Cooper told Nylon, adding, "I think I needed to have enough time for myself to actually enjoy my relationship without stressing out about what people have to say, worrying about how we look in the photo, what are we... Oh my God." The "Call Her Daddy" host went on to admit that her fans largely accepted her decision to keep some details, like his identity, private. As for Kaplan, he leaves it up to Cooper. "He's actually way more open than me. He's like, 'Whatever you want,'" she revealed. "I think that's why I'm with him, because if I wanted to be with this person that had an Instagram following, f***ing taking photos all the time... But we have a very private life because I don't need validation," Cooper confessed.
Alex Cooper was bullied as a kid
You might never have guessed that the confident, sex-talking queen of podcasting Alex Cooper was once ashamed of herself and her physical appearance. The "Call Her Daddy" host spoke about her adolescent struggles on the podcast "On Purpose with Jay Shetty," admitting she was extremely bullied growing up. "I was super, super skinny, people made fun of me, said that I looked like I had an eating disorder. I had awful, awful acne, to the point where I would beg my parents to let me stay home from school," Cooper admitted. She went on to reveal the shame it caused her made her feel even more alone, due to the fact that she was embarrassed to talk to anyone about what was happening. 
What eventually got her through it was her father, who handed her a camera at just seven years old. "[He] was like 'Go make something,'" Cooper said, admitting that the creative outlet became an escape for her. "I turned to creating content ... and I would go in my basement and I would make music videos or I would write scripts and make little short films or silent films," Cooper said. "It was the first time that I truly felt safe." Cooper looks back on harsh experiences in her childhood with gratitude however, admitting she would never have started the podcast if it wasn't for what she had been through. "That ugly, awkward, acne girl is who started 'Call Her Daddy," she told Shetty.
She never gives guests questions beforehand
Part of what makes "Call Her Daddy" such a hit is Alex Cooper's authenticity and "realness" not only with herself but with her guests on her show. Cooper's interviews are raw, and they seem to flow effortlessly as if she's having girl talk with one of her close friends. Part of the reason for this is that the host refuses to send questions to her interviewees beforehand. Though many have asked her to, she denies the requests because she wants to give fans something they can relate to.
Cooper told Nylon, "The thing that gets me hard is when someone says, 'That's a really good question,'" she revealed. "I will never forget it when Amanda Knox said, 'I don't think I've been asked about that moment since the trial.' And I was like, okay, I am doing my best." Her goal is to let the guest feel like they have control during the interview, especially when it comes to people like her previous interviewee, controversial fake heiress Anna Delvey. "You need to gauge with people. Are you looking to get information out of it, or are you looking to just be entertained? With Anna, you're just going to be entertained. She's not going to admit to something huge in my interview, so with that one I was like, let her go."
Alex Cooper is all about her fans
Alex Cooper knows that having a giant fan base and being able to relate to them comes with the territory. On her "Call Her Daddy" podcast, she makes listeners feel like they are having a chat with a best friend, or a sister, someone they can share their hidden secrets without fear of judgment. Cooper considers the many fans that stop her on the street as friends. "That's what my mom always says, 'Oh, how do you guys know each other.'" Cooper said, adding, "I know immediately. I'm like, 'You're daddy gang.' We don't even need to communicate. I get it. It's almost like, where do we begin? We've been through s***," she told Nylon. 
The "Call Her Daddy" host, who goes by "Father Cooper" on the podcast, thinks of her fans as family. Through every feud, breakup, sex mishap, and mega-business deal, they've been by her side, and it doesn't look like they're going anywhere soon. As for what's next for Cooper, the sky's the limit. "I want to be the biggest podcaster in the world," she told Time. "I've got this great big deal now. I want to prove to the world that I am worth this."