Inside Lisa Marie Presley's Final Days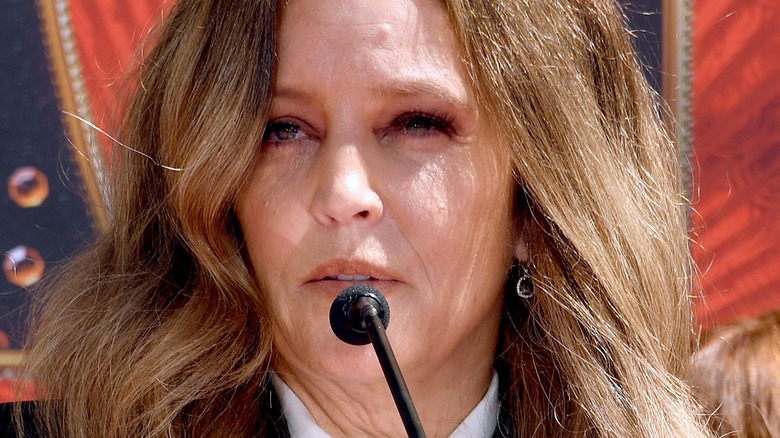 Jon Kopaloff/Getty Images
Lisa Marie Presley died tragically on January 12 after suffering cardiac arrest at her California home, per Page Six. Elvis' only child was rushed to hospital, but the outlet reports her heart stopped several more times in the hours that followed. Her mother, Priscilla Presley, confirmed later that day, according to People, that she didn't make it. "It is with a heavy heart that I must share the devastating news that my beautiful daughter Lisa Marie has left us," she revealed.
As many fans know, Lisa Marie did not have an easy life. After losing her father when she was just nine, she suffered numerous tragedies, including several tumultuous marriages (and divorces), a battle with addiction, a rocky relationship with her mother, and the loss of her 27-year-old son, Benjamin Keough, to suicide.
Despite it all, Lisa Marie tried to push forward, telling People in 2022 that she had to stay strong for her three daughters. "I keep going for my girls," she shared. The release of "Elvis" also appeared to lift her spirits, as she gushed on Instagram, "You can feel and witness Baz's pure love, care, and respect for my father throughout this beautiful film, and it is finally something that myself and my children and their children can be proud of forever." In fact, her final public appearance was to celebrate the film. Here's everything we know about Lisa Marie Presley's final days.
Had Lisa Marie Presley become a recluse?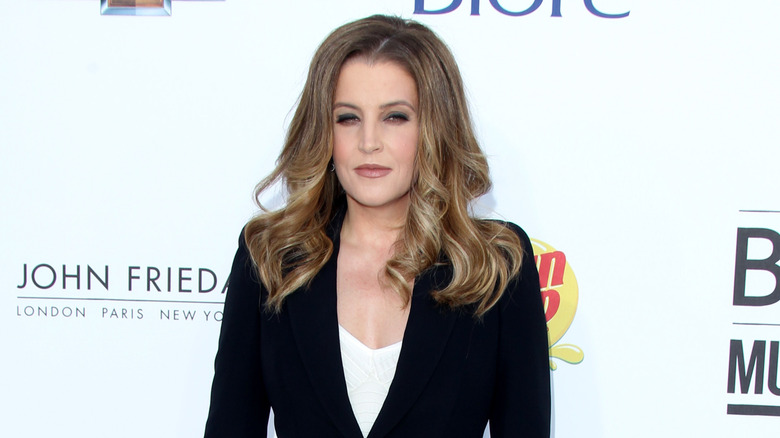 Kathy Hutchins/Shutterstock
Lisa Marie Presley did her best to remain strong for her kids, but the death of her son, Benjamin Keough, by suicide in 2020 changed her forever. As a source told The U.S. Sun, "In her final years, she was racked with grief over Ben, he was her baby, and he relied on her heavily." The loss reportedly pushed her to become a recluse, spending much of her time alone in her bedroom. "Her world completely fell apart when he died," the insider noted. "She found it so difficult to cope and barely left the house for months after his death."
The source claimed that Presley drew strength from her children and her mother, Priscilla, as well as from her ex, Danny Keough, and the Church of Scientology. Indeed, in an essay she penned for People just five months before her death, Presley opened up about the importance of support. 
Writing in honor of National Grief Awareness Day, Presley admitted she blamed herself for Benjamin's death every day, but shared that she attended, and even hosted, support groups for bereaved parents. "Nothing, absolutely NOTHING takes away the pain, but finding support can sometimes help you feel a little bit less alone," she wrote, as she encouraged others to seek help. She was so adamant about her message that she also shared the essay on her Instagram. It turned out to be her last ever post.
If you or anyone you know is having suicidal thoughts, please call the National Suicide Prevention Lifeline by dialing 988 or by calling 1-800-273-TALK (8255)​.
Lisa Marie Presley's final public appearances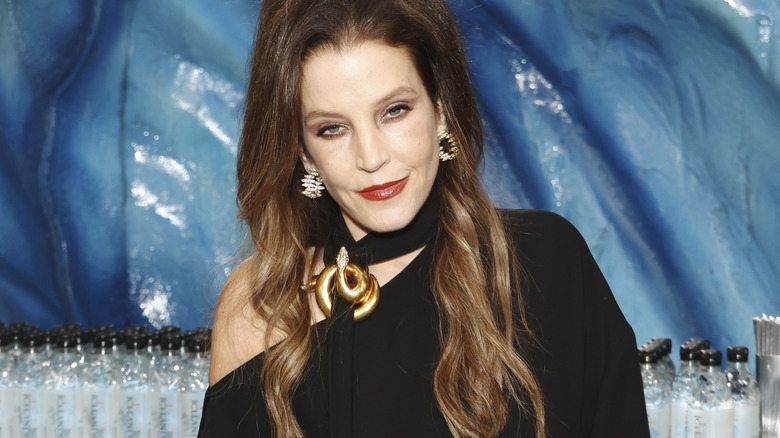 Joe Scarnici/Getty Images
Lisa Marie Presley's final public appearance was at the Golden Globes on Tuesday, January 10. First, she praised Austin Butler's portrayal of her dad on the red carpet. However, she appeared frail and somewhat sad. During an interview with Extra, she seemed to be unstable on her feet as she told talent manager Jerry Schilling (who was standing next to her), "I'm gonna grab your arm." When she later crashed Butler's Entertainment Tonight interview, she again needed to lean on someone, this time finding support in Butler. She also appeared to slur her words slightly. Even so, she told the outlet, "I'm so excited and I hope he wins." When Butler did win, she couldn't help but wipe away tears of joy.
Just two days earlier, on January 8, Presley delivered a speech at Graceland to mark her late father's would-be 88th birthday. "I keep saying you are the only people who can bring me out of the house," she quipped, per MailOnline, seemingly confirming reports that she had been spending most of her time locked away at home.
Despite all of her struggles, however, Presley once told Playboy she wouldn't change a thing about her life. "I would never take back any part of who I am or where I came from," she said. "I would never want to be part of anything else." May she rest in peace.