Inside Lisa Marie Presley And Priscilla Presley's Relationship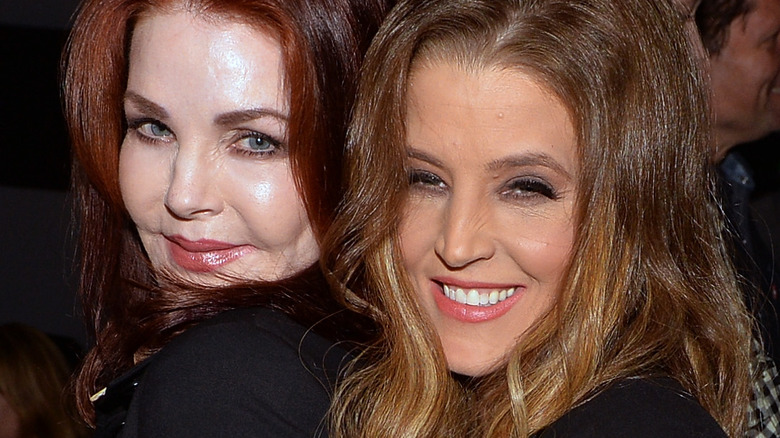 Rick Diamond/Getty Images
The world is reeling in the aftermath of the news of Lisa Marie Presley's tragic death, and many have begun to ask questions about her family life. In particular, people are increasingly curious about what her relationship with her mother, Priscilla Presley, was like. 
No stranger to tragedy, Lisa Marie lost her son, Benjamin Keough, in July 2020. According to TMZ, the 27-year-old (who was the only son of Lisa Marie and the only grandson of the late Elvis Presley) died by suicide. At the time, the outlet reported that because of her three surviving children — including eldest daughter Riley Keough, and younger twin daughters Harper and Finley Lockwood — Lisa Marie was, "trying to remain strong." 
During that tragic time, the 54-year-old also had her mother, Priscilla, to turn to. And, while it's fairly well-documented that the mother and daughter had difficult patches over the years, toward the end of Lisa Marie's life, it seems as though the two had become much closer. In fact, when TMZ broke the news that Elvis' only child had been hospitalized for a medical emergency, Priscilla took to Facebook to ask fans to keep her "beloved daughter" in their prayers. Moreover, the two had been photographed together just days prior to Lisa Marie's death at the 2023 Golden Globes. It's pretty clear that at least toward the end of Lisa Marie's life, the women had left any tension behind them. 
Our question remains, though: What was the relationship between the two really like? 
If you or anyone you know is having suicidal thoughts, please call the National Suicide Prevention Lifeline by dialing 988 or by calling 1-800-273-TALK (8255)​.
Priscilla Presley helped Lisa Marie Presley financially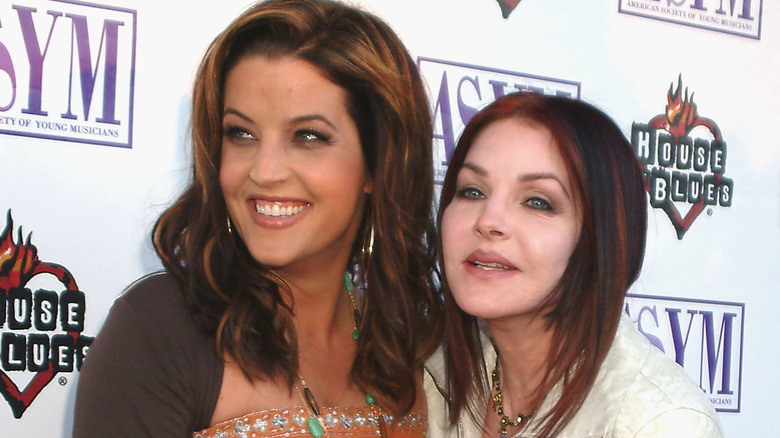 Michael Tullberg/Getty Images
Lisa Marie Presley was born on February 1, 1968, exactly nine months after Elvis Presley and Priscilla Presley tied the knot, according to Radar Online. When Elvis died nine years later, Lisa Marie became the sole heir of the Graceland estate. After Elvis passed, Priscilla "assumed primary management of the Elvis Presley Estate," according to Forbes. And, thanks to her involvement, the estate grew to a whopping $100 million by 1993.
Despite this cushy financial situation, Lisa Marie struggled throughout her life with unhealthy substance use and rocky divorces, and as a result, she was often left in times of financial stress. Not one to see her daughter struggle, Priscilla took a number of actions to help. For starters, Radar Online reported that she had put her Los Angeles mansion up for sale in 2019 to help Lisa Marie. On top of that, the outlet had also previously claimed that sources said the 77-year-old had asked former boyfriends to return items pertaining to Elvis so that they could sell them for profit. "Over the years, Priscilla gifted some of her exes with expensive items that either belonged to Elvis or that he'd given to her. Now, she's been contacting them to ask for them back," one anonymous source told the publication.
Priscilla didn't just help Lisa Marie with money, though. She was often there to support her daughter in raising her children ... but that's not to say that didn't cause issues between the two.
Priscilla Presley helped with Lisa Marie's kids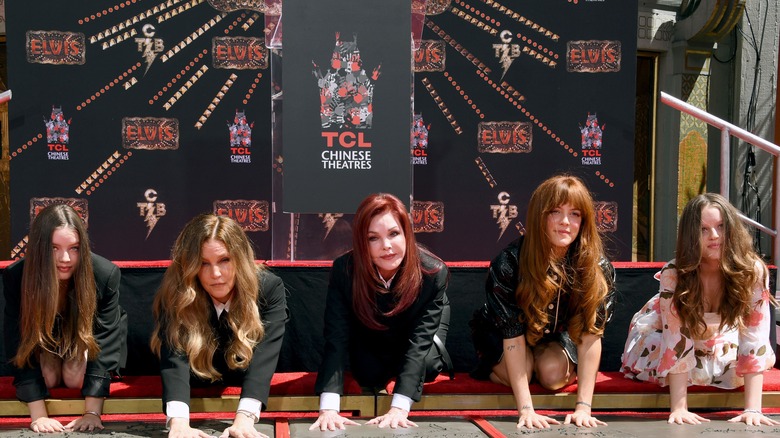 Jon Kopaloff/Getty Images
Lisa Marie Presley was married four times, and her final divorce from music manager Michael Lockwood got particularly messy. Per ET, Lisa Marie's marriage to Lockwood ended in 2016, after images of child pornography were allegedly found on his computer. The couple shared twin daughters, and Priscilla Presley had to get involved to help her daughter during the split. As the divorce proceeded, Priscilla took care of the couple's children and told ET: "It's still a very family-oriented environment for them. [The children have] been with me for — it'll be over nine months. They're great. They're doing wonderful." 
However, the mother and daughter didn't always see eye to eye on the subject of raising children. In fact, according to Radar Online, Priscilla was once worried about Lisa Marie's oldest daughter, Riley Keough, for allegedly partying too much. Lisa Marie didn't like her mother's involvement and, according to the Enquirer (via Radar Online), told her: "She's my kid and I'll raise her the way I see fit! You didn't do such a bang-up job yourself — so stay out of it!" 
Arguments aside, Lisa Marie and Priscilla remained close until the 54-year-old's passing. In a 2012 interview with Today (via Young Hollywood), Lisa Marie said of their relationship: "My mom and I have a really great, almost sisterly, fun relationship now." We're keeping Priscilla in our thoughts during this time, and we're happy to know that their final years together were peaceful.