Amy Robach And T.J. Holmes' Affair Is Reportedly Costing Them Their Jobs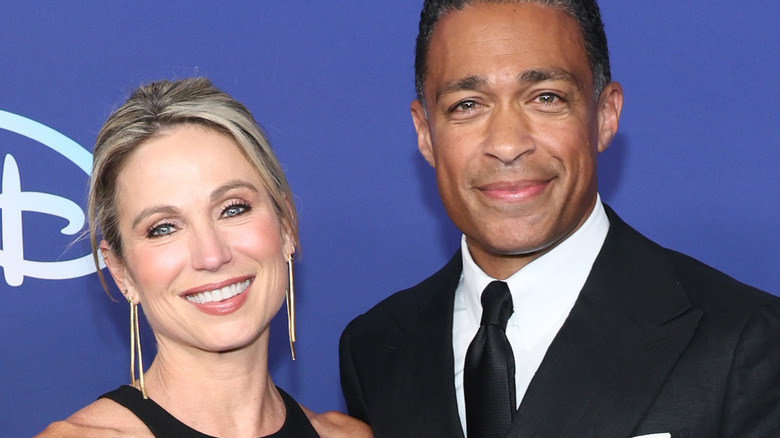 Dia Dipasupil/Getty Images
Things have changed dramatically in Amy Robach and T.J. Holmes' personal and professional lives since late 2022. After the Daily Mail published photos of the "Good Morning America" co-anchors canoodling (outside their marriages) last November, both filed for divorce from their respective spouses. According to many insiders, however, their extramarital affair only began after both separated from their partners. As one source told People, Robach and Holmes "both broke up with their spouses in August within weeks of each other" before getting romantic. One even purported that it was Holmes' support during Robach's separation from her husband that led the two to grow intimately closer.
From an optics vantage point, however, co-anchors smooching while still legally married just doesn't look great. In a December 12 company memo, ABC News President Kim Godwin informed employees that Robach and Holmes will "remain off-air pending the completion of an internal review," per CNN. Previously asking staffers not to spread "gossip" about the affair, Godwin acknowledged in her memo that "continuing coverage can be distracting from the incredibly important work our team does."  
Now, after being off-air for almost a month, Robach and Holmes' fate at "GMA" may finally be clear.
Amy Robach and T.J. Holmes might be announcing their ABC departure soon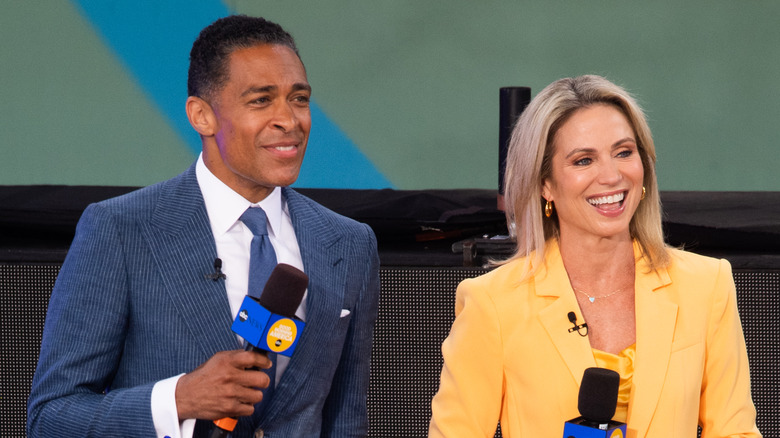 Noam Galai/Getty Images
It looks like Amy Robach and T.J. Holmes are riding off into the sunset — and out of ABC studios — together. As multiple sources recently informed Us Weekly, the two co-anchors will not return to the third hour of "Good Morning America" following a formal internal probe into their affair. "Amy and T.J are out, a decision has been made," a source told Us, adding that ABC News is working out the kinks of their exit deals, as well as an announcement on their departure. As Us noted, the hosts temporarily taking the duo's place have merely stated that they are "filling in" for them, with Robach and Holmes' names still included in the "GMA3" opening credits. 
Robach and Holmes seem nonplussed about continuously showing affection in public, even after reports surfaced of their co-workers' unhappiness over the drama caused by their affair. As a source told Page Six in December, Robach's "20/20" co-host, David Muir, is reportedly "not having it." The insider noted that, despite Muir also being the host of ABC's nightly news, "nothing about him ever makes it into the papers" — which is how Muir wants it. "He's very private and no one at ABC likes the way Amy and T.J. handled it," the source told the outlet.