The Huge Rumor That Surrounded Lisa Marie Presley And Michael Jackson's Marriage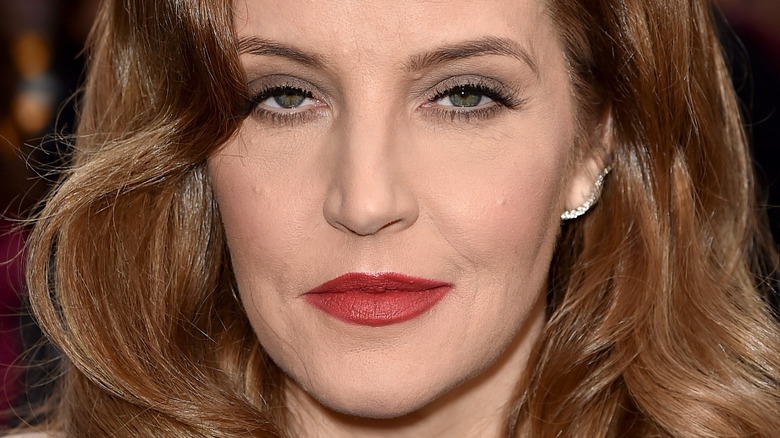 Kevin Winter/Getty Images
Following Lisa Marie Presley's tragic death, fans are reminiscing about her life, which included relationships with some of the entertainment industry's biggest celebrities. The daughter of Elvis was married to actor Nicolas Cage from 2002 to 2004. She was also briefly married to Michael Jackson, who she first met at a concert in the 1970s, per Us Weekly. The pair found common ground as high-profile public figures. Presley once told The New York Times, "I was still relatively young, and trying to decide what would be better for me: being with someone who doesn't have anything, and then they get trampled and have no ego because they just become 'Mr. Presley,' or being with someone whose situation is comparable to mine."
Presley and Jackson were friends before tying the knot in 1994, per Entertainment Weekly. It was a fraught time for the couple, as Jackson faced sexual abuse allegations in 1993. On top of that, many people believed that their relationship was an act. But they sought to prove the media wrong. At the MTV Video Music Awards in September 1994, Presley and Jackson shared an onstage kiss after reminding the audience that "nobody thought this would last" (via Us Weekly). 
But, as it turned out, the couple didn't last long. They divorced in 1996, citing "irreconcilable differences," per Entertainment Weekly. Yet, in subsequent years, Presley just couldn't escape rumors that her marriage to Jackson was a publicity stunt.
Lisa Marie Presley claimed her relationship with Michael Jackson 'was not a sham'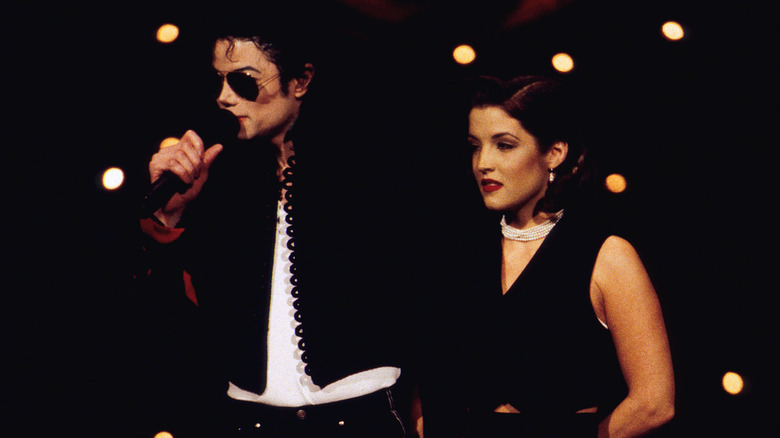 Frank Micelotta Archive/Getty Images
Just one day after Michael Jackson's death, Lisa Marie Presley took to her MySpace blog to address accusations that their marriage was an act (via Oprah). She wrote, "Our relationship was not 'a sham' as is being reported in the press. It was an unusual relationship yes, where two unusual people who did not live or know a 'Normal life' found a connection, perhaps with some suspect timing on his part." Although their dynamic was tainted by Jackson's self-destructive habits and Presley's concerns for his health, Presley made it clear that they both loved each other deeply.
In a 2010 appearance on "The Oprah Winfrey Show," Presley elaborated on the rumors surrounding their marriage. Winfrey and Presley agreed that Presley would often become defensive when confronted with questions regarding the truth of their romance. But Presley explained that it was because she was confused about her relationship with Jackson. Winfrey said, "The rest of the world, I think, thought it was a big, staged, publicity something — I don't know. Do you understand that now?" Presley replied, "I understand that because to some degree he was a master of manipulating a little bit with the media."
Presley expressed that Jackson's tendency to be manipulative was as a result of his upbringing and unique trajectory as a superstar. While his manipulation left her with doubts that he loved her, Presley remarked that she found clarity upon reflection.
Michael Jackson's music video director commented on the rumor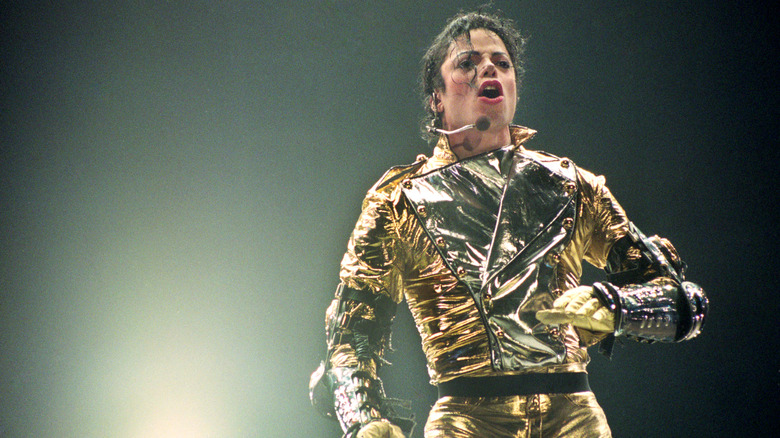 Phil Walter/Getty Images
Lisa Marie Presley wasn't the only person who shut down rumors that her marriage to Michael Jackson was just for publicity. Wayne Isham, who directed Jackson's 1995 music video "You Are Not Alone" starring Presley, recently revealed details about their romance to People. He said, "They had [an] innocent, playful relationship that I felt was a real relationship." He added, "People have asked me this before, it's like, 'Is there a reality to their relationship, and what was going on there?' It was all very fun. They had a great time and great relationship on the set, so the best I can reflect off of is that." According to him, their love felt just as real behind the scenes. He noted that they shared a sense of humor and lightheartedness, which enhanced the quality of the video.
Presley stood by the fact that her relationship with Jackson was authentic. In an interview with Diane Sawyer (via The New York Times), Presley said, "How can you fake this 24 hours a day, sleeping with somebody, waking with somebody? I'm not going to marry somebody for any reason other than the fact that I fall in love with them."
Following Presley's death, Jackson's sister La Toya Jackson took to Instagram to subtly clear up lingering rumors. She wrote, "You will forever be in our hearts, I will never forget how much you shared the love you had for my brother with me!"