What Really Happened Between Phoebe Bridgers And Paul Mescal?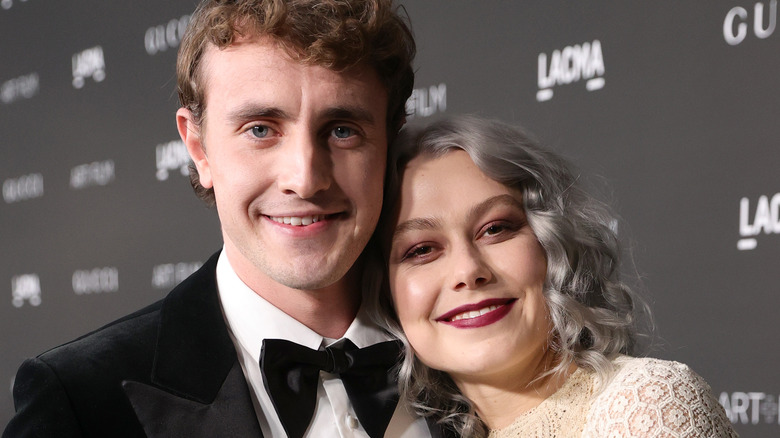 Rich Fury/Getty Images
It only seems like yesterday when Phoebe Bridgers and Paul Mescal had a cute exchange on Twitter that turned into a full-blown romance.
While their online meet-cute was public, much of their relationship was kept under wraps, save for the occasional red-carpet appearance, music video cameo, and a handful of Instagram snaps. But we do know — at one point — the two were head over heels for each other. "I really, really enjoy being around her and her band and her friends. Mescal said of Bridgers to Bustle. In his GQ interview, he also noted that throughout the pandemic, Bridgers was there to save his sanity. "To have someone to lean on through such a mad, mad time has been invaluable," he said. "Really, I don't know where I'd be without her."
Bridgers, for her part, seemed just as smitten. "It's so nice to have that in common with somebody, because it just makes no sense," the "Kyoto" singer shared with The Guardian, adding that she doesn't care what the media has to say about their relationship, including rumors that they were engaged. "F*** the f***ing tabloids to hell, that's what I'll say about that!" For the longest time, the couple — affectionately dubbed "mom and dad" by social media — appeared to have a stable relationship. However, things took a turn when rumors of Bridgers getting romantically involved with actor Bo Burnham started swirling.
Paul Mescal reportedly broke up with Phoebe Bridgers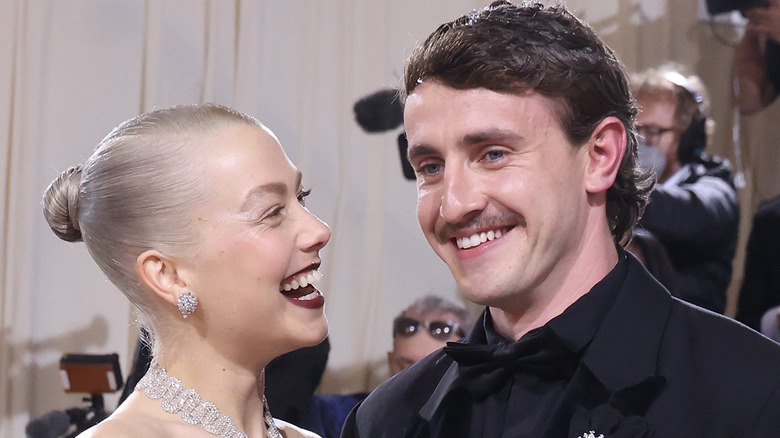 Taylor Hill/Getty Images
As of this writing, Phoebe Bridgers and Paul Mescal have not publicly addressed whether or not they've called it quits, but people on the internet did some deep sleuthing to get to the bottom of things. An anonymous tipster told the popular gossip site Deuxmoi that the "engagement is off," and coincidentally, it was around the time that Bridgers was spotted hanging out with Bo Burnham. To break fans' hearts further, the source added: "It's not an open relationship in the slightest. Paul found out about Phoebe and Bo and called off the engagement" (via Jezebel).
To make matters even more complicated, Matt Healy, the frontman of the band The 1975, shared a photo of him and Bridgers smooching, with Burnham just behind them — goading them on. It doesn't seem like Healy is involved in the love triangle, but a kiss on the lips is a kiss on the lips.
There were also reports that Bridgers and Burnham acted like more than friends during the times they hung out. When a Jezebel staff member saw the two during a performance of "KATE," Burnham apparently gave the Grammy-nominated singer "his undivided and doting attention," noting that their whole interaction felt "flirtatious. Like he was trying to impress her." Make of that what you will.
Phoebe Bridgers hinted about experiencing heartbreak
Fans finally came to terms with the fact that Phoebe Bridgers and Paul Mescal were over when Bridgers penned sad lyrics for his feature on SZA's latest album. In the track "Ghost in the Machine," which Bridgers revealed to NME that she wrote only weeks before the December 2022 release, she sang: "You said all of my friends are on my payroll/ You're not wrong, you're an a**hole/ Screaming at you in the Ludlow /I was yours for free" (via Genius).
To put a nail in the coffin of this whole shebang, Bridgers also seemed to hint at experiencing heartbreak in her "Chicken Shop Date" interview, where she was asked for advice about moving on from somebody. "You just have to do it," she shared. "And it's gonna end at some point but you can't make it end." And apparently, that's why she keeps making heart-wrenching songs. "I think if I had figured that figured out, I wouldn't be making music still."