Inside Lisa Marie Presley's Brutal Custody Battle Over Her Twin Daughters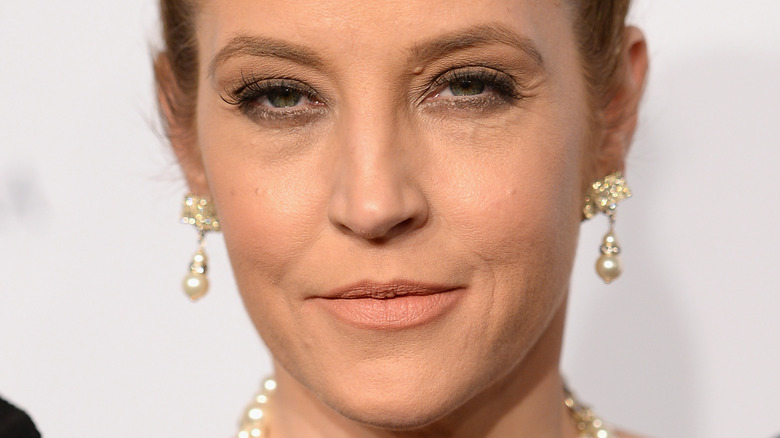 Dimitrios Kambouris/Getty Images
As the daughter of world-famous father Elvis Presley, Lisa Marie Presley's life was anything but ordinary from the start. Lisa Marie, who died on January 12, 2023, signed marriage papers four different times. She drew particular public attention for her relationship with Michael Jackson. At the time of Lisa Marie's marriage to Jackson on May 26, 1994, she had only been divorced a few days, the New Straits Times reported in August 1994.
Lisa Marie got a "quickie" divorce from musician Danny Keough, who she married in 1988. They had two children. At the time of the divorce, Pressley and Jackson were in the Dominican Republic and held a secret ceremony. Lisa Marie's marriage to the King of Pop turned heads as it took place just months after Jackson was first accused of child molestation in 1993, according to Rolling Stone. The union didn't last long. Less than two years later, Lisa Marie filed for divorce, CNN reported.
Lisa Marie then married Nicolas Cage in August 2002, though her third marriage was even shorter than her second. The "Wild at Heart" actor filed for divorce just three months later, People reported. It was her fourth divorce from her guitarist, Michael Lockwood, that proved to be the most contentious. After saying "I do" in January 2006, Lisa Marie and Lockwood welcomed fraternal twin girls, Finley and Harper, in October 2008, according to Us Weekly. After 10 years together, Lisa Marie filed to end the marriage, People noted. The custody battle that ensued turned into a rather serious court matter.
Lisa Marie Presley accused her twins' father of 'inappropriate' behavior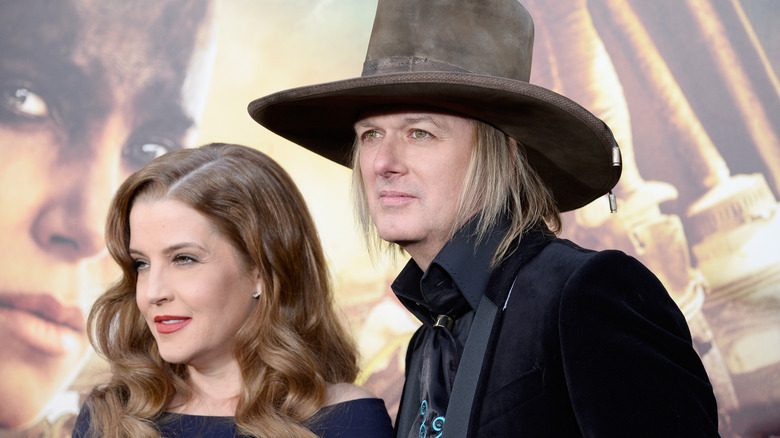 Frazer Harrison/Getty Images
When she filed for divorce from Michael Lockwood in 2016, Lisa Marie Presley asked for sole custody of Finley and Harper, who were 7 at the time, E! News reported. Although he was never convicted of any crime stemming from the accusations, she accused Lockwood of maintaining "hundreds of inappropriate photos of children" in his personal computer in a February 2017 court filing opposing Lockwood's request for spousal support, E! News reported. Police also opened an investigation after receiving reports of alleged child abuse, according to Us Weekly.
The accusations led the local Department of Child and Family Services to intervene. A criminal investigation initiated by the Beverly Hills Police Department was deferred to the Tennessee Bureau of Investigation. Tennessee law enforcement confiscated 80 devices from the Presley-Lockwood household but found no evidence of wrongdoing. "We have not been able to determine a crime occurred in Tennessee and accordingly do not have an open investigation," a TBI spokesperson told People in March 2017.
That wasn't the end of it, though. Lockwood, in turn, accused Presley of using the Church of Scientology to keep him from his daughters, the Daily Mail reported. During the 2020 trial, he also argued Presley was in no state of mind to care for the girls. That July, Presley's son, Benjamin Keough, died by suicide, and Lockwood feared she might suffer a drug relapse. Even after their divorce was finalized in 2021, they continued to fight over custody, People reported. 
If you or someone you know may be the victim of child abuse, please contact the Childhelp National Child Abuse Hotline at 1-800-4-A-Child (1-800-422-4453) or contact their live chat services.
The twins' custody is up in the air again
The issue of Finley and Harper's custody could get even more complicated in the wake of Lisa Marie Presley's death. Presley had 60% custody of the girls, and Michael Lockwood had 40%, TMZ noted. But Presley's first husband, Danny Keough, had been living with her and the twins at the time of her death. And Keough reportedly believes Finley and Harper would be better off with him than with their father. Lockwood will have none of that, however. "It'll be a cold day in hell before he gives up custody of those children," a source told TMZ.
Lawyer Mitra Ahouraian told "Entertainment Tonight" that a bid by Keough would most likely be unsuccessful. "There is a lot of deference given to the biological parent," she said. The fact that Lockwood already had physical custody of the girls for a good chunk of time also plays in his favor. In his statement about Presley's death (via People), Lockwood said that Finley and Harper are his priority. "The most important thing to me at this time is to take care of my daughters, making sure they always feel safe and loved," he said.
The 14-year-old girls could also voice their opinions, which would likely be taken into consideration by the judge, according to the New York Post. It's unclear with whom they'd rather live, but the twins reportedly want to move out of the home they shared with their mother. "[They're] too traumatized," a source told RadarOnline.