Tori Spelling Divulges The Severity Of Her Daughter's Recent Hospitalizations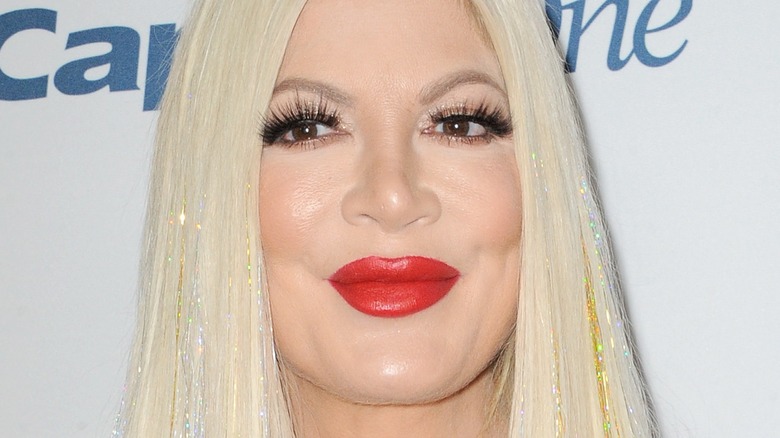 Tinseltown/Shutterstock
Tori Spelling's family has been beset by a string of hospitalizations for various illnesses the past few months. The "Tori & Dean: Home Sweet Hollywood" star revealed last December that she was admitted to the ER after experiencing a "hard time breathing, [with] high blood pressure and crazy dizziness," per Us Weekly. Only two weeks prior to Spelling's hospitalization, her youngest son, Beau, fell ill again after recovering from a three-week-long sickness earlier that month. One day after sharing the news about Beau, Spelling disclosed that her other sons, Liam and Finn, were also under the weather.
Unfortunately, the family's struggle with health didn't end with the closing of 2022. On January 11, Spelling revealed in an Instagram Story that her 14-year-old daughter, Stella, had been hospitalized, per Page Six. "The hits just keep coming," she wrote on the photo at the time. A few days later, Spelling revealed in another Instagram Story, via E! News, that Stella had been diagnosed with a hemiplegic migraine. "Signs of a hemiplegic migraine attack are similar to what would be presented in a stroke, that typically includes sudden severe headache on one side of the brain, weakness, and numbness on one half of the body," Spelling described in her Story.
Now, the "Mommywood" author has come forth with more updates on the scary details of Stella's condition.
Tori Spelling describes daughter's migraine symptoms as stroke-like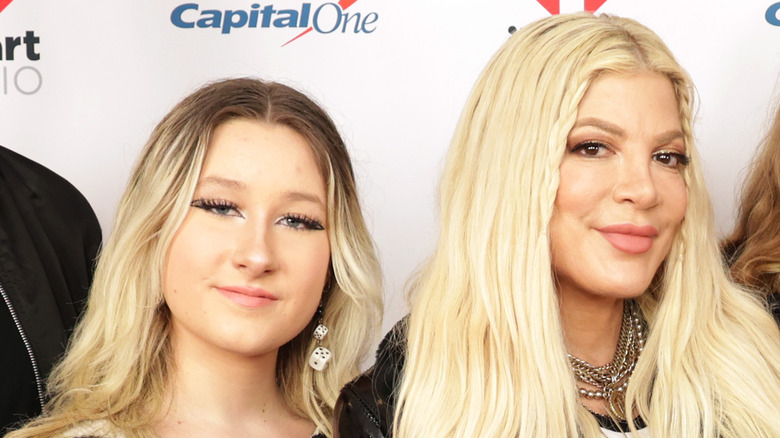 Momodu Mansaray/Getty Images
During a January 19 appearance on Sirius XM's "Jeff Lewis Live," Tori Spelling described the harrowing experience of daughter Stella's recent health after two hospitalizations. Describing Stella's condition as "not great" — as the 14-year-old recovers from a hemiplegic migraine — Spelling articulated the "really scary" symptoms she witnessed in her daughter. "Basically one side goes numb," the former reality star said, calling the symptoms almost stroke-like. "Her left arm was completely numb, she couldn't lift it. And then half of her throat and then her mouth," Spelling recalled.
According to the actor, Stella inherited the migraine from husband Dean McDermott's side of the family, despite the fact that Spelling suffers migraines as well. Currently, Stella is "still dizzy" and nauseous, despite that the migraine had broken. Not taking any chances, Spelling plans on Stella visiting a "neurologist at Children's Hospital L.A." soon.
According to the American Migraine Foundation, hemiplegic migraines make up only 0.01% of all migraine cases. Most likely to affect those 12 to 17 years of age, women are also three times more likely to develop the condition.