T.J. Miller Arrested After Allegedly Reporting Fake Amtrak Bomb Threat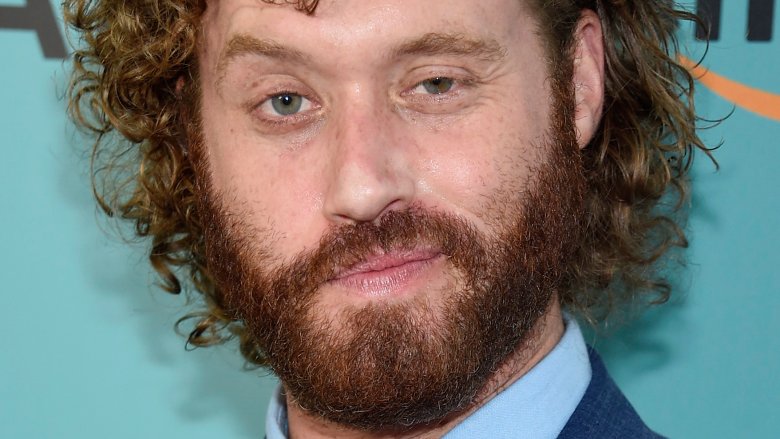 Getty Images
T.J. Miller has been arrested.
On Monday, April 9, 2018, the former Silicon Valley star was busted at LaGuardia Airport after allegedly reporting a fake Amtrak bomb threat last month, The Hollywood Reporter reports.
After obtaining an arrest warrant, Port Authority cops and FBI agents took Miller into custody around 10 p.m. upon his return from performing stand-up in Canada over the weekend. 
According to a press release from the United States Attorney for the District of Connecticut, the 36-year-old actor has been charged for "intentionally conveying to law enforcement false information about an explosive device on a train" on March 18. 
While traveling from Washington, D.C. to Penn Station in New York City, Miller had called 911 to report that a woman "has a bomb in her bag." However, he identified the wrong train number during the call, and while he continued to travel toward New York City, another train was stopped in Westport, Conn. 
Passengers were evacuated as the train was searched by a bomb squad, which caused massive delays. According to authorities, "No evidence of any explosive device or materials was detected." 
Following the search, an officer called Miller back and, after noticing the comedian's slurred speech, asked whether he had consumed alcohol that day or if he suffered from mental illness. "No, absolutely not. This is the first time I've ever made a call like this before," he replied (via TMZ). "I am worried for everyone on that train. Someone has to check that lady out."
Miller, who was recently accused of sexual assault, was later removed from the train due to his intoxication when it arrived in New York City. According to the train's attendant, he had "consumed multiple drinks on the train, and ... had been involved in hostile exchanges with a woman who was sitting in a different row from him in the first class car."
As the attendant and woman in question explained to authorities, she and Miller had gotten into an argument after he allegedly "exchanged profanity" with her and commented on her hair. The attendant also told cops that the woman had not behaved in a suspicious manner, leading authorities to believe that Miller was motivated by a grudge to falsely report the bomb threat.
On Tuesday morning, Miller, who was previously arrested for alleged battery in December 2016, was released on $100,000 bond. If convicted of this federal charge, he could face a maximum sentence of five years imprisonment.
At the time of this writing, Miller and his rep have yet to comment on the arrest.