1,000-Lb Sisters: Tammy Slaton's Life Sure Has Changed Throughout The Years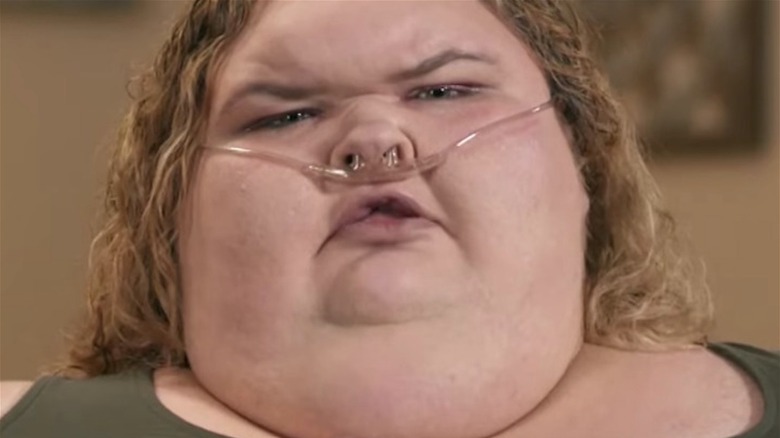 TLC/YouTube
In January 2020, "1,000-Lb Sisters" premiered, introducing the world to Amy and Tammy Slaton. The reality show follows the lives of the sisters as they try to make changes to lead healthier lives. When it started, Amy wanted to go after her dream of becoming a mother, while Tammy wanted to keep herself from becoming bed-ridden.
After the show started, the audience became very invested in the weight loss journey of these sisters. There were those who found their journey inspiring and were rooting for them to get to their goals. Katherine Davis, a viewer, left a review on Google saying, "They have such a beautiful spirit and I know too well they hide their pain behind their laughter and jokes. While it is best for their longevity of life to lose weight I want them to realize they need to be happy with themselves for who they are as they are."
Nowadays, Amy Halterman (her married name) is a mother of two, while Tammy continues on her weight loss journey. Her life has seen many ups and downs since the show started. From controversial friends to a husband, Tammy has continued to fight to get to where she wants to.
She had controversial drinking buddies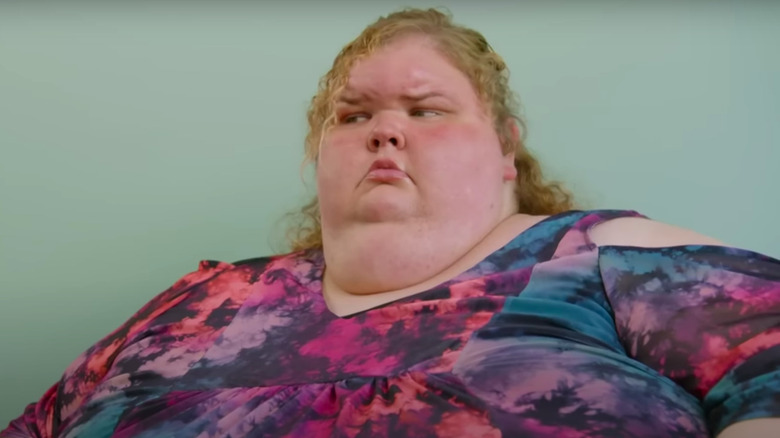 TLC/YouTube
Reality TV will show the day-to-day lives of individuals in whatever setting they find themselves. For Tammy Slaton, that meant "1,000-Lb Sisters" would showcase the hardship of her weight loss journey. However, it also allowed the audience to take a peek into her life and see what she did on a daily basis.
During Season 3 of the show, Slaton was seen hanging out with some friends who were taking her down an unhealthy path. The four of them were vaping, drinking, and eating food that would distract Slaton from her end goal of losing weight. Fans began to wonder how this would affect her life and how good (or bad) this was for her. One fan went as far as to say, "You can tell they are just there and not genuinely friends with Tammy."
These moments on the show were controversial and made people wonder if Slaton was serious about her health. However, Slaton explained why she was behaving that way during an episode, "As a teenager I wasn't doing any partying. I was super shy about my weight, and I really didn't have too many friends. So, like, I just stayed in my little bubble. But now I'm to the point where I don't care. I'm gonna be me. Whether you like it, he likes it, she likes it, we all don't like it. I don't care. I want to be me."
She came out as pansexual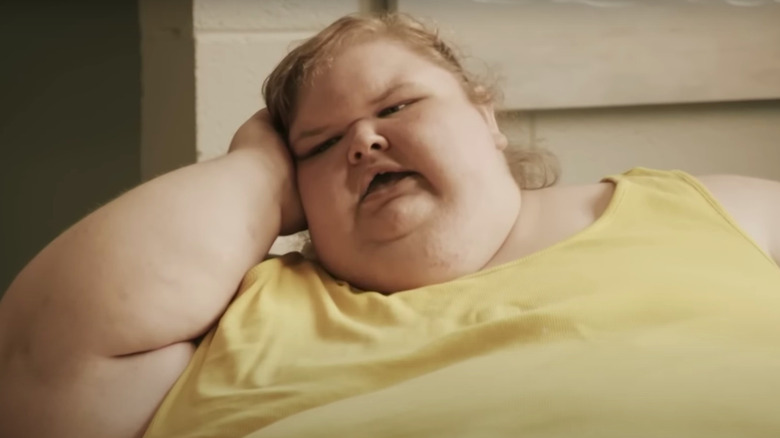 TLC/YouTube
In 2021, Tammy Slaton was dating Jerry, who appeared on "1,000-Lb Sisters" a few times. During one of the episodes, Slaton is with Jerry, her sister Amy, and Michael (Amy's husband) at a restaurant when she decides to come out.
Slaton tells her then-boyfriend that she is pansexual and when asked what that is, she immediately says "love is love." However, she goes on to explain how she got to that realization and what it means for her. "I always thought I was bisexual, and then I started talking to one of my friends and she told me she was pansexual, and I asked her kind of what it meant. It means you love everybody, not just the same sex. And I was like, 'Well, I guess I am too,' because I wouldn't mind being with someone who's transgender, or whatever."
At first look, it seemed like Jerry wasn't accepting of Slaton's sexuality, but he is later seen saying he will love Tammy exactly for who she is. "I'm still trying to figure out what it means, but I'm okay with it," he says when it comes to the term pansexual. The moment at the restaurant shows that Amy is still wondering what being pansexual means, as she admits she hasn't heard the word before.
Tammy Slaton dated Mikey Mooney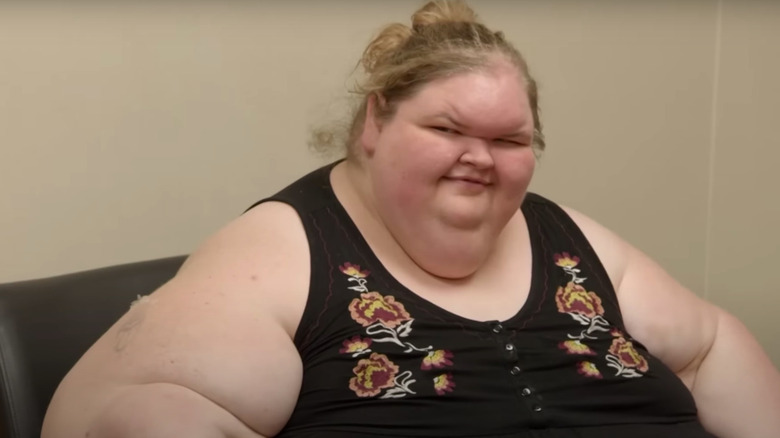 TLC/YouTube
After Tammy Slaton's life became public, everything she did (or didn't do) became news. That is why it wasn't a surprise when her relationship with Mikey Mooney hit the tabloids and everyone began talking about it. There was more than one person who questioned Mooney's motives and wondered whether he loved Slaton or was in it for the clout.
In May 2022, The Ashley's Reality Roundup announced Slaton and Mooney's relationship by sharing Mooney's Facebook post that read: "Words can't even express how safe and loved I feel when I'm with you I'm forever grateful for everything you do my love. I love you so much. Cheers babydoll, you're the best thing to have ever walked into my life."
It was Mooney's friends who first posed the question on Facebook of how the relationship had started and whether he was doing it to be on the show. Mooney's reply guaranteed he wasn't doing it for clout, "I chased her for three almost four years now, and now I'm the happiest I've been in years. I just wanna see her succeed. I don't care what she looks like; It's what beats on the inside of her chest that counts. I want to help her through everything." He also used to post photos of their hands, promising he would be by Slaton's side no matter what happened. Sadly, the relationship wasn't meant to last.
She was admitted into a food rehab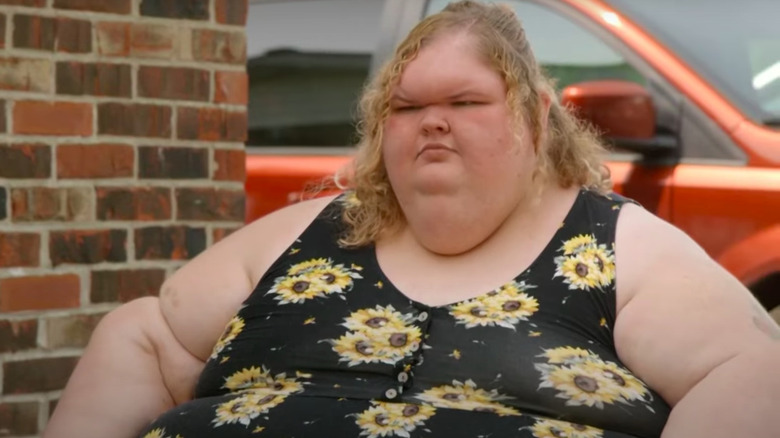 TLC/YouTube
Although at one point fans may have doubted Tammy Slaton's desire to lose weight, she has proven that she is still committed to her goal. In January 2022, Slaton was admitted into a food rehab center after some reckless behavior that had made the people around her worry for her health.
She had previously been admitted for treatment, but in 2021, as shared through People, she decided to leave the facility before the treatment was done. Slaton announced, "I'm homesick. I miss my bed, I miss my family. So, I think I'm ready to go. I want to try to get the rest of the weight off on my own." Working on losing the rest of the weight on her own didn't go as planned, so she seeked the help of professionals once more.
Both her brother, Chris, and her sister were happy to see Slaton go back into rehab to try and get healthier as they had been worried she wouldn't be around to watch her nieces and nephews grow up. It was a health scare that pushed Slaton down this road. "They didn't know if she was going to make it through the night. Or make it through the next hour," said her brother. As happy as everyone is to watch Slaton choose to take care of herself, she has said this time around she is doing it because she knows she needs to take care of her body.
She married Caleb Willingham
In November 2022, The Sun shared an exclusive video in which Caleb Willingham was proposing to Tammy Slaton outside the food rehab center they were both attending. The couple met at the center as they were both admitted to receive the help they needed during their weight loss journey. Someone close to the couple said, "They have a lot of the same struggles that they can share. They've been a huge support for each other [in rehab], which is awesome."
Not too long after the proposal, People shared an exclusive photo of the happily married couple as they celebrated their wedding with their loved ones. After failed relationships, health scares, and several stays at different rehab centers, it is nice to see Slaton smiling and celebrating her life with the man of her dreams.
"Our wedding day was perfect, there was so much love in the room. I literally married my best friend," Slaton said about her husband. "You all knew me as Tammy Slaton, but now you'll all know me as Mrs. Tammy Willingham. I'm married now!" For her, one of the highlights of being married is waking up and going to sleep next to Caleb.
Tammy Slaton was hospitalized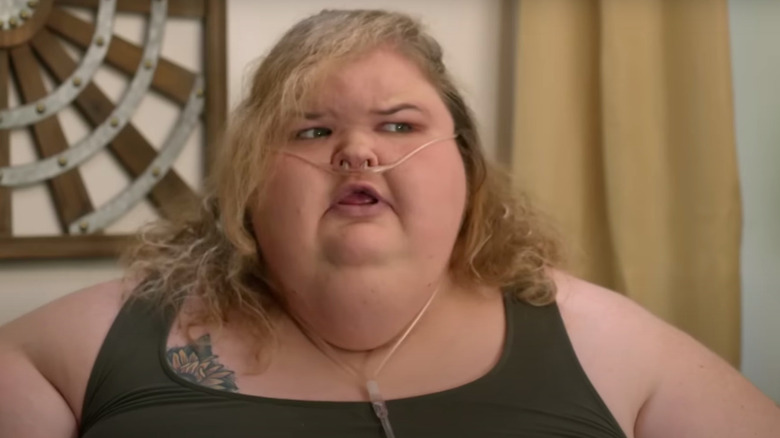 TLC/YouTube
At the same time the news of Tammy Slaton's wedding hit the news, so did the harsh reality of her health problems. Throughout her time on "1,000-Lb Sisters," Slaton's health was discussed on more than one occasion, posing the risks of her weight. As the teasers for Season 4 were released, fans got to see a clip in which her family fears for her life because she has quit breathing and her body was shutting down.
Although the trailer begins with Slaton saying, "I'm still here b*****s," her doctor, who warns her of the risks, and her brother don't sound as cheerful. "If she doesn't get the surgery, she's gonna die because of her weight."
When talking to People about her near-death experience, Slaton claimed she had learned her lesson and would begin living life the way she wanted to without falling for what others wanted her to do. Instead of getting angry and rapidly reacting to situations she didn't like, "I'm grabbing the bull by the horns and taking control of my life again and not letting my body defeat me. I told y'all that this wasn't the end of me. The new and improved Tammy is on the way."
She continues to lose weight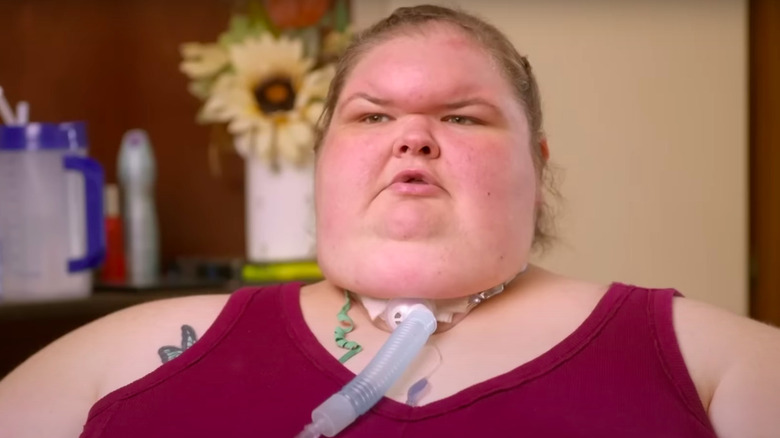 TLC/YouTube
After her most recent health scare, Tammy Slaton continues to navigate her weight loss journey accompanied by her family and Caleb. In January 2022, her husband shared a video on TikTok where fans could see Slaton working out on her wheelchair. The caption read, "look at my baby ... out here killing it," proving that he stands by her side at all times and they are both working together through their rehab. Several fans commented on the video, remarking how this new relationship was helping Slaton reach her goals and become a healthier person. One fan said, "Sometimes being loved is the support you never knew you needed for this kind of journey. You go girl. Gods got you!!"
On her end, Slaton dueted the video and she could be seen next to Caleb in the same outfit she was wearing while working out. This proves the couple is doing the exercises together and keeping each other on the right track.
Slaton's work out video also surprised her followers with her voice as they didn't know she could sing. Of course, this is making fans more excited for the release of Season 4.
She talked about her struggles with mental health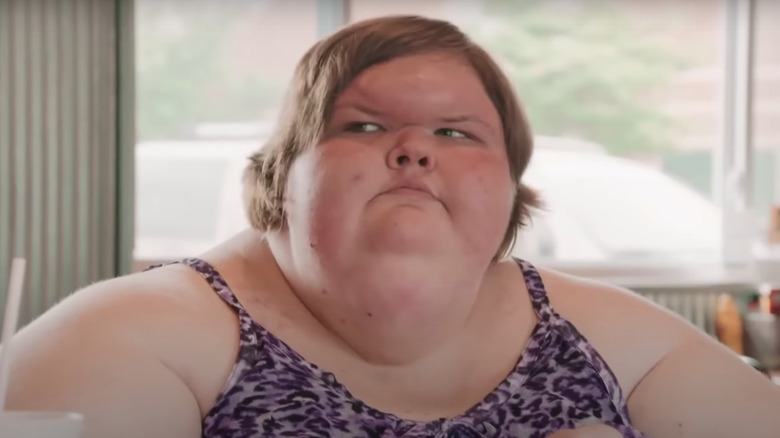 TLC/YouTube
Tammy Slaton's journey hasn't been an easy one, and "1,000-Lb Sisters" has never shied away from showing the reality of what dealing with obesity is like. This means going beyond the obvious discussion points of having to lose weight, needing to exercise, possible surgeries, and doctor's appointments. For Slaton, it meant diving into her mental health and what her weight has made her feel.
In 2019, she told People, "I attempted to kill myself last January. I had a feeling that if I didn't make changes now, I wasn't going to live past 35." So, even though people have judged her for partying on the show, it wasn't all sunshine and flowers for Slaton.
Part of her depression and struggles came from the fact that she didn't want to be seen and was afraid of what people may say about her. However, after the show aired and Slaton became more open about her reality, things changed for both her and her sister who navigated this new life together. "I don't feel like I have to wear a mask or hide my body when I leave the house anymore. I'm not afraid to let people see me."
If you or anyone you know is having suicidal thoughts, please call the National Suicide Prevention Lifeline​ by dialing 988 or by calling 1-800-273-TALK (8255)​.