What's The Age Difference Between Nicolas Cage And His Wife Riko Shibata?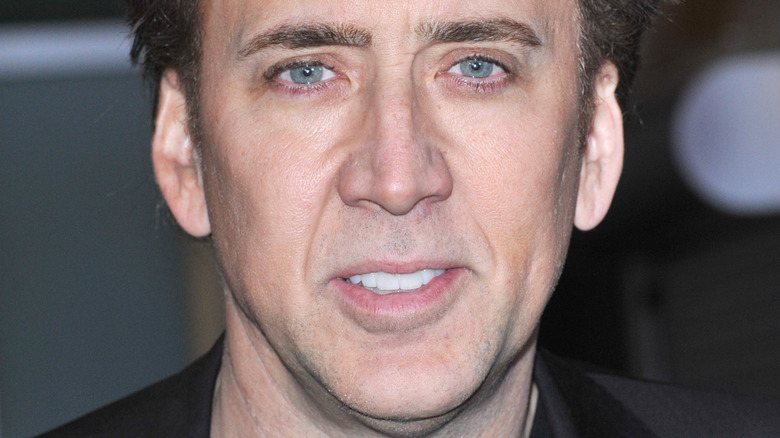 Kathy Hutchins/Shutterstock
Nicolas Cage has been married five times, but he seems to have found love with fifth wife Riko Shibata. While there's more to say about her, attention has reignited about Cage's previous marriage to Lisa Marie Presley after her tragic death on January 12, 2023. They were married back in 2002, but the marriage lasted for 108 days in total. When Presley died, Cage paid tribute to her. "This is devastating news," he said in a statement via his manager, per CNN. "Lisa had the greatest laugh of anyone I ever met. She lit up every room, and I am heartbroken."
After Presley, Cage married two more times, followed by two breakups, until he met Shibata. The two connected in Japan, while Cage was filming "Prisoners of the Ghostland," according to Us Weekly. They tied the knot and have gone on to have, by all accounts, a happy marriage despite a substantial age gap.
Nicolas Cage and Riko Shibata got engaged on FaceTime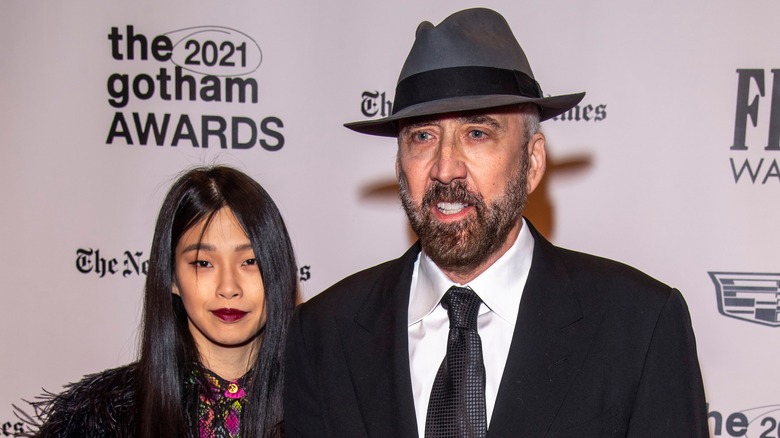 Ron Adar/Shutterstock
Riko Shibata is 30 years younger than husband Nicolas Cage. They met through mutual friends, though Shibata also had a part on the set of "Prisoners of the Ghostland," which brought Cage to Japan in the first place. To give some context as to when their romance began, People mentions, they were first spotted holding hands in February 2020.
While speaking on his older brother's radio show, Cage told Marc Coppola that he and Shibata got engaged via FaceTime because the coronavirus pandemic forced them apart for a time. "She left New York and went back to Kyoto, Japan, and I went back to Nevada and I hadn't seen her for six months," Cage explained. "We were really happy together and we were really excited to spend that time together so I finally just said, 'Look, I wanna marry you,' and we got engaged on FaceTime," Cage added.
He said that he got her a black diamond engagement ring. "Her favorite color is black," he explained. "So she wanted the black gold and the black diamond, so I found it and customized it and personalized it. I actually sent it to her via FedEx." At the time, because of the pandemic, Cage and Shibata weren't able to set a date for their wedding, but they did that once travel restrictions eased up.
Nicolas and Riko welcomed daughter August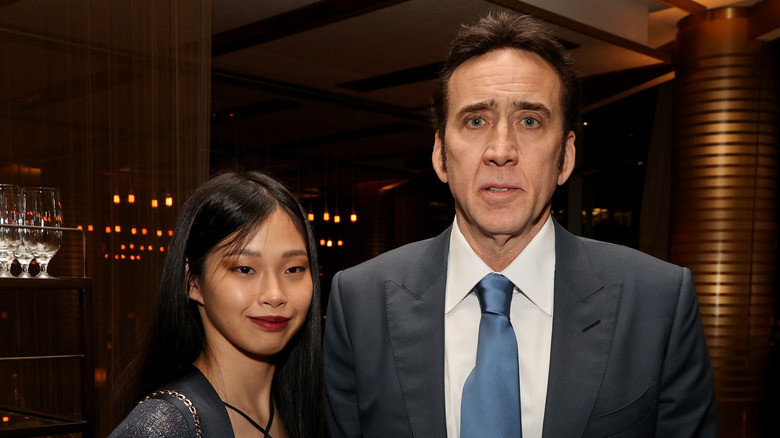 Kevin Winter/Getty Images
Nicolas Cage and Riko Shibata got married in Las Vegas on February 16, 2021 in a small ceremony, per Us Weekly, at the Wynn Hotel. "It's true, and we are very happy," Cage said of the event. Cage was 57 at the time while Shibata was 26. The wedding brought together both of their beliefs and cultures. Shibata wore a traditional, handmade kimono while Cage wore a tuxedo by Tom Ford. They combined features of a Catholic wedding with Shinto elements. Cage's ex, Alice Kim, to whom he was married from 2004-2016, was in attendance as was their son, Kal-El Coppola Cage. Kim and Cage have remained close since their split.
Cage later addressed his numerous marriages in an interview with the Los Angeles Times, reflecting on his 5th wedding to Shibata. "I'm really happily married. I know five is a lot," he said in January 2022, "but I think I got it right this time." Cage and Shibata welcomed their first child together, daughter August Francesca Coppola Cage, per People, on September 7, 2022.