The Shady Comment LeAnn Rimes Once Made About Carrie Underwood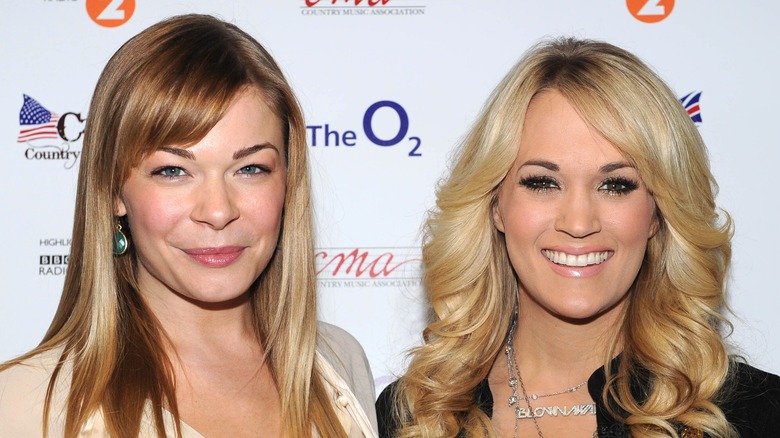 Brian Rasic/Getty Images
LeAnn Rimes has been in the business for decades, so you could say she knows a thing or two about how the music industry works. The star released her debut album, "Everybody's Sweetheart," all the way back in 1991, but didn't see major mainstream success until she dropped the country album "Blue" in 1996, which number three on Billboard's Top 200 album chart. That success continued throughout the years, with Rimes returning to that same spot on the album chart with "This Woman" in 2005. That year just so happened to be the same year a new up-and-coming country superstar arrived on the scene by way of "American Idol." Carrie Underwood.
Underwood, as you'll likely already know, shot onto the scene after winning Season 4 of the then Fox juggernaut — and it didn't take long for her to cement herself as country music's newest princess. The year after dropping her debut single "Jesus, Take The Wheel" (not including her "American Idol" winner's single) and following it up with the country classic, "Before He Cheats," Underwood found herself nominated for Female Vocalist of the Year at The Country Music Association Awards (aka the CMA Awards) — but not everyone was so excited to see her rapid rise to the top.
Carrie Underwood first CMA Awards wins ruffled some feathers
Though she would go on to win countless awards over her career, Carrie Underwood's first wins (of many) at the CMA Awards didn't go down well with everyone. For a little context, Underwood won both the Horizon Award and Female Vocalist of the Year during the 2006 ceremony, though many believed Faith Hill (who released her debut album, "Take Me As I Am," a whopping 13 years earlier) deserved the latter. Country music fans may remember Hill's notorious angry "What!?" reaction when Underwood was confirmed the winner, with cameras even watching her storm off backstage. Hill's manager claimed shortly after that it was all a joke, but she wasn't the only one who caused courted controversy that night.
LeAnn Rimes made her thoughts on Underwood win very clear, throwing in her two cents via her website shortly after the incident went down. Rimes, who was not nominated for the category, defended Hill in a major way, writing (via Entertainment Weekly), "We all work very hard and have for many years so to see someone come in and win Female Vocalist that has been here for a VERY short time is a little disheartening." Rimes continued, "I don't think Faith was angry about her loss, she probably felt, as I did that Carrie has not paid her dues long enough to fully deserve that award." Rimes then signed off by asking everyone calling out Hill to be a little nicer to her.
Are LeAnn Rimes and Carrie Underwood friends?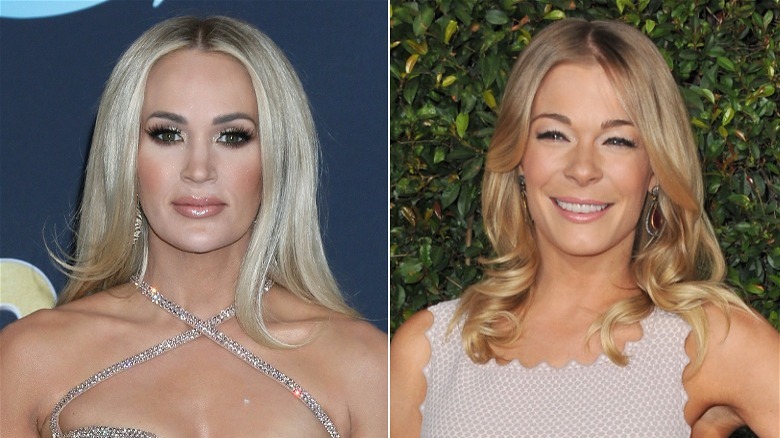 Kathy Hutchins & Jaguar PS/Shutterstock
Carrie Underwood never appeared to explicitly mention LeAnn Rimes' website post in public, though it has been reported that the latter's comments caused some friction between the two. In 2014, an insider claimed to Star that Underwood supposedly asked to move her dressing room away from Rimes' when the two were filming that year's annual "CMA Country Christmas." "Carrie can't stand LeAnn. When they see each other, she puts on a friendly front, but she thinks LeAnn is desperate, unoriginal and a has-been. And LeAnn has no idea how Carrie really feels," they stated, claiming Underwood was apparently still holding a grudge about Rimes' 2006 remarks. "Carrie saw it as a shallow and shameful welcome into the industry and showed LeAnn's true colors. She's waited eight years for an apology and has never gotten one," they said, also purporting Rimes was supposedly feeling a little bit of the green-eyed monster when Underwood hit the scene because of her powerful vocals.
But despite that claim, the two certainly at least seemed like they'd put the past behind them when they joined forces across the pond in March 2013. Photos shared by Just Jared showed the two posing together in the press room backstage at the Country 2 Country festival in London, flashing big smiles as they got in close for the cameras.