Carrie Underwood Shares An Emotional Memory From The Night She Won American Idol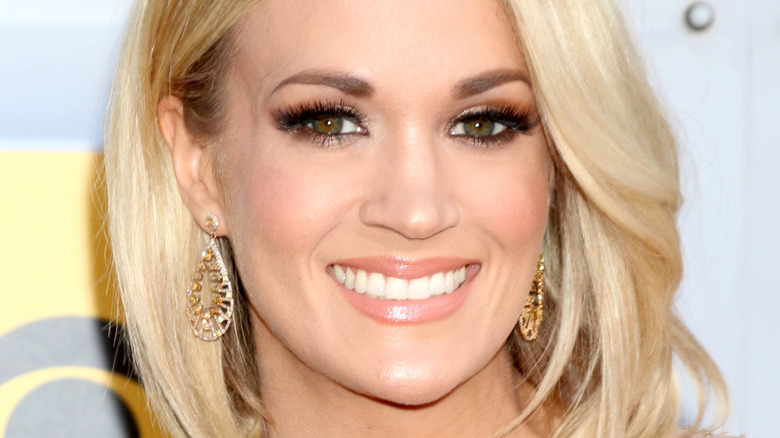 Kathy Hutchins/Shutterstock
Carrie Underwood is one of the most successful artist in country music, and she has the trophy case to prove it. The singer has been nominated for an impressive 16 Grammys, and she's taken home the trophy eight times. According to Country Now, Underwood has also been nominated 15 times in a row for "Female Vocalist of the Year" at the CMAs. Not too shabby if you ask us! 
It almost seems like Underwood has always lived her life in the spotlight, but she came from humble beginnings. Fans first heard the country music star's voice on the fourth season of the hit show "American Idol," where she came out ahead of Bo Bice. Much like Kelly Clarkson winning the freshman season of the series, Underwood's win on the show helped launch her into the spotlight. During an appearance on "American Idol" in May, Underwood got emotional as she recalled how much her life changed since she won the show. "I do feel like this show was created for people like me, for people like Noah who didn't know to dream that big but knew that they wanted to do something," she said, referring to her mentee and Season 20 winner, Noah Thompson. "That's a decision that changed my entire life — I have no idea where I'd be. And to see contestants get every opportunity they've ever wanted is just magical."
It's easy to see that winning the show meant a lot to the singer, and all these years later, she's still reflecting on that very special day.
Carrie Underwood shares a throwback journal entry
Carrie Underwood is taking a trip down memory lane. The "Before He Cheats" singer took to Instagram to share a journal entry from when she won "American Idol." In the entry, the superstar recalled the moments leading up to being named the winner. When Ryan Seacrest called her name, she said she immediately began to cry. "Today is the 17 year anniversary of my @americanidol win! Where does the time go? Please enjoy a page from the journal of a 22-year-old farm girl who just had the most incredible night!" she wrote in the caption. The singer added that she still felt "excitement through the pages."
Some fans flocked to the post's comments section to congratulate the singer on the anniversary of her win, while others shared their own memories of that night. "It was definitely meant to be! Glad you still relish this day," one follower gushed. "Only time I EVER voted, and my one and only vote was for....... Carrie Underwood!!" another user added.
According to Talent Recap, Underwood spoke with Kelly Clarkson on her show, recalling how she almost didn't even audition in the first place. "It was very unlike me to just go for it, and it was scary," Underwood told Clarkson. "So I definitely had a moment of 'What am I doing?' Like, it's easier to stay home. But I wouldn't be doing anything I'm doing now." What a great story and a fortuitous win!