Theo James' Real Name Isn't What You Think
lev radin/Shutterstock
Since shooting to international fame in the "Divergent" film series, Theo James has been known to most as, well, Theo James. However, it turns out the moniker we've come to know the "Sanditon" alum by is just half of what we'd find on his birth certificate. So, just what is his real name, and more importantly — why did he change it? 
First things first, it's worth noting that stage names are far from rare in showbiz. After all, they are called stage names. Take Reese Witherspoon, for example. As noted by Vogue Australia, the actor's given name is actually Laura Jeanne Reese Witherspoon, with Reese being her mother's surname. Plus, who can talk about stage names adapted from real-life monikers without mentioning Rihanna? Her surname, Fenty, may be emblazoned on her beauty line, but "Oh na, na," she's still yet to use her first name, Robyn, professionally. 
As for why so many artists opt to change their names, MasterClass points out that the reasoning can be anything from identity protection to preventing typecasting. In the case of Theo James, it seems the latter is true. However, that's not to say he doesn't have any regrets about the stage name.
According to one agent, his surname was 'too Greek'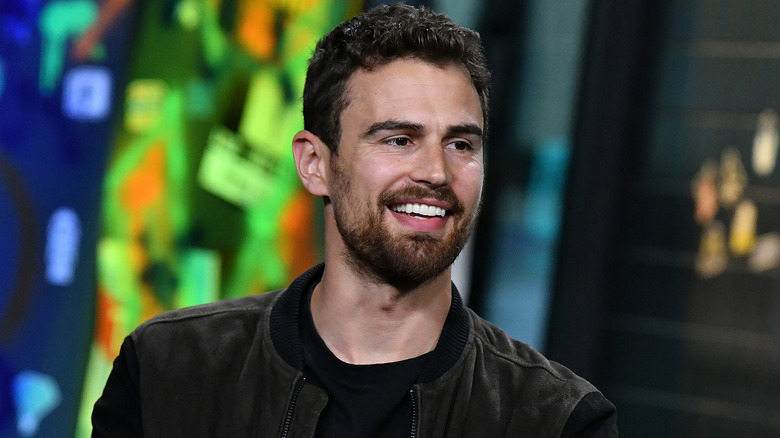 Slaven Vlasic/Getty Images
We weren't kidding when we said Theo James was just half of this actor's real name. In fact, our ratio was a little off for this particularly lengthy one. Sitting down for an interview on "Live with Kelly and Ryan," the actor revealed his full name, telling the hosts, "My name's Theodore Peter James Kinnaird Taptiklis." 
A mouthful of a name — no doubt — but with so many to choose from, what made James (or, ahem, Taptiklis) settle on Theo James, in particular? A few years back, he told interviewer George Satsidis, "I always use my middle name." However, in his much more recent sit-down with Kelly Ripa and Ryan Seacrest, the "Time Traveler's Wife" actor joked that there was more to the story. "When I first started as an actor. ... I remember an agent saying to me, 'Taptiklis — too Greek. Go with James,'" he laughed. 
James added, looking back, he wasn't thrilled that he'd heeded the advice. "I kind of regret it," he mused. However, he wasn't opposed to Ripa's suggestion that he switch things up every few years, à la P. Diddy. "I could reinvent myself. ... P-Dog, I could be called!" he enthused. Hey, it's always great to have options! 
... and he's inspired by his family's history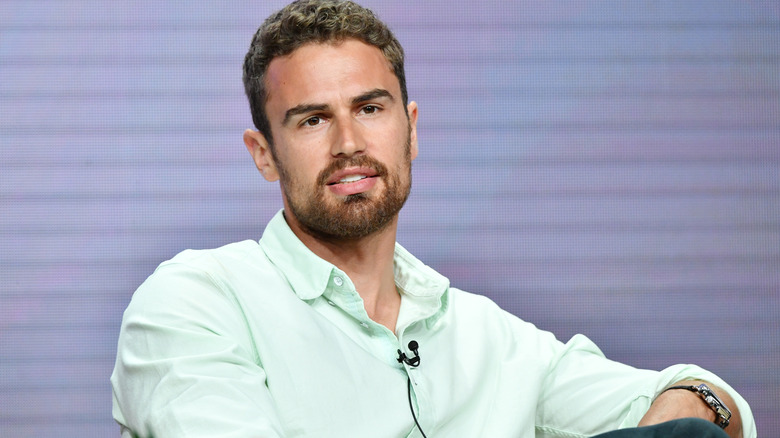 Amy Sussman/Getty Images
Theo James might not go by his real surname professionally, but that's not to say he has anything against it or wants to hide his identity. The actor has made it well known that even if one agent saw fit to caution against it, he is part Greek. Case in point: His IMDb profile, which uses his full name. 
The "White Lotus" actor has used his platform to bring attention to an issue that he feels particularly strongly about, especially given that it affected his own family not long ago. According to UNHCR, James' Greek paternal grandfather escaped Greece for Syria during World War II. His grandfather ultimately assisted with a refugee organization after the war ended. Decades later, James followed in his footsteps and paid it forward, helping bring attention to Syrian refugees in Greece. It's unsurprising, then, that speaking of his experience with the UN's Refugee Agency, the actor described it as "Deeply personal." 
So, Theo James' real name is Theodore Peter James Kinnaird Taptiklis, and he has no intention of keeping that fact from the public. Granted, with such a lengthy moniker, he might stick with his tried-and-true stage name, Theo James. That said, maybe a few credits down the line and we'll see him billed as "P-Dog," after all.