The Flavor Of Love Star You Might Not Remember Shaq Dated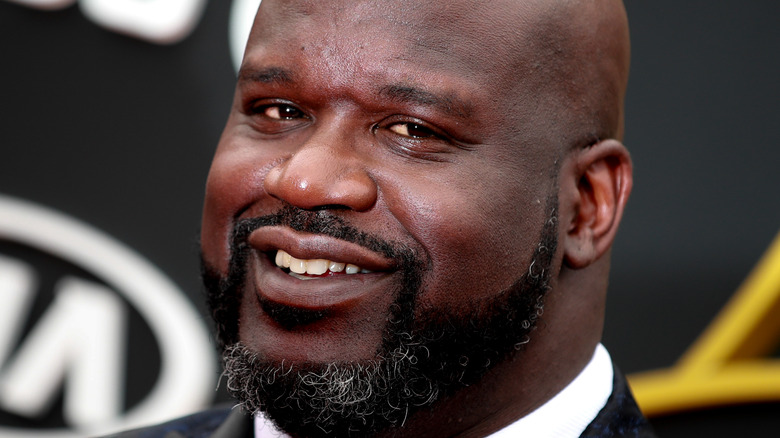 Rich Fury/Getty Images
Do you remember "Flavor of Love"? If you weren't around (or watching VH1) in the early 2000s, allow us to fill you in. Around that time, there were a host of shows centered on c-list celebrities finding love in a competition-style setting — think "The Bachelor" with a few more (and mildly outrageous) challenges. Rapper Flavor Flav was one of those celebs. 
In Flavor Flav's show, "Flavor of Love," a group of women moved in to a mansion and competed for Flav's affection. The rapper would drop in every now and then to hang out with the women and give viewers an up close and sometimes a little too personal view of the competitors. As many fans would remember, Flav ceremoniously gave all the women quirky nicknames like "New York" (aka Tiffany Pollard who went on to have a few shows of her own) and "Pumkin" instead of calling them by their actual names.
At the end of Season 1, it came down to a couple of women, Nicole "Hoopz" Alexander, "New York", and "Pumkin." Ultimately, Hoopz won but the love didn't last and within a few months, Flavor Flav was back for Season 2 and another chance at happily ever after.
That wasn't the last we heard of Alexander, though. When things ended with Flav, she got together with multi-hyphenated star, Shaquille O'Neal. And what seemed like a promising long-term partnership came to a surprising end in 2012.
Shaq had a messy breakup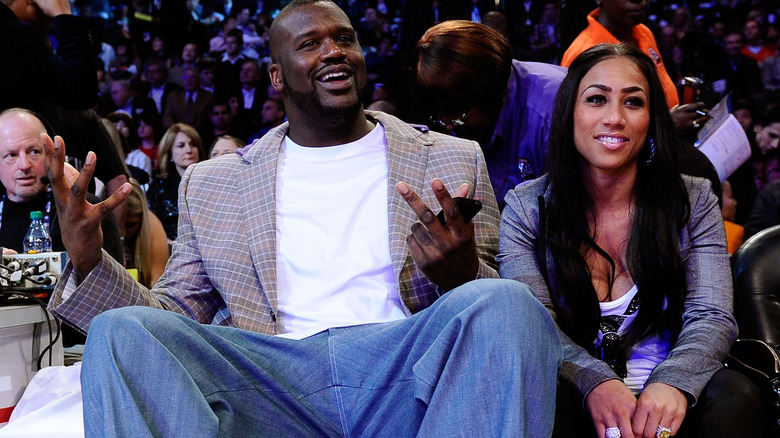 Kevork Djansezian/Getty Images
Back in August 2012, the Boston Globe broke the news that Shaquille O'Neal and his fiancée Nicole Alexander had called it quits after nearly three years of dating, according to Daily Mail. After her stint on "Flavor of Love" Alexander got together with O'Neal and moved to Boston to be with him while he played for the Celtics. When his basketball career came to an end, the pair moved to Florida so that O'Neal could work as a commentator and actor.
So, why did things suddenly end? Well, according to sources, the pair got in a blowout fight in front of a group of children at a gymnastics center in Orlando, per Vibe. Alexander reportedly wanted to take classes at the gymnastics center but was told she was too old to sign up. Upon learning she couldn't participate, Alexander lost her temper and embarrassed O'Neal, who in turn lost his temper and later decided to end the relationship.
However, Alexander remembers things a little differently. As far as she is concerned, the end of the relationship was a long time coming. In an interview with Black America Web, she claimed that O'Neal cheated on her and even brought the other women to public events, which she would later see on TV. Whatever the truth, she was just as ready for the relationship to end as him and didn't want to hold a grudge. "It is what it is. It's what he decided to do and he has to live with that," she said. "I'm still hopeful for love."
Shaq almost lost his family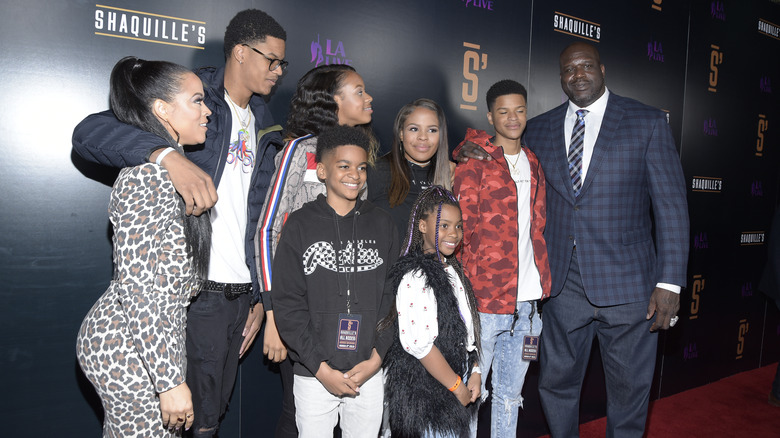 Michael Tullberg/Getty Images
Shaquille O'Neal hasn't had an easy time in love — even before he met Nicole Alexander. O'Neal's most high-profile relationship was with his ex wife, Shuanie O'Neal. Things came to a crashing end in 2009 when she filed for divorce after nearly a decade of marriage, per The Sun. Shaq's life changed overnight. Shuanie took their five kids and moved out, leaving Shaq to face a strangely quiet house. Shaq told People that it was the change at home that really upset him. "Second day. Third day. Fourth day... forever. The silence starts to get to you."
As for whose fault it was that the marriage ended nearly a decade later, Shaq is very open about accepting blame for his part in the fallout. "I was a d–khead," he told the outlet. "You don't know how good you got something till it's gone." Ultimately, he was able to pull through, thanks to his close relationship with his kids. "I've only got peace because they don't hate me," he added. "If they hated me, I probably would never have peace, but because we have a relationship and we're cool, I have peace."
Though he's largely stayed out of serious relationships since his engagement to Alexander ended a few years after his marriage, Shaq told the outlet he could see marriage in his future. In 2021 the former NBA star was linked to actor Annie Ilonzeh, but they reportedly called it quits later that year, per SportsLulu.