All The Movies Julia Roberts And George Clooney Have Starred In Together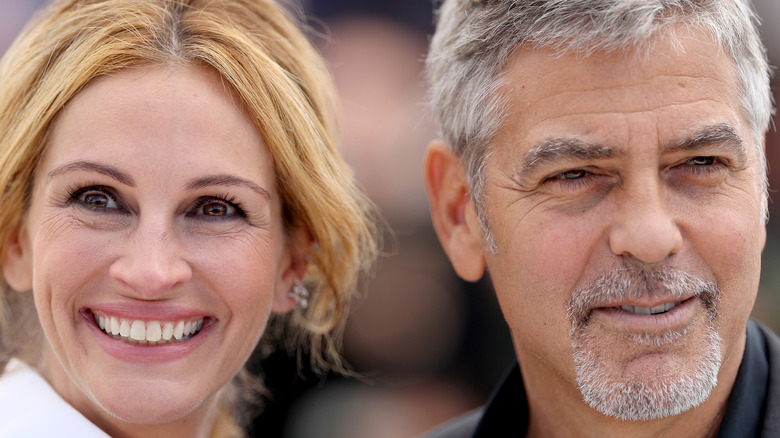 Pascal Le Segretain/Getty Images
Similar to any interpersonal relationship, actors must have some sort of chemistry to make a movie shine. Many co-stars have notoriously hated one another, fallen in love, or have become amazing friends. One friendship that seems to work both on-screen and off is that of Julia Roberts and George Clooney. Both celebrities are extremely talented in their profession, no doubt, but when they star in the same movie, it becomes something truly spectacular.
Both actors recognized their insane chemistry from the moment they first met. Back in 2000, Roberts talked about the first time she met Clooney on "Jimmy Kimmel Live!" Roberts talked about the first time she met Clooney. "We became instant friends ... There's some people that you meet, like my GTC [George Timothy Clooney], who you go, 'Okay, I'm going to know this person until the end of time. This is a good one." In the entertainment industry, people are constantly working with people they may not be fond of. Lucky for Roberts this wasn't the case with the "Up In The Air" actor. This friendship isn't one-sided, Clooney has reciprocated the same sentiment toward Roberts, per People. He said, "The minute we met, we had fun. The beauty is when you work with people who take their work seriously and don't take themselves seriously, and that's really fun."
Clooney and Roberts have such a solid friendship that it has led them to create some spectacular films. In fact, the number of movies they starred in together may surprise you.
Julia Roberts and George Clooney starred in 6 movies together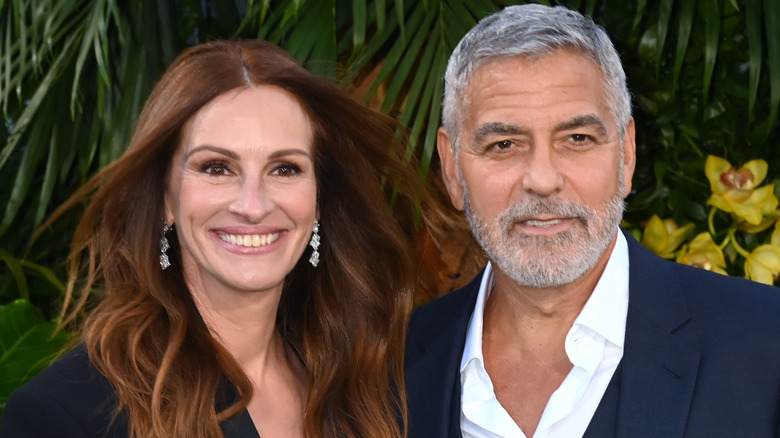 Dave J Hogan/Getty Images
Julia Roberts and George Clooney are two of Hollywood's biggest actors, and lucky for us, we got to see them star in six movies together.
The duo began their long career with one another when they starred in the 2000 film, "Ocean's Eleven." It's hard to imagine Clooney having to bribe anyone to play his love interest, but it turns out, the actor worked hard to get Roberts to star in their first movie together. He shared with GQ, "I remember Julia. I didn't know her. I'd never met her and she was making 20 million dollars a film ... And we wanted Julia to do it. So, I put a 20 dollar bill on a script, and I sent it to her. And I said, 'I hear you get $20 a picture now." Thankfully, whether it was the twenty dollars or not, Roberts took on the role. The Ocean's trilogy resulted in two of the six films they starred in.
The other four films the actors filmed together were "Confessions of a Dangerous Mind" in 2002; "August: Osage County" in 2014; "Money Monster" in 2016, and "Ticket to Paradise" in 2022. Fans can't get enough of the pair, and it's obvious in box office numbers. According to Fox News, five of their biggest projects have made over one billion dollars at the global box office. But, for the two actors, it goes beyond just numbers as they're extremely close outside of work.
George Clooney and Julia Roberts support one another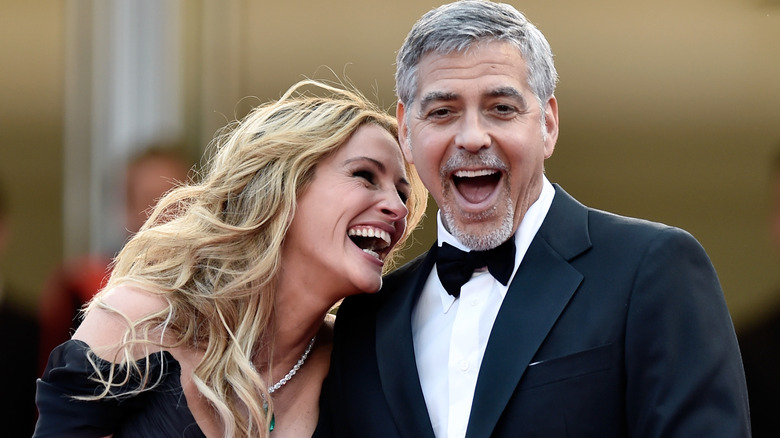 Pascal Le Segretain/Getty Images
George Clooney and Julia Roberts are one of the most iconic famous duos in the entertainment industry. The actors have been able to go from just work friends to real-life friends. From pulling pranks on one another to getting along with each other's families, Clooney and Roberts have a friendship many strive for.
Roberts spoke about how her and Clooney's friendship only has gotten stronger as their families have grown. She told People, "We've just stitched our lives closer together. All these people that come into our lives; my husband, my children, his wife Amal Clooney. We just keep stitching our lives closer together." The two families are so close that Clooney's kids call Roberts, "Auntie JuJu," per Harper's Bazaar. Some friendships can fizzle out over time as people get older and things start to change in their lives. Clooney and Roberts are an exception to this as they continue to grow closer.
Clooney has even shared the reason behind his and the "Pretty Woman" actor's successful friendship, per People. He explained how Roberts' ever-growing loyalty and kindness have never changed. He said, "So if you'd ask me what's different, I'd say that with the exception of us getting a little bit older, nothing in terms of who we are, or who you are." The duo has continued to be who they are even in this whirlwind industry, and it has only proven that their friendship will last for years to come.