What Eric Trump's Wife Lara Really Used To Do For A Living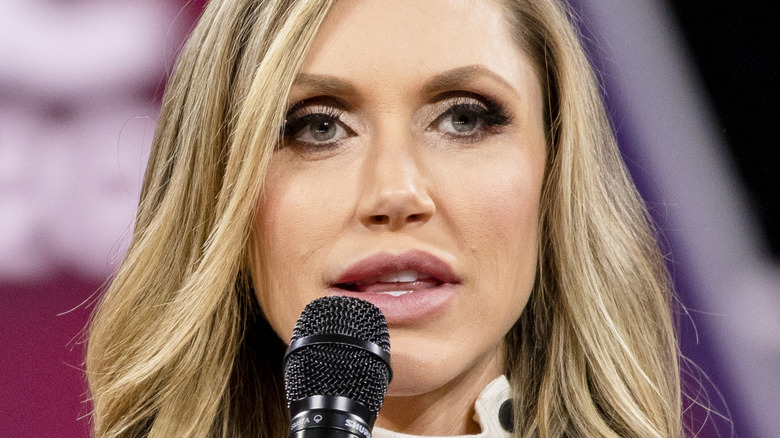 Samuel Corum/Getty Images
North Carolina native Lara Trump (née Yunaska) tied the knot to Donald Trump's son Eric Trump in November 2014 and suddenly life as she knew it had changed forever. "You are not just gaining a family, you are getting 6 million Twitter followers," her new brother-in-law Jared Kushner joked at the lavish affair, per Page Six. But aside from the influx of Twitter followers, a whole new professional world opened up for the newlywed as well. 
In 2016, Lara took a two-month hiatus from work and headed out on the campaign trail in an effort to help her famous father-in-law snag a W in the presidential election, per Insider. Spoiler alert: it worked. "[Being a part of this campaign] is the greatest thing I've ever done in my entire life. It's incredible," she gushed to Port City Daily about her involvement.
But what exactly did Lara do for a living prior to diving headfirst into the political world? The answer just might surprise you!
Lara Trump worked as a television producer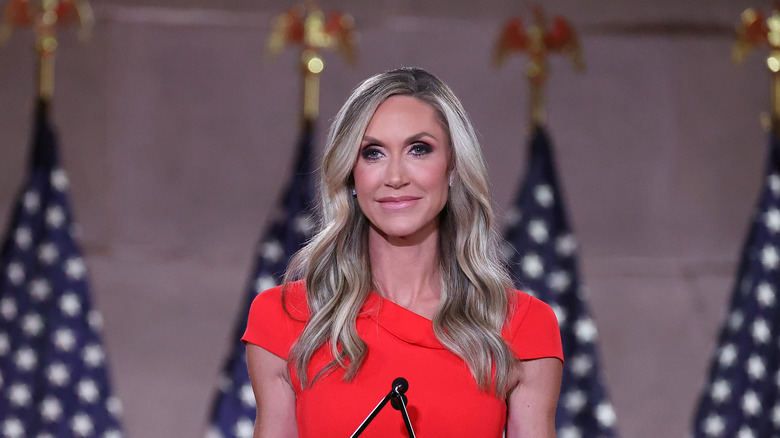 Chip Somodevilla/Getty Images
Lara Trump earned a degree in communications at North Carolina State University and a degree in pastry arts from the French Culinary Institute in New York City before eventually embarking on a career as an associate producer for "Inside Edition," per Town & Country. But that's not all. It's reported that she also worked as a personal fitness trainer (peep those biceps) and served on the board of her husband's charity, The Eric Trump Foundation.
Alas, after five years working at "Inside Edition," Lara opted to take a step back temporarily and focus all of her efforts of her father-in-law's 2016 presidential campaign. "I wasn't going to have the time to adequately dedicate to this," Lara explained to Port City Daily about the decision. "When they're reporting on your family on the show you work for, it's a little challenging. We managed to keep everything pretty even-keeled for the duration of this whole thing, but certainly it's nice to not have to worry about that from day-to-day," she added. And while the transition was initially referred to as a hiatus, Lara did not actually return to "Inside Edition" after the election. Per Insider, in March 2017, Lara took a new position as a senior consultant for Donald Trump's reelection campaign, and in March 2021 she joined Fox News as a contributor. 
Fox News gave Lara Trump her pink slip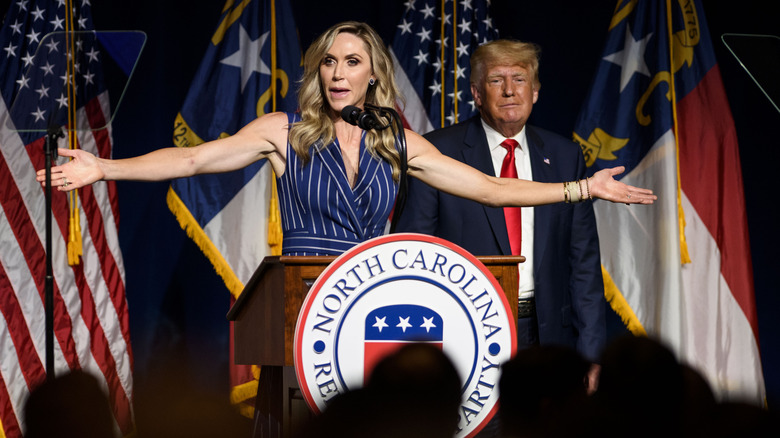 Melissa Sue Gerrits/Getty Images
You're fired.
In December 2022, on the heels of Donald Trump throwing his hat in the 2024 ring, Lara Trump's professional life made headlines again when Fox News confirmed that they had indeed served her walking papers. "We appreciate Lara's valuable contributions across Fox News Media programming," a spokesperson for the news outlet released in a statement on December 3, 2022, as reported by the LA Times. Still, losing her contributor gig at Fox News didn't exactly come as a surprise. The network has long held a rule that prohibits them from employing anyone that is running for office or is directly connected to a political campaign. 
And while it's reported that the parting of ways was amicable, others didn't appear too enthused with the decision — including Donald Trump himself. "Lara Trump was one of the smartest, quickest, nicest, and most professional people on Television. Her delivery, both in terms of presentation and content, was unbelievable — a true natural," he penned in a post on Truth Social (via New York Magazine). "Fox News is a much different place now than it was just a short time ago, but the audience loved Lara, her insight and vision — and so does the Trump Family!" he added. It should be noted, however, that if Trump is still pining for more of his daughter-in-law and her commentary, he can always tune into her podcast, "The Right View."