Who Is Mel Gibson's Much Younger Girlfriend, Rosalind Ross?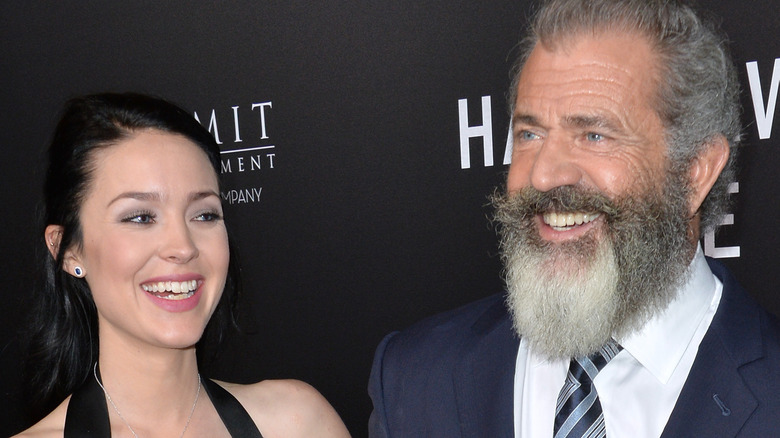 Featureflash Photo Agency/Shutterstock
Mel Gibson was one of Hollywood's biggest stars until his double life got the better of him. Over the years, Gibson has been arrested for DUI, accused of being anti-Semitic, caught on tape making racial slurs, and more. Not surprisingly, he was shunned by Hollywood. On the personal front, Gibson didn't fare any better. In 2010, he and Russian singer Oksana Grigorieva split, per People, after just a year of dating. The pair had a 5-month-old daughter and their separation initially came as a surprise. However, things got messy when Grigorieva filed a restraining order against her ex, per People (via TODAY), "I thought he would kill me." She also took Gibson to court and he admitted to slapping her one time, per TMZ, and was eventually sentenced to three years of probation, per Reuters, as well as counseling.
While Gibson's career never really recovered, his personal life did and he eventually found love again. This time, it was with a much younger woman named Rosalind Ross. Their three-decade age difference caused an uproar online and after they walked the 2017 Oscars red carpet together, folks on Twitter lost it. "THAT WASN'T HIS DAUGHTER??!??!" wrote one person while another quipped, "THAT WASN'T HIS GRAND DAUGHTER????!!!!!!" Meanwhile, others were less cynical with one supporter responding, "She gave him a son so there's love there after all." So who exactly is Rosalind Ross? Here's everything you need to know about Mel Gibson's much younger girlfriend.
Who is Rosalind Ross?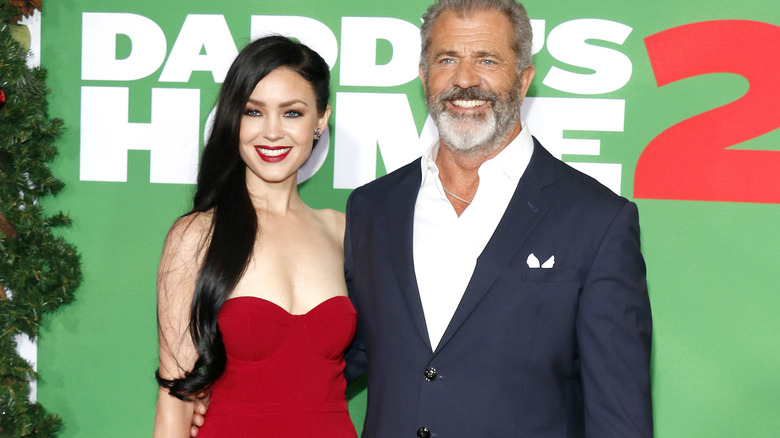 Tinseltown/Shutterstock
Rosalind Ross has a deep-rooted passion for the arts. As she shared with Hola!, "In college I studied creative writing and I thought that I might be a poet." She also became a world-champion equestrian vaulter. As Ambition reports, she actually has more team World Championship medals than any other U.S. female vaulter. However, after moving to Los Angeles, Ross discovered the appeal of writing scripts and shifted all of her energy to that. "I just sort of tried to learn by doing and I realized that I really, really loved it," she recalled. According to IMDb, Ross has written a 2014 short called "Homeward," and a TV series called "Matador." She's also helped develop scripts for Reese Witherspoon, David Oyelowo, and Mark Wahlberg, per Ambition.
It's actually the latter who pushed her to try directing. When Wahlberg was working on turning the real-life story of boxer-turned-priest Father Stuart Long into a movie, he called Ross and asked her to write the script for "Father Stu." She agreed, then he surprised her with the job of director, too. "I'm still wondering how I got involved!" she joked with the AV Club. A self-proclaimed introvert, she admitted it was scary. "The most daunting thing was knowing that I had to be around a bunch of people and in charge of them and steer the ship," she said. Even so, she went for it and, looking ahead, she also hopes to write a book one day, per Hola!
Inside Mel Gibson and Rosalind Ross' romance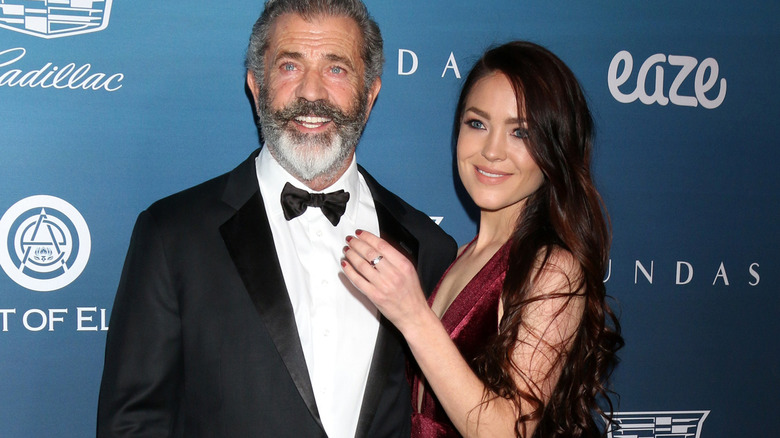 Kathy Hutchins/Shutterstock
Mel Gibson and Rosalind Ross may seem like an unlikely couple, but a shared passion for film brought them together and 2023 marks their 9-year anniversary. According to Daily Mail, they met when Ross was working on a script for Gibson's production company, Icon Productions. Their relationship went public in 2014 but their 34-year age gap got people talking and the actor addressed it head-on in 2016. "It's just a number," he told Mirror. "She is an adult and we dig each other." He went on to admit that "it might cause a problem and one has a trepidation about these things, but it's working out great." Indeed, they welcomed their first child together, son Lars Gerard, in January 2017, per People. "Mel is over the moon," a source told the outlet.
In addition to their growing family, the couple has also found time to work together (most recently on 2022's "Father Stu") and Gibson is fully supportive of Ross. Speaking with AV Club, Ross called Gibson "my mentor and a huge inspiration of mine" and gushed, "'Braveheart' is still my favorite movie of all time." However, she's adamant she's her own person. "I would be silly not to pick his brain, but I have a very different style and identity than him as a filmmaker and it was important for me to go on this journey by myself as an artist," she told The Orange County Register.