Priscilla Presley Speaks Out With Hopeful Message After Daughter Lisa Marie's Memorial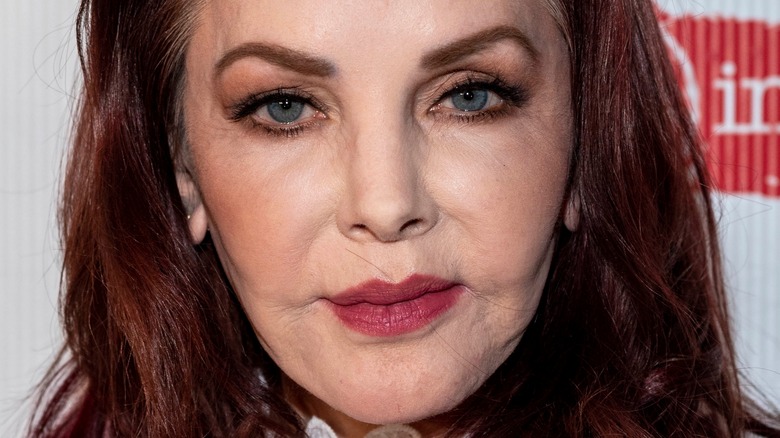 Eugene Powers/Shutterstock
Lisa Marie Presley was buried in Graceland's Meditation Garden in a private ceremony on January 19, following her tragic death a week earlier. Her final resting place is close to her father, Elvis Presley, and right next to her late son, Benjamin Keough, who tragically died at age 27. Just a few days later, on January 22, fans were invited to remember Lisa Marie at a public memorial service held at Graceland. As People reported, around 5,000 people showed up to support the singer's bereaved family. In addition to her mother, Priscilla Presley, Lisa Marie's three daughters, Riley Keough and twins Finley and Harper, were in attendance, as was the twins' dad, Michael Lockwood. 
According to Us Weekly, the ceremony began with The Tennessee Mass Choir performing "Amazing Grace," followed by a eulogy from Sarah Ferguson, the Duchess of York, and appearances by Alanis Morissette and Axl Rose. Riley was too emotional to speak, so her husband read a letter on her behalf. "I remember you singing to me and my brother lullabies at night and how you'd lay with us until we fell asleep," it went, per Page Six. "I remember how it felt to be loved by the most loving mother I've ever known." The most heart-wrenching moment, however, came when Priscilla spoke.
Priscilla Presley's moving tribute and hopeful message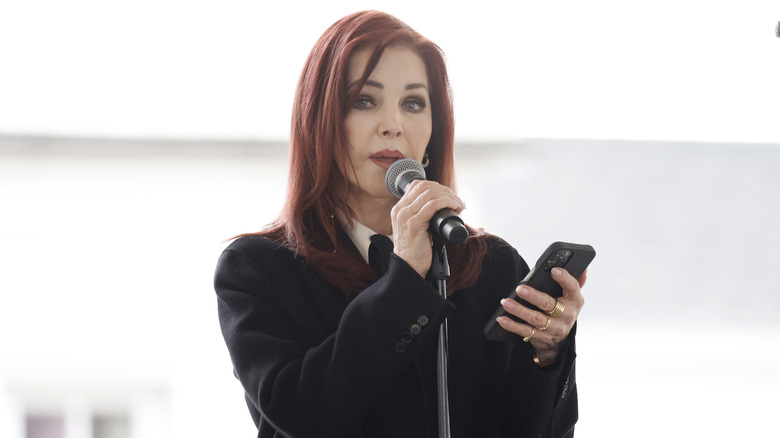 Jason Kempin/Getty Images
During Lisa Marie Presley's public memorial on January 22, Priscilla Presley addressed her family and friends, along with the fans who arrived to pay their respects, by reading a eulogy written by one of Lisa Marie's 14-year-old twin daughters. "Lisa Marie Presley was an icon, a role model, a superhero to many people all over the world, but Mama was my icon, my role model, my superhero in much more ways than one," she read from her phone (via Us Weekly). "Even now, I can't get across everything there is to be understood or known about her but as she always said, 'I'll do my best.'" 
Priscilla then read a poem titled "Old Soul," which Page Six noted could have been written by any of Lisa Marie's three daughters. The heart-wrenching prose touched on Lisa Marie's early life, struggles, and survivor's guilt. "Now, she is home where she always belonged, but my heart is missing her love," Priscilla read. "She knew that I loved her / I fear I'll never touch her / But the old soul is always with me / She doesn't drift above." Priscilla concluded with a short tribute of her own. "Our heart is broken," she said (via Us Weekly). "Lisa, we all love you."
Following the emotional ceremony, Priscilla took to Twitter on January 23 to share a hopeful message. "Thank you all for your condolences, you have touched me with your words," she wrote. "It has been a very difficult time but just knowing your love is out there makes a difference."