Khloe Kardashian Opens Up Like Never Before About Tristan Thompson's Late Mother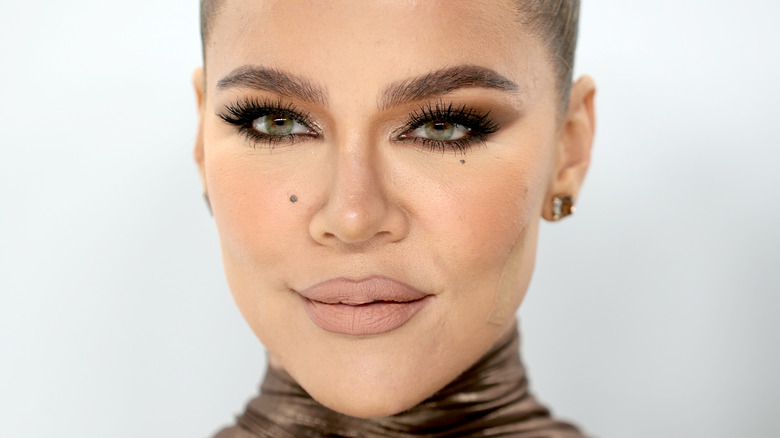 Dimitrios Kambouris/Getty Images
Tristan Thompson's mother, Andrea, died from a heart attack earlier this month — and the tragedy has reunited those closest to her. Shortly upon receiving the devastating news, Tristan immediately flew home to Toronto with ex Khloé Kardashian and their daughter True in tow, per TMZ. Despite the off-and-on nature of his and Khloé's relationship, Thompson's mother always had a bond with the Good American founder. "Khloe was very close to Tristan's mother, and as with any partner, friend, etcetera, the family will be first to support them, especially in this very difficult time," a source told ET.
With a private funeral scheduled for Andrea, Khloé, sister Kim Kardashian, and mother Kris Jenner are all expected to attend. In a heartfelt Instagram tribute, Jenner wrote that Andrea was "the most amazing, dedicated, devoted and selfless mom and such a loving, kind, and fabulous grandmother." Heartbroken, Jenner also extended condolences to not only Tristan but his brothers Amari, Dishawn and Daniel.
Amid speculation that Tristan and Khloé are possibly reconciling (again), the "Kocktails with Khloé" host has broken her silence on Andrea's tragic death.
Khloe Kardashian finally shares her heartbreak over Andrea Thompson's death
Khloé Kardashian didn't hold back the feels in her Instagram remembrance of Tristan Thompson's late mother, Andrea. Two weeks after the latter's death, the "The Kardashians" star explained in her January 24 post that she has been avoiding addressing it publicly. "Avoiding accepting this is real. I have so much to say but nothing at all," Khloé wrote. Nonetheless, the media personality acknowledged that she was "lucky to have had someone that makes saying goodbye so incredibly difficult."
Writing to Andrea that "I KNOW I will see you again," Khloé also mused at the notion of the former "rejoicing up there. Dancing and singing and probably yelling 'who does that!!' because we are crying at your loss." The Good American founder also assured Andrea that her youngest son, Amari, was in good hands (the 16-year-old was diagnosed with epilepsy in 2007, per The U.S. Sun). "We will all look after him, help him and protect him," Khloé vowed.
As for Khloé's romantic status with Tristan, sister Kourtney Kardashian asked her during a recent Vanity Fair lie detector test if she was "sleeping with Tristan." Khloé firmly replied, "No, I am not. I'm really not."