Matchmaker Believes In RHOP Stars Robyn And Juan Dixon's Remarriage After Secret Wedding - Exclusive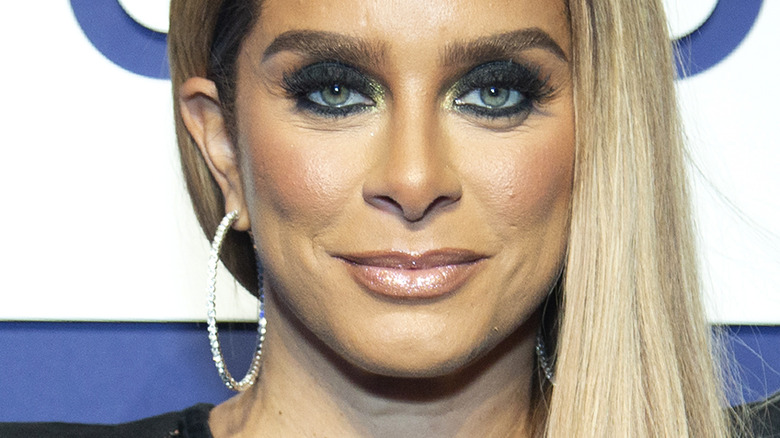 Santiago Felipe/Getty Images
"The Real Housewives of Potomac" star Robyn Dixon has remarried her ex-husband Juan Dixon in a private ceremony, per People. The two shared an unconventional relationship and lived together following their 2012 divorce. The split was due to Juan's infidelity. Not only did the exes live together, and even shared the same bed to keep a united front for their two sons, Corey and Carter. Robyn and Juan were also in financial straits after a bad investment, which the "RHOP" shared in the show.
Robyn told People that living together and dealing with being broke helped save their marriage. "[G]oing through those financial struggles and living together and supporting each other and watching each other get better and grow and establish careers, that actually helped bring us back together," she revealed.
In an "RHOP" Season 5 episode, Juan surprised Robyn with a proposal in front of friends and family. However, as "RHOP" Seasons 6 and 7 went on, there was still no sign of an impending marriage. Many fans and her cast members wondered if the wedding was actually going to happen and viewers thought the engagement was just for show. Now that they have married again, Susan Trombetti, matchmaker and CEO of Exclusive Matchmaking spoke to Nicki Swift about Robyn and Juan's love story.
Millionaire Matchmaker believes Robyn and Juan's second marriage will last
In August 2022, Robyn and Juan Dixon were seen getting a marriage license from a county clerk's office in Maryland, People reported. At the time, they weren't officially married, as they had to wait two days before applying to get married and had until February 2023 to file. Robyn and Juan have just made the deadline and despite the long road to finally tying the knot, professional matchmaker and CEO of Exclusive Matchmaking, Susan Trombetti, believes the second time's the charm for the Dixons. "When it comes to Robyn Dixon remarrying her ex-husband, Juan Dixon, I have to say this is absolutely not unheard of, and we even remember NeNe Leakes remarrying her husband. In real life, it happens quite often," Trombetti shared with Nick Swift.
The love expert told Nicki Swift was surprised that Robyn and Juan got married under the radar, but she thinks it's a positive thing. "It leads me to believe their love is even more genuine," Trombetti declared. She added that the couple were high school sweethearts and have a lot of history together. "You never forget someone you have been with since high school. It's kind of like your first love," she said. The expert matchmaker also pointed out that their two children also bring them together and shared her best wishes for them as a family. "They definitely seem in love," Trombetti concluded. Naysayers can finally put their comments to bed!