RHOP: The Untold Truth Of Robyn Dixon's Engagement Ring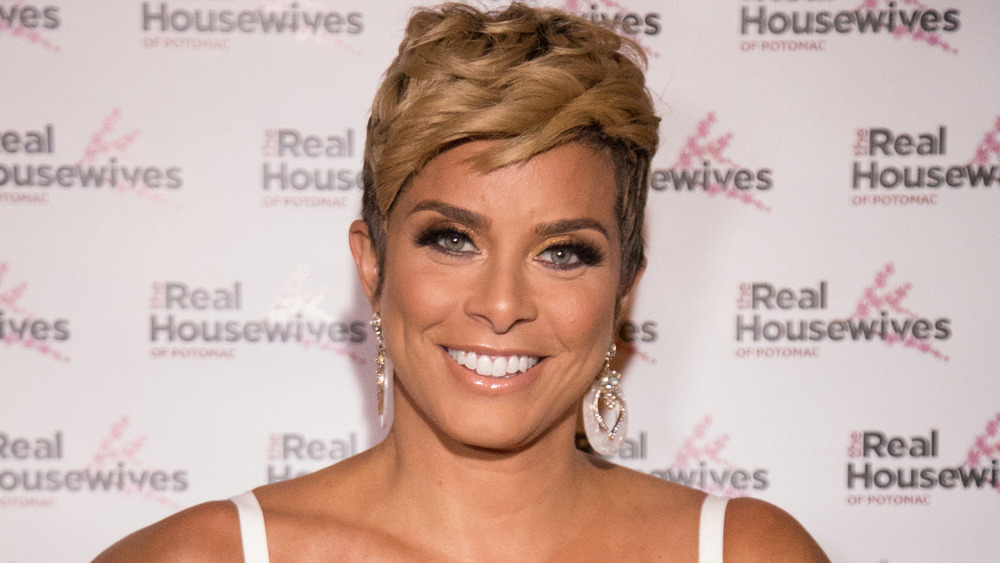 Brian Stukes/Getty Images
Real Housewives of Potomac's Robyn Dixon finally got the proposal she'd been dreaming about from her longtime partner and pro basketball star, Juan Dixon. Even though it's the second engagement for the two, fans have been shipping this couple since the first season of Bravo's hit reality show set in Potomac, Md. and D.C. area. According to The List, "The high school sweethearts were first married in 2006 and went on to have two children together. They divorced in 2012, but continued living together for the sake of their kids."
Throughout RHOP's five seasons, Bravoholics have been watching the pair rekindle their romance and wishing for Robyn's former husband to step up to the plate and fully be with her — perhaps by purchasing something a little more commitment-oriented than just sporting some ink on their ring fingers. Back in Season 4, Robyn and Juan decided to get tattoo hearts on their ring fingers to solidify their relationship. Sure, it was a step, but a baby step, to say the least. 
Now in Season 5, it appears that Juan is ready to take that big leap in their relationship, because he finally popped the question. However, with all non-traditional relationships, comes a few surprising details, such as the engagement ring. The sparkler, while wow-worthy, isn't your typical diamond. So, if you want to know more about Robyn's engagement ring and her thoughts about the rock, we've got you covered. 
Robyn Dixon's non-diamond ring matches her 'non-traditional' relationship
Robyn Dixon's engagement ring isn't your average diamond. In fact, the center stone isn't a diamond at all. According to People, "her new ring was made by jeweler Nicole Rose Kopelman and features an emerald cut pink morganite center with a double diamond halo surrounding the rose-tinted rock." According to BravoTV, Juan Dixon was also very involved in the ring design process, and while morganite isn't a diamond, it is exactly what Robyn envisioned.
Robyn Dixon ring is so pretty. pic.twitter.com/GyH8EEstxS

— Xtian Emiliano (@XTlANemiliano) December 5, 2020
Following her engagement, Robyn wrote in an Instagram post in December 2020, "An untraditional relationship calls for a non-traditional ring! I told a little birdie that if Juan ever proposed, I didn't want a diamond ring...that didn't work out too well the first time, lol." Adding, "I fell in love with the Pink Morganite stone because I wanted something with significance and meaning. Morganite represents unconditional love – something that our relationship exhibits and has relied upon."
So, it looks like Juan definitely nailed this proposal, even if it was the second time around for these love birds.