Inside Deion Sanders' Relationship With Tracey Edmonds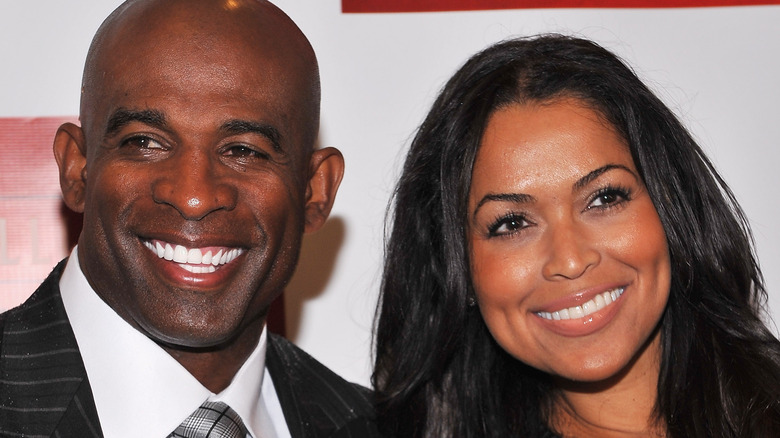 Fernando Leon/Getty Images
Deion Sanders has lived an exciting life on and off the field. After completing 14 successful seasons in the NFL and nine in the MLB, per CBS Sports, Sanders started coaching college football. Recently, Sanders made waves when he left Jackson State University for a coaching position at CU Boulder. The move was met with mixed reactions, but it appears Sanders isn't letting that affect him.  
Of course, Sanders' personal life has been just as eventful. As noted by Fan Buzz, the athlete wed Carolyn Chambers in 1989, with whom he welcomed two children. The couple called it quits on their marriage in 1998, and Sanders tied the knot with actress Pilar Beggar the next year. While the couple happily flaunted their love (and lavish lifestyle) on their reality show, "Deion and Pilar Sanders: Prime Time Love," their union came crashing down some years later. According to ABC News, their divorce was marred by court battles over custody and child support before ultimately being finalized in June 2013.
Since then, the divorced athlete has been attached to entertainment producer Tracey Edmonds, who People noted that he's been dating since 2012. And while their relationship hasn't yet culminated in marriage, he and Edmonds appear to share a genuine love and firm foundation.
A twist of fate brought Deion Sanders and Tracey Edmonds together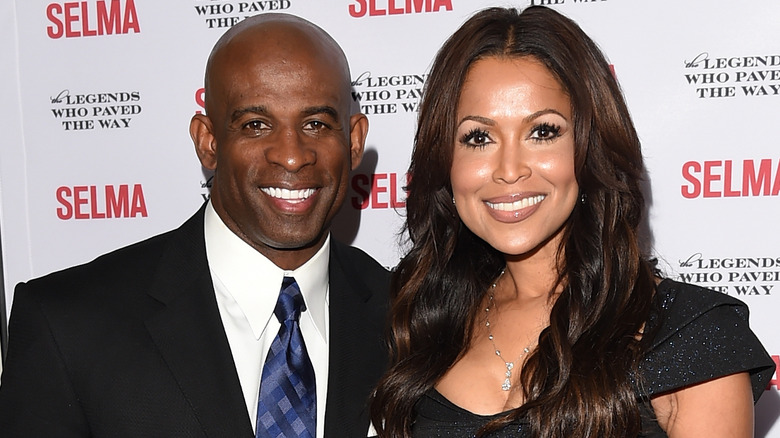 Jason Merritt/Getty Images
According to People, Deion Sanders and Tracey Edmonds first met at a party — presumably after his second divorce — and traded business contacts. Later, Sanders enlisted Edmonds to help develop his reality-TV comeback, "Deion's Family Playbook." And while Edmonds was only supposed to spearhead production, their blossoming romance changed the show's trajectory. "I started off thinking I was just going to produce [the show]," said Edmonds. "But as I started working with Deion on the show, we grew quite fond of each other and ended up dating." According to IMDb, the show, which premiered in 2014, lasted for one season. However, Sanders and Edmonds are still going strong.
On Valentines Day 2019, Edmonds announced on Instagram that she and Sanders were engaged. However, Sanders later appeared on the "Journeys of Faith" podcast and revealed that he had actually proposed weeks prior. Nearly four years later, Sanders and Edmon have yet to marry. And while extended engagements are increasingly common, Sanders has since revealed why they haven't tied the knot. "I didn't believe in long-distance marriages, number one," he shared, referencing that their careers have kept them apart. However, their dynamic works for them. "I love what both of us contribute to society and to this world," Sanders explained to People.
Deion Sanders and Tracey Edmonds have fun together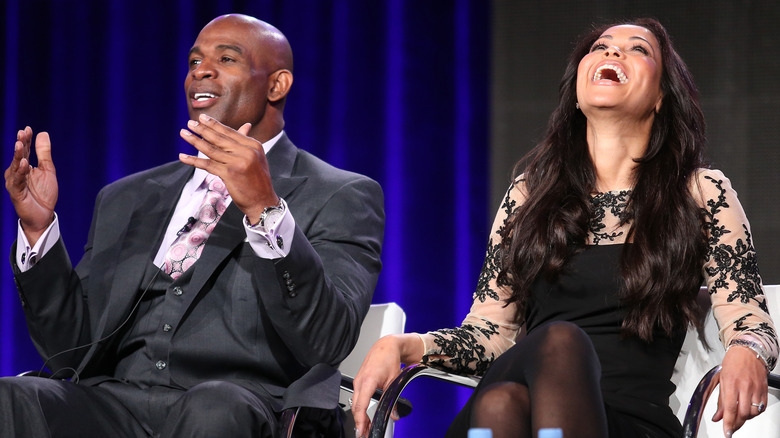 Frederick M. Brown/Getty Images
If laughter is good for the soul, it must also be good for relationships. At least that's the case for Deion Sanders and Tracey Edmonds. During an appearance on "The Steve Harvey Show," Steve Harvey asked Edmonds what about Sanders she was drawn to. "He's funny, and he keeps life fun," replied Edmonds. "I mean, it's exciting. And he's real, and I trust him." Seconds earlier, the couple hilariously proved Edmond's point after Sanders quipped that his recent hair growth made his fiancee feel like she had scored a younger man. "It's like she's cheating on me with me," said Sanders, drawing laughs from the audience. 
Of course, they're able to share laughs in real life too. Back in 2019, Edmonds tweeted about a laughter-filled outing with Sanders. "Fun times, bargain shopping, and LOTS OF LAUGHS today having my FIRST #FirstMonday flea market experience with my [heart] @deionsanders and our wonderful friends @jayyo26 @isomyoung in Canton, Texas! Sending out #weekendlove to everyone!" she wrote.