The Jeremy Renner Snowplow Accident Report Paints A Harrowing Picture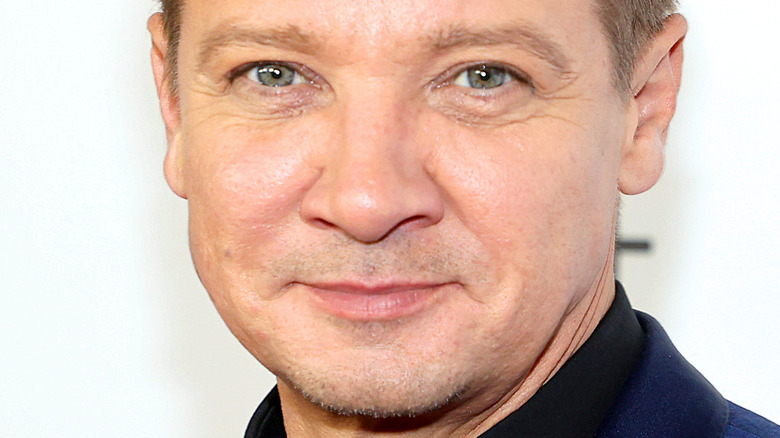 Theo Wargo/Getty Images
Marvel star Jeremy Renner was airlifted to a hospital in Nevada after a snowplow accident left him severely injured, Sergeant Kristin Vietti of Washoe County Sheriff's Department told Deadline in early January. Renner's rep later confirmed to Deadline that the actor "suffered blunt chest trauma and orthopedic injuries" and needed surgery. While his condition was listed as critical, Renner was stable and was even able to share an update with fans on Instagram two days later. "Thank you all for your kind words. Im too messed up now to type. But I send love to you all," he captioned a photo of himself from his hospital bed.
Renner has a long road to full recovery but he has been released from the hospital. "Outside my brain fog in recovery, I was very excited to watch episode 201 with my family at home," he tweeted, referring to the premiere of Season 2 of "Mayor of Kingstown." As time goes by, more details about what happened when Renner was crushed by a snowplow in Washoe County Nevada on New Year's Day. As fate would have it, Renner was actually on a bit of a rescue mission himself just before everything happened.
Jeremy Renner was helping his nephew before things went awry
The Washoe County Sheriff's Office report filed on January 20 includes some new information about what led Renner out into the snow on January 1. Based on a copy of the report obtained by CNN, we now know that Renner left home to go help his nephew whose truck was stuck. At one point, Renner jumped out of the snowplow that he was driving — a Pistenbully — but didn't engage the emergency brake. As such, the snowplow began sliding. "When Renner attempted to stop or divert the Pistenbully to avoid injury to (his nephew), he was pulled under the vehicle by the track and run over," reads a line from the official report. It was at this point that Renner was "completely crushed under a large snowcat (vehicle)" and had "extreme (difficulty) breathing," as "the right side of his chest ... collapsed – upper torso is crushed," the report continued. Renner's nephew did what he could to help him until emergency personnel arrived on the scene.
On January 21, Renner provided fans with a glimpse into his recovery as he was doing physical therapy at home. "Morning workouts, resolutions all changed this particular new years," Renner captioned an Instagram snap, adding that he has more than 30 broken bones. Based on the aforementioned report, Renner is definitely lucky to be alive and with his beloved family.