Janice Dickinson Testifies Against Bill Cosby In Andrea Constand Retrial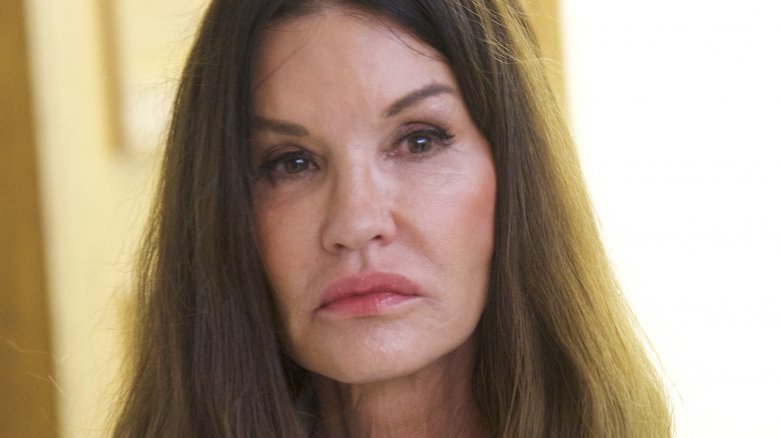 Getty Images
Janice Dickinson spoke out at Bill Cosby's sexual assault trial for the alleged 2004 sexual assault of Andrea Constand.
On Thursday, April 12, 2018, Dickinson took the stand and claimed that Cosby had drugged and raped her in 1982. As reported by E! News, she alleged that, while in Lake Tahoe at the time, she complained to the comedian that she was experiencing menstrual cramps and that "Cosby said I have something for that." Dickinson told the court, "Cosby gave me a little blue pill. After I took the pill I started to feel dizzy and woozy. Cosby said we'll finish this conversation let's go upstairs so I followed him to his room."
The supermodel continued, "I was feeling really lightheaded and it didn't sound like my words were coming out. I couldn't get the words out I wanted to say. After I took pictures he got on top of me as I was seated on edge of bed. I remembered his smell of cigars, espresso, body odor ... I couldn't move, I was motionless ... wondering what the heck is he doing ... I was in shock I didn't consent to this I hadn't said yes. I didn't fly to Tahoe to have sex with Mr. Cosby."
Dickinson noted that she then felt "vaginal pain" and passed out when Cosby allegedly entered her. When she woke up in the morning, she said that she didn't know where she was. She claimed she then saw that she had semen between her legs and felt "anal pain" and noted that she didn't have any pajama bottoms on.
Dickinson testified that Cosby didn't say anything to her about what had happened the next day. "He didn't say anything and it made me feel like I was crazy," she told the court. "I said you're married how did this happen why did you do it? I wanted to hit him I wanted to punch him in the face ... I felt disgust, humiliated, ashamed..."
When asked why she hadn't called the cops immediately after the alleged incident, Dickinson explained, "Because I finally made it as a model and had conservative clients, shows, TV commercials, Revlon and I had clients that would not appreciate the fact that I had been raped and gone to police and I felt victimized."
According to Good Morning America, Cosby's attorney, Tom Mesereau, challenged Dickinson's claims, citing passages from the former America's Next Top Model judge's 2002 memoir, No Lifeguard on Duty: The Accidental Life of the World's First Supermodel. Mesereau reportedly referenced a section of Dickinson's ghost-written book that alleged that Dickinson had rebuffed Cosby's advances in Lake Tahoe before "popping two Quaaludes and going to sleep" alone.
In response, Dickinson claimed that the story in her book was made up. "It's all a fabrication there because I wanted the paycheck for my kids," she said, adding that the ghost writer had taken "poetic license."
Stating that she was now telling the truth, Dickinson — who said she'd cut out the story of her alleged sexual assault after a publisher warned her that it would hurt her career — told the court, "I put my hand on the Bible and I swore. I wasn't under oath when I wrote the book."
As noted by Page Six, Cosby faces three counts of aggravated indecent assault for allegedly raping Temple University employee Andrea Constand in 2004. Though Constand had testified against Cosby in 2017, she will have to testify again in the ongoing retrial, as the first trial had been declared a mistrial when the jury couldn't reach a verdict.
Constand is expected to take the stand on Friday, April 13.
If found guilty, Cosby, who's been accused of sexual misconduct by more than 50 women, faces up to ten years in jail on each count.