The Bizarre Rumor That Swirled Around Suri Cruise's Birth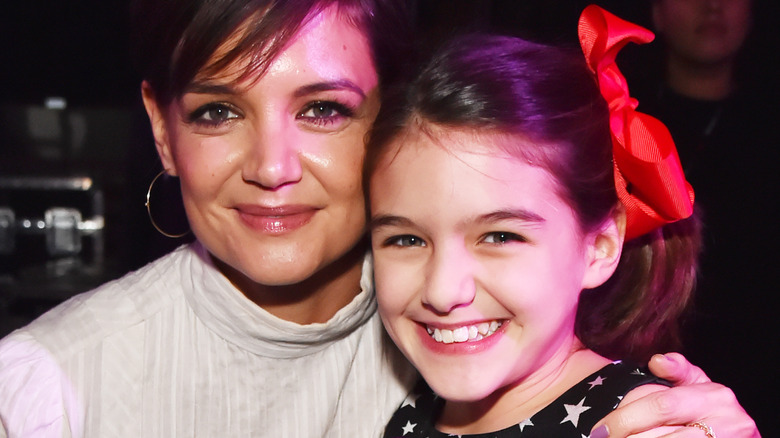 Kevin Mazur/Getty Images
In the mid-aughts, Suri Cruise's birth and the circumstances surrounding it brewed into the perfect pop culture firestorm. For one thing, there was already a tabloid preoccupation with her parents, "Top Gun" star Tom Cruise and "Dawson's Creek" alum Katie Holmes. Suri's gestation also caused a sensation because it happened at a time when celebrity gossip blogs were proliferating. On top of that, there was a mysterious religion that many people knew little about to weave into stories about Suri.
Suri scored a photo spread in Vanity Fair after she was born in 2006, but she lives a more low-key life these days; Holmes' fans have grown accustomed to seeing Suri pop up on her mom's Instagram on occasion. In 2018, Us Weekly reported that Suri is never photographed with her father, whom Holmes divorced in 2012, because Tom stopped seeing her years ago. "He chooses not to because she is not a Scientologist," an insider explained. This after Tom told Vanity Fair, "I always said to myself that my children would be able to depend on me and I would always be there for them."
Luckily for Suri, her mom's her biggest cheerleader. When Suri was 4, Holmes spoke to New York Magazine about her pride in her daughter, saying, "I will be applauding for the rest of my life." But ahead of Suri's arrival, some reports claimed that Holmes was not allowed to be loud and proud while giving birth.
What Tom Cruise said about the 'silent birth' rumors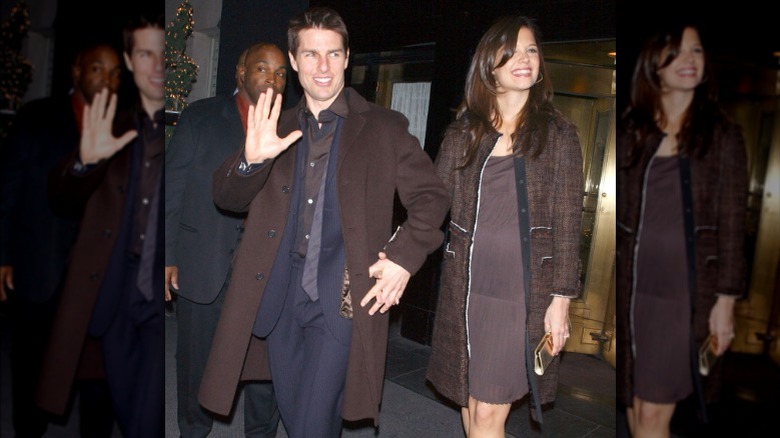 Arnaldo Magnani/Getty Images
The tabloids put a lot of pressure on Katie Holmes not to make a peep while pushing in the delivery room; rumors swirled that she would embrace the Scientology ideal of a "silent birth." Per the New York Post, Scientologists believe that what babies hear during birth can scar them for life, which means that everyone present in the delivery room, medical staff included, have to zip it. As for mothers-to-be, John Travolta's late wife, Kelly Preston, explained what's expected, telling Today, "Silent birth is basically just no words, as much as possible. If you need to moan, if you cry out, you know, all of that of course, that's normal. Just bringing them in as peaceful and gentle a way as possible."
According to the Post, the biological moms of the two children Tom Cruise adopted with ex-wife Nicole Kidman were told to adhere to the practice. And when it was time for Holmes to give birth, Star claimed Cruise tried to make it easier for her to do the same by presenting her with a custom-made pacifier designed to fit inside her mouth and muffle any moans of pain (via People).
In a "Primetime" interview (via ABC News), Cruise denied the big binky story and insisted that Holmes did not have to take a vow of silence. "But why have other people make noise?" he said. "You want that area very calm."
Katie Holmes addressed other rumors about her pregnancy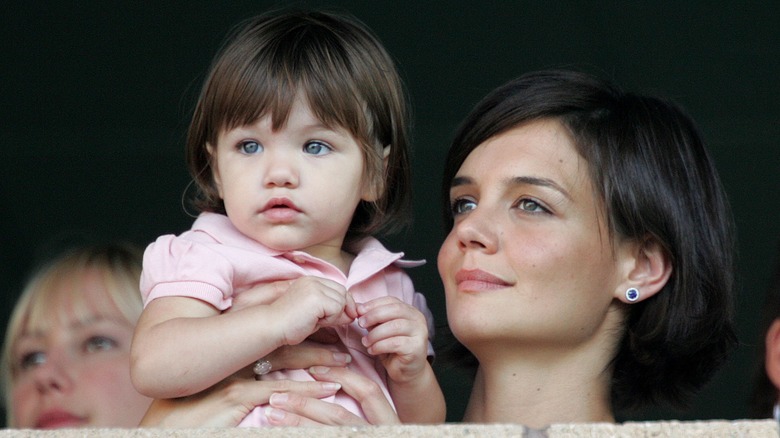 Toby Canham/Getty Images
Some of the reporting on Katie Holmes' pregnancy seemed to perplex the actor. "This 'Where is Suri?' controversy. Tom and I looked at each other and said, 'What's going on?' We weren't trying to hide anything," Holmes said in her post-birth interview with Vanity Fair. This was in reference to the tabloids' obsessive speculation on why it was taking so long for Holmes and Tom Cruise to give them a glimpse of baby TomKat. As reported by People, some conspiracy theorists saw the long wait for photos of Suri as evidence that Holmes had faked her pregnancy. There was even speculation that her plan went awry and she and Cruise needed time to procure a replacement baby. Per TV Guide, a rep for Cruise also had to shoot down another outlandish rumor that Suri's real biological father was L. Rob Hubbard, the late founder of Scientology.
TMZ repeated a rumor that TomKat was delaying Suri's photographic debut because the parents wanted to get the best possible payday, but according to Vanity Fair, they did not ask for any money when they reached out to the publication to plan Suri's first professional photoshoot. And while Cruise was admonished by some medical professionals for purchasing a sonogram machine for home use, Holmes explained he wasn't playing doctor. "We were followed by paparazzi and so my doctor had to make house calls. The sonogram was for his use!" she said.