A Look Inside Eminem And 50 Cent's Relationship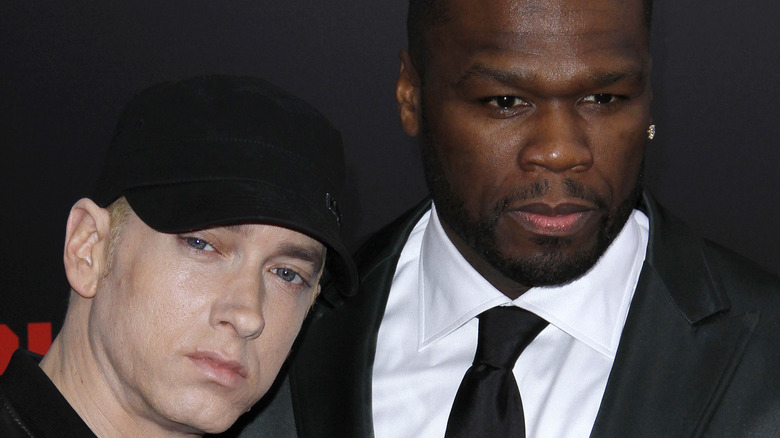 Donna Ward/Getty Images
Eminem and 50 Cent were two of the most popular hip-hop artists of the early 2000s, and while that could have caused a rivalry, they formed a friendship that has spanned decades. Just like Dr. Dre discovered Eminem, the "Slim Shady" rapper signed 50 Cent after hearing his underground mixed tapes, per Today. 50 Cent had previously been signed with Columbia Records but was shot nine times, causing the label to drop him.
After hearing the unsigned artist's music, Eminem and Dr. Dre signed the burgeoning star under their respective labels, Shady Records and Aftermath Records, which both fell under the parent company Interscope Records. "Get Rich or Die Tryin'" was released in 2003, and several songs from the album reached the upper echelons of Billboard's Hot 100 list. On working with two of hip hop's heavy hitters, 50 Cent shared with Today, "I had trust issues at first. If I fail, it has to be because I made a mistake. It's not until you get in a crew like when I joined Eminem and Dr. Dre that I could become comfortable enough with people to take their advice." Years later, he and Eminem still remain as close as ever.
Eminem praises 50 Cent during Walk of Fame ceremony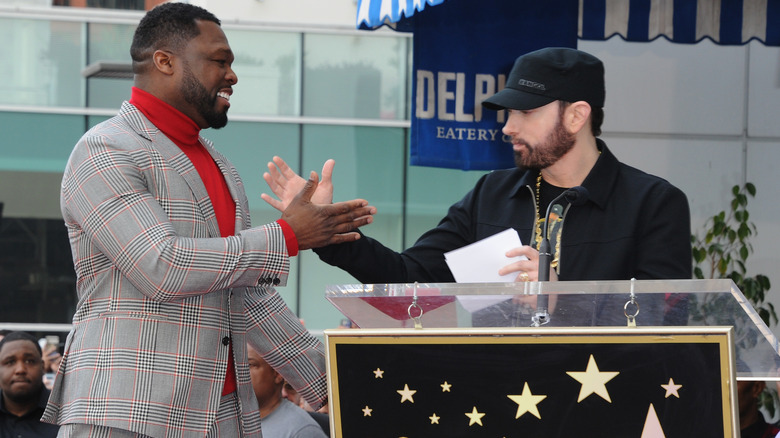 Albert L. Ortega/Getty Images
50 Cent's success over the years earned him a star on the Hollywood Walk of Fame in January 2020. As reported by Billboard, the "In da Club" rapper was surrounded by his mentors Eminem and Dr. Dre as he received the honor. "I don't think my career would've been what it was without [Dr. Dre and Eminem's] support," he shared. Eminem then took the mic and stated, "Of all the things I don't remember about 2002, I have a very clear memory of the first time I met 50. One of the first things I noticed was his presence. It just kind of felt like he was going to be a star. He was the whole package." He went on to call 50 Cent "one of the best friends" he's had and praised him for being there during his times of need.
50 Cent later shared the one thing Eminem did that kept him laughing. "To this day, you know what's ill about Em? He hits me randomly," he shared in an interview for Thisis50 (via BET). He revealed that Eminem would text him hilarious NSFW jokes that take things to "a whole 'nother level." 50 Cent added, "This guy, I'm always going to have love for him. That's my guy. The other guys, they're not going to mean the same thing like that." The two shared such a close bond that 50 Cent managed to rescue Eminem during one of the lowest points in his life.
50 Cent covers for Eminem during a bumbling interview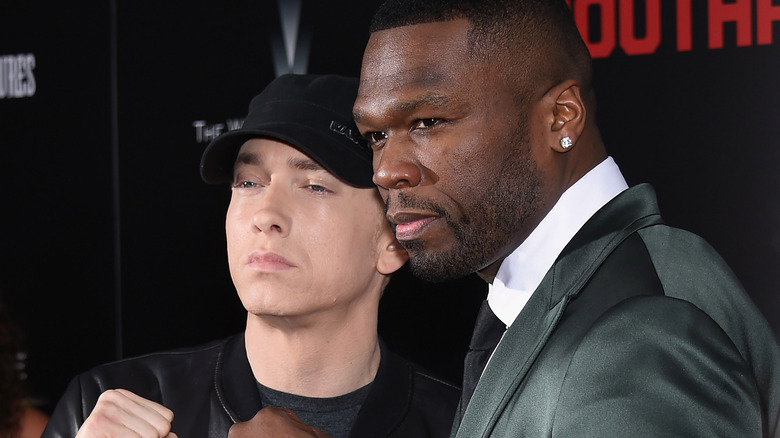 Dimitrios Kambouris/Getty Images
In 2022, Eminem opened up to XXL about his battle with addiction and how 50 Cent helped him through a tough moment in 2000. "I'm coming off The Marshall Mathers LP and going into Encore when my addiction started to get bad. I was taking Vicodin, Valium and alcohol," he revealed. After a performance with 50 Cent and G-Unit, the trio did an interview, and Eminem was too intoxicated to answer. "That's when the wheels started coming off. One of the hosts was talking to me and I could not understand a word she was saying. 50 had to cover for me and answer every question," Eminem shared.
That same year, Eminem pushed for 50 Cent to take the stage alongside him at the Super Bowl LVI halftime show. Snoop Dogg — who also performed during halftime — explained during an appearance on "Drink Champs" that Eminem "called for" 50 Cent to be a part of the show, with Snoop explaining: "That's his guy." Fellow rapper and "Drink Champs" co-host N.O.R.E. called Eminem and 50 Cent's relationship "spiritual," and undoubtedly, their friendship runs deep.