Why Christina Hall And Her Husband Had A Secret Courthouse Wedding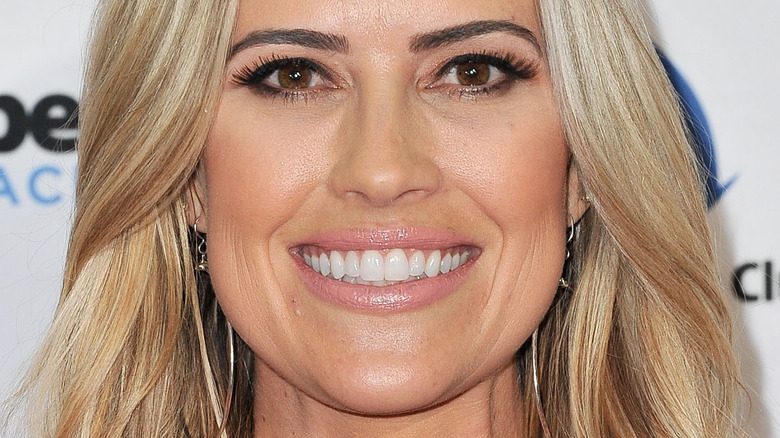 Allen Berezovsky/Getty Images
Christina Hall is all about living her best life and sharing it with her fans. She got in major hot water over one such disclosure: the infamous toad venom controversy. On July 8, 2021, Christina shared on Instagram that she found healing from anxiety in a less orthodox way. She said she "smoked a Bufo toad (which basically reset my brain and kicked out years of anxiety in 15 mins)." Since it's technically a psychedelic, this was upsetting news to her ex-husband, Tarek El Moussa, with whom Christina shares two children. However, it seems like things settled down and they've since put on a united front for their children, and the joint ventures that they still had with HGTV.
But Christina's Instagram post about the Bufo toad was revealing on another level too. It was her moment to introduce us to her now-husband, Joshua Hall. "I met Josh when I wasn't in a state of fear or fight-or-flight," Christina began, and that's where she explained that she used psychedelics to ease up some of that deep-rooted anxiety. At the end of her post, she wrote, "So yes 'another relationship' and guess what. I'm 38 -I'll do what I want." We are all about this. And since Christina shared that she's embracing new-found privacy, it's not totally shocking that she and Josh married in a secret ceremony.
Christina and Joshua had a courthouse wedding to soak up the privacy
Christina and Joshua Hall didn't let anyone when they married. The duo kept things top secret and it was only months later that TMZ unearthed records of a private courthouse wedding in April 2022. The outlet actually discovered Christina's name change because it was recorded on her real estate license. Her previous last names, including Haack and El Moussa, were recorded on the document, and Hall was recorded as the newly changed name. TMZ noted that they didn't know when Christina and Joshua had tied the knot.
Christina actually addressed her secret wedding in a premiere episode of her new show "Christina on the Coast," People noted in December 2022. She held up her left ring finger for her co-star James to show a big, diamond ring and wedding band. "There's something I have to tell you," Christina said. "We just did it low key and we're gonna do a ceremony later."
During a confessional in that episode, Christina explained that even her kids weren't present for the private nuptials. "At this point in my life, I really value privacy when I can get it," she explained. "So Josh and I decided to do a courthouse ceremony, just the two of us. Something private, just for us. And then later we'll do a reception for the kids and family."
Christina and Joshua had a ceremony in Hawaii with guests
Christina and Joshua Hall had a wedding ceremony with friends and family in September 2022, per People. The couple picked Maui, Hawaii as their romantic destination, and they were joined by Christina's kids. Her two sons, Brayden (whom she shares with Tarek El Moussa) and Hudson London (whom she shares with Ant Anstead) walked her down the aisle, while her daughter, Taylor El Moussa, stood with her mom during the ceremony.
Christina shared a photo of the special day on Instagram on September 4, 2022. "Shared vows in front of family and our close friends," she captioned the photo. "Everything in life has led me to where I am right now, which is exactly where I want to be. My dream man on the dreamiest island. Maui holds a special place in my heart. What an amazing night filled with love." Joshua also pinned the photo on his Instagram page. It would seem that Christina and Joshua got the best of both worlds: an intimate ceremony and a family-filled ceremony in Hawaii.