How Justin Bieber Responded To Aaron Carter's Diss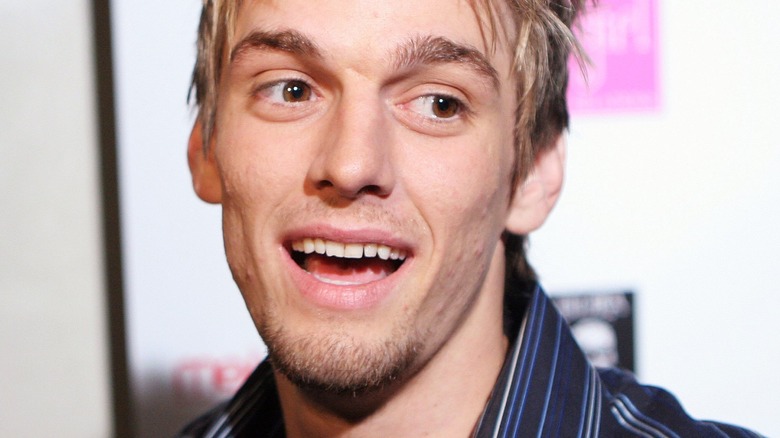 Chad Buchanan/Getty Images
At one point in time, Aaron Carter was one of the most famous singers on the planet. It's safe to say the pop star captured the hearts of tweenagers across the globe with his catchy music and boy-next-door look. The star churned out plenty of hits during his career, starting when he was pretty young. In 1997, Carter released the song "Crush on You," and in the years after, he had a lot of other sing-a-long-worthy songs like "I Want Candy" and "Aaron's Party."
A few years after Carter made waves in the music industry another singer made a name for himself as a pop sensation, too. In 2009, Justin Bieber released his first single, "One Time," and his career skyrocketed. There's no doubt that Bieber has reached superstar status, and he's easily one of the most talked-about artists of all time.
While Carter and Bieber came from similar backgrounds, they have had their disagreements. In 2015, Bieber's attorney, Aaron Rosenberg, dissed Carter in a Billboard interview after he answered the question of how did Bieber "not turn into Aaron Carter?" Rosenberg credited Bieber for staying grounded, but Carter took offense, telling Oprah Winfrey that he found the interview "upsetting." The star added, "I found such offense in that. I thought that was outlandish. Maybe there is some sort of threat, here?" And that was not the only time the pair's feud made headlines. It happened again in 2018, but on Twitter.
Justin Bieber takes the high road on social media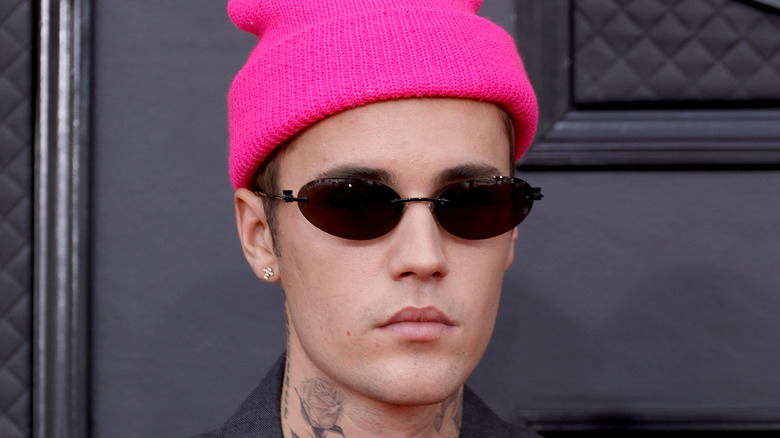 Frazer Harrison/Getty Images
In 2018, Aaron Carter took to Twitter to call out Justin Bieber in a not-so-subtle way in front of his legion of fans. "Listen, man. I can't sit here & just not say anything to that; I've been in this industry before he was born. I've had harder times and always bounce back," he began. "No I'm not Justin Bieber I'm Aaron Carter. I'm also in construction. I paved the way. These kids have NEVER paid me homage."
Many fans commented on the post to weigh in with their thoughts, and the tweet also happened to catch the eye of Bieber. Rather than remaining silent about Carter's diss, Bieber took the high road in his response. "Aaron carter i had your album when I was little. And bumped the song Aaron's party. I was like 7. if you need a hype man I got you," the singer wrote in the first tweet. In his second tweet, Bieber wrote, "all love over here Aaron. You got my support." It didn't take long for Carter to reply to Bieber's kind words and reel it back a little. "I appreciate your support means a lot. Nothing but love bro," Carter replied.
Carter's feud with Bieber also came up during an episode of "Marriage Bootcamp," where Carter spoke about his tour schedule and growing up in the spotlight. "I don't think it was that much — you weren't a Justin Bieber," his mother commented. Ouch.
Inside Aaron Carter's beef with brother Nick Carter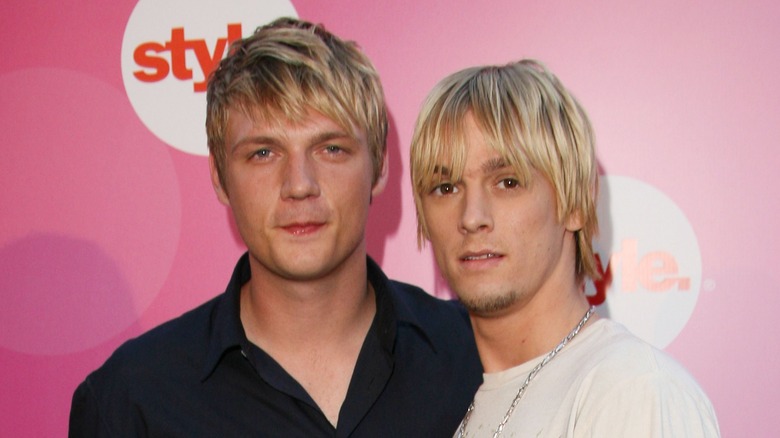 Chad Buchanan/Getty Images
There's no doubt that things between Aaron Carter and Justin Bieber were rocky at times, but the feud between Aaron and Bieber isn't the only one of his that's been publicly followed. Aaron also feuded with a few other big names in the music industry, including his brother, Backstreet Boys member Nick Carter. The "I Want Candy" singer spoke about his struggles with his brother occasionally, including in an interview on "Elvis Duran and the Morning Show" in 2017 (via Us Weekly). One of the instances Aaron called out his brother for was when he got a DUI. Nick reached out to Aaron and offered his support on Twitter, but Aaron didn't like it. "Like dude, what are you talking about? You don't even know me, Nick," he said. "You don't even talk to me. We see each other once or twice a year, and I'm keeping it real with you, and that's what it is." But, even though things have been tough, Aaron still pointed out that he loved his brother.
The same year, Aaron spoke to Us Weekly about his rocky past with Nick, saying that things were going well between them at the time. "My brother and I have always had an up-and-down relationship," he confessed to the outlet. "We're brothers — what do you expect? We both do the same thing too, so there's always going to be an underlying competition."