Why Aaron Carter Was A No-Show At His Brother Nick's Wedding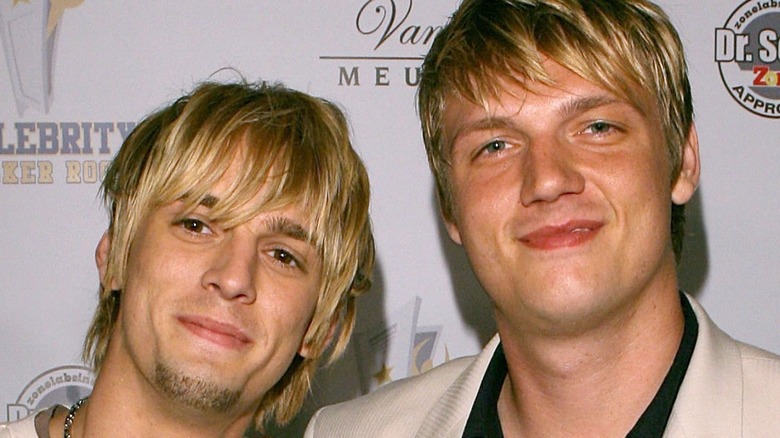 Michael Buckner/Getty Images
Aaron Carter and Nick Carter had a tumultuous relationship that was in the spotlight not only because both were in the music industry, but also due to their reality show "House Of Carters." Following Aaron's tragic death in November 2022, his brother took to Instagram to share a touching tribute. "My heart is broken. Even though my brother and I have had a complicated relationship, my love for him has never ever faded," Nick wrote while including a series of childhood photos.
In April 2014, Nick tied the knot with his sweetheart Lauren Kitt in a relatively low-key ceremony in Santa Barbara. The guest list was just over 100 people and included fellow Backstreet Boys members A.J. McLean and Howie Dorough, per People. At the time, McLean reflected on how emotional it was to watch his bandmate walk the aisle. "It was bittersweet," he told People in 2014 when discussing Aaron's wedding. "We're so, so proud of him. He's been through hell and back as we all have, once in our life here or there," McLean added. One person who was notably absent from the nuptials was Nick's brother Aaron.
A few months earlier, in February 2014, Aaron walked his twin sister Angel down the aisle for her wedding. Apparently Nick skipped his sister's wedding to attend his own bachelor party, per Us Weekly. That however, did not influence Aaron's decision to miss his brother's big day, as he had a valid excuse. 
Aaron Carter tried to make the wedding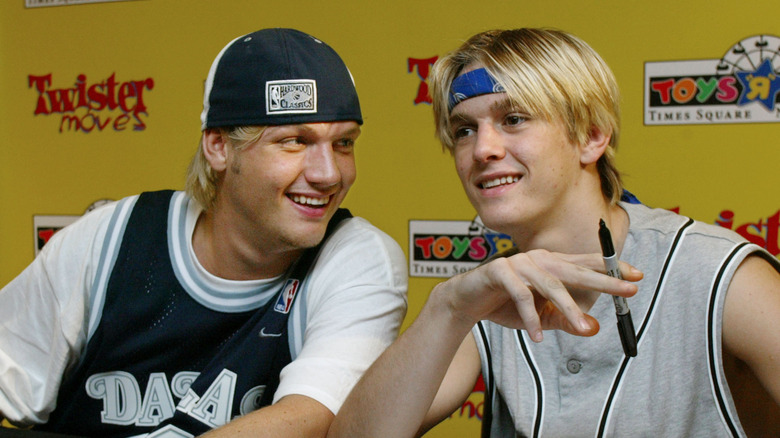 Stuart Ramson/Getty Images
Aaron Carter had every intention of going to Nick Carter's wedding in April 2014, but the "I Want Candy" singer was unable to attend due to flight difficulties. "Really pissed off that I missed my brothers wedding today," Aaron wrote in an Instagram post alongside a shot of him in a plane. "I hope he doesn't hate me .. I tried to get there ... I'm sorry bro @nickcarter #technicalProblems," he added (via Us Weekly).
Prior to learning Nick's wedding date, Aaron had signed up to perform at the National Cherry Blossom Festival Parade in Washington, D.C. that same day, but had scheduled a flight so he could attend the tail-end of the ceremony. "Aaron was legitimately busting his a** to make it to his brother's wedding. He felt awful and had every intention of being there," a rep for the singer told E! at the time.
While it appeared Aaron had every intention of trying to fit the wedding into his schedule, his relationship with Nick became fractured years earlier. Their friction dated back to Nick missing sister Leslie Carter's funeral in 2012, as the "I'm All About You" artist revealed during a 2020 interview with VladTV. The interviewer asked Aaron if that was what drove the brothers apart. "What do you think? Would you be pissed off at your brother if he did that?" he replied. Years after Leslie's funeral, and Nick's wedding, the relationship between the brothers became more fraught.
How their relationship ended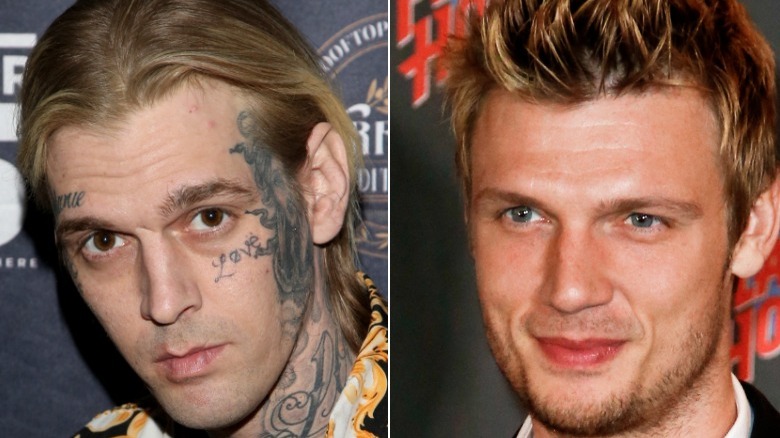 Debby Wong/Shutterstock & Gabe Ginsberg/Getty Images
Following the death of his sister, Nick Carter explained why he did not attend her funeral. Part of the reason was due to the frayed relationships with his siblings. "I wanted to be at my sister's funeral, but my family has always had a complicated dynamic," the "I Want It That Way" singer told E! News in 2012. At the time, rumors circulated that the rest of the Carter clan had kept the Backstreet Boy in the dark about the burial, but Aaron Carter dispelled that gossip. "I wish Nick could have been there, but he had other obligations. Anything stating Nick was uninformed of the funeral is untrue," Aaron told the outlet.
Sadly, the relationship between the two brothers became especially contentious leading up to the "Do You Remember" crooner's death. At one point, in 2019, Nick even filed a restraining order against his younger brother. A couple years later, Aaron claimed his family was attempting to put him in a conservatorship. A source claimed there was no validity to those claims, as Aaron and Nick had been estranged for years. "They do not speak and there is no conservatorship attempt happening," the insider told E! News in 2021.
Fortunately, the Carter brothers were reportedly able to bury the hatchet. "[Aaron] was on the path to making amends with so many people in his life, and he had made amends and made peace with Nick," a source told HollywoodLife in 2022 after Aaron's untimely death.