Keke Palmer Subtly Confirms The Sex Of Her First Child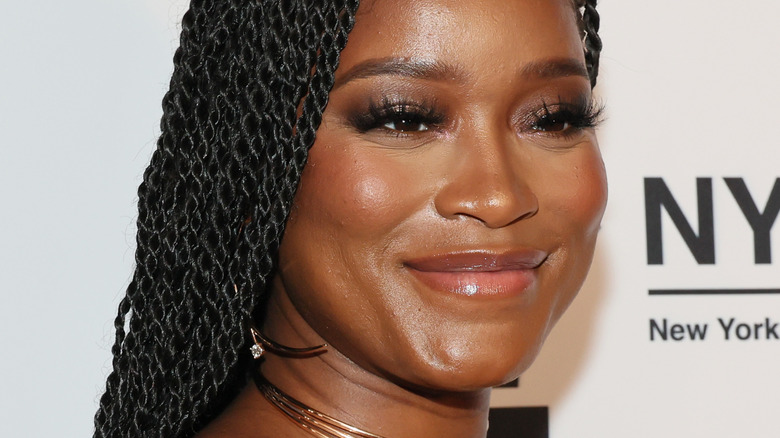 Dia Dipasupil/Getty Images
It's no secret that Keke Palmer is pregnant. Palmer came clean and flaunted her baby bump during her "Saturday Night Live" hosting debut in December 2022. During her "SNL" monologue, the actor admitted, "People have been in my comments saying, 'Keke's having a baby,' 'Keke's pregnant' and I want to set the record straight. I am!" She's expecting her first child with boyfriend Darius Jackson, per E! News.
Needless to say, it's an exciting time for Palmer. The star recently appeared on "The Tonight Show Starring Jimmy Fallon," and beamed when talking about her future child. Jimmy Fallon said, "When you announced it on 'Saturday Night Live,' that was the best thing!" Palmer explained, "I always thought to myself, you know, I would love the opportunity to host 'SNL.' I just did not know it would be the same time that I was pregnant." 
She and Fallon continued to reflect on the moment, which was clearly an important memory for Palmer. But it didn't end there. In the interview, Palmer spilled some more tea about her pregnancy.
Keke Palmer referred to her 'baby boy'
In a recent appearance on "The Tonight Show Starring Jimmy Fallon," Keke Palmer casually revealed the sex of her child. She said, "So my baby is either going to be a Pisces or Aries ... Pisces are known to be very deep. They're emotional creatures. So I just want to make sure I'm not too blunt for my baby boy." Fans were thrilled about Palmer's slip, and took to Twitter to express their excitement. One user wrote, "Aww, Keke Palmer is having a Baby Boy!" Another fan tweeted, "The fact that the whole world is happy that Keke Palmer is having a baby boy that speaks volumes." 
The revelation comes just weeks after Palmer hinted she was having a daughter. On January 3, she tweeted, "It kills me when guys are disappointed that they are having a girl, like they aren't the reason for that genetic outcome lmao. Also, baby girls are a blessing." Well, her latest admission settles those rumors!