The One Outfit Madison LeCroy Regrets Wearing On Southern Charm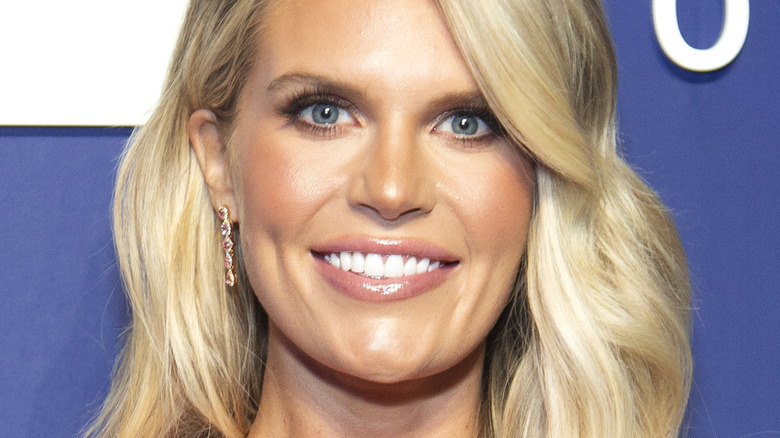 Santiago Felipe/Getty Images
Even the stunning Madison LeCroy has some fashion regrets—though, to be fair, her track record is mostly hits. The "Southern Charm" beauty knows how to enter a room and keep all eyes on her. It seems she manages to keep eyes on her even from a distance. There was talk that Alex Rodriguez, back when he was engaged to Jennifer Lopez, had reached out to LeCroy. In the explosive Season 7 reunion for "Southern Charm," some of her co-stars alluded to these messages. "He contacted me. And yes, we DMed," LeCroy said of Rodriguez (via Us Weekly). "But other than that, there was nothing. I've never physically seen him, touched him. I am not a f**king liar and I will stand up for that." Naturally, the entire internet seemed to jump in on this story.
LeCroy has since moved on from these rumors and married Brett Randle in a destination wedding in Mexico. She's obviously living her best life. But, that Season 7 reunion for "Southern Charm" haunts her still and not entirely because of A-Rod. It's because her biggest fashion regret also occurred on that reunion episode. And babe, that's so much more serious.
Madison LeCroy regrets her 'BeetleJuice' dress
Madison LeCroy couldn't sleep one night, so she gave fans the chance to ask her questions. On October 10, 2022, LeCroy shared on Instagram: "Ask me a Q? I can't sleep." Fans jumped at the chance to get juicy details from LeCroy herself, and someone asked her about sartorial choices on Bravo's "Southern Charm."
"Biggest fashion regret from past seasons of SC?" they asked (via Reality Blurb!). LeCroy responded by posting a photo of herself in the black and white dress she wore for the Season 7 reunion episode, which she dubbed the "BeetleJuice" dress. To be fair, she looks incredible, but it was a bold choice. In hindsight, it's pretty clear that LeCroy didn't love that look, since it's not prominently featured on her social media feed. There's no solo photo of it on Instagram and the only reference she does make to her "BeetleJuice" dress is a video clip of the reunion episode. Since LeCroy is so active on Instagram, we can only guess that she didn't want to highlight the dress by giving it more space than she already had.
Madison LeCroy also got asked about her crooked lip
During the same question and answer session on Instagram, Madison LeCroy was asked about her crooked lip. A fan asked, "Why does your lip have a slight slant to it when you talk?" (via Reality Blurb!) LeCroy shared a photo of herself as a baby with the same slant, and wrote back, "Just born with a crooked lip (just like my dad's)."
LeCroy's lips have come up before. On Instagram Stories in August 2019, she had it up to here with everyone's speculations, and while lying in bed in a robe, LeCroy shut down the rumors. "Listen I want to announce this," she began (via Bravo). "Those of you who are asking about my crooked lip. I was born this way. No plastic surgery. No stroke or anything like that. So if you have something negative to say, keep it to yourself. Got it? Good." So we know that LeCroy won't sport a black and white striped dress again and we doubt anyone's going to ask her again about her lips!