Here's How Much Kim Kardashian Paid For Some Of Elvis Presley's Belongings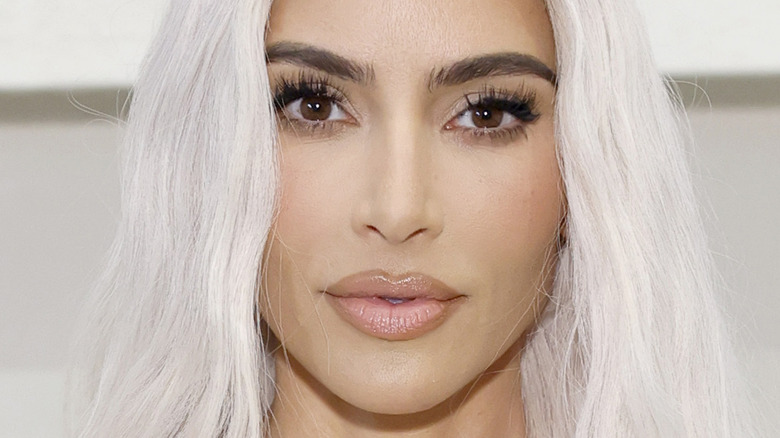 Stefanie Keenan/Getty Images
From rocking Marilyn Monroe's dress to the 2022 Met Gala to her more recent purchase of one of Princess Diana's pieces of historic jewelry, it's no secret that Kim Kardashian is a fan of celebrity memorabilia. It's hardly a surprise, then, that a few years ago, when the opportunity arose to stock up on a few of Elvis Presley's belongings, she jumped at the chance. Just one question: how much do these pieces of history cost?
Kardashian has long been known for her interest in buying items previously belonging to deceased celebrities, with her first notable purchase taking place just over a decade ago. Back in 2011, Forbes revealed that she had become the brand new owner of jewelry worn by the late Elizabeth Taylor. At the time, Lorraine Schwartz told the outlet that Kardashian had felt it imperative to get the specific items Taylor wore on a regular basis, and wasn't interested in any replicas — so it only makes sense that when it came time to pay up, she was more than willing to shell out. The number that helped her secure the pieces? A whopping $64,900. 
That $64,900 was far from a fluke, though. Per Harper's Bazaar, Kardashian coughed up £163,800 (more than $200,000) for the cross previously worn by Princess Diana. So, when she chose to buy some things from Presley's estate in 2019, very few were shocked that she was game to pay a pretty penny. 
Let's just say, her gift to Rob came with a big price tag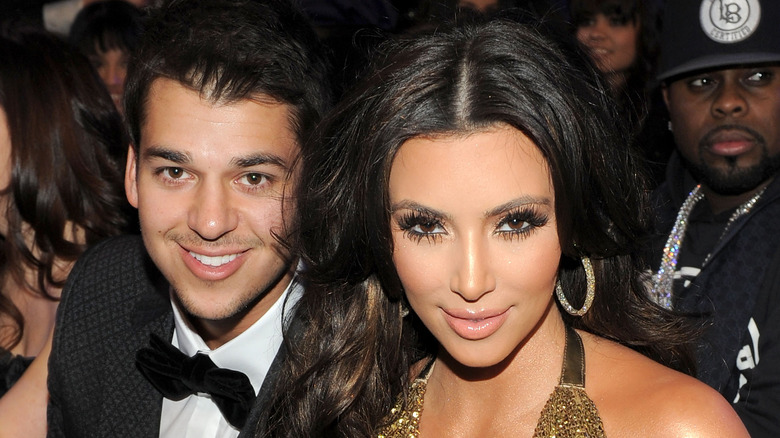 Larry Busacca/Getty Images
If anyone knows the value of a celebrity pre-owned piece, it's Kim Kardashian, so we're not shocked that when she learned of an auction that could make brother Rob Kardashian smile, she was only too happy to whip out her cheque book. 
As seen in screenshots published by Who Wore What Jewels, Kim took to Instagram during the 2019 Holiday season to reveal that she'd bought Rob a pretty epic Christmas gift. "My brother is the biggest Elvis Presley fan, so I got him two of Elvis's rings for Christmas!" she wrote, alongside pictures of the rings in question. According to screenshots taken of the auctioneer's website and seen by Billboard, the two rings together added up to a nicely rounded $15,000. And the award for best big sister went to ...
Let's just say, as much as this was a gift to Rob, Kim made no secret of her own excitement about the purchase. In fact, she was quick to remind her followers that buying celebrity memorabilia on auctions was her idea of a day (and money) well spent. "I'm obsessed with auctions," she wrote. In other words, being the highest bidder was a win-win situation for both of the Kardashian siblings.
... But the Kardashians' links to Elvis go deeper than rings
Michael Ochs Archives/Getty Images
It's worth noting that while Kim Kardashian paid an impressive price for two precious Elvis Presley artifacts, she and her family actually have another interesting link to the late rock sensation. And, we're not just talking about Caitlyn Jenner's ex-wife, Linda Thompson, who famously dated Elvis. Oh no — as it turns out, Robert Kardashian (that would be, Robert Kardashian Senior) was once in a relationship with none other than Priscilla Presley. 
In her 2011 memoir, "Kris Jenner ... And All Things Kardashian," Kris herself revealed that soon after a pre-marriage breakup from Robert, he went on to have a particularly high-profile courtship with Elvis' ex-wife. The new development left the now-famous momager "bummed" to say the least. In fact, even after Robert and Priscilla had gone their separate ways, she admitted to being "apprehensive that Robert would start thinking about Priscilla again." 
Given the history, then, it only makes sense that Kim was willing to buy pieces from Elvis' collection for her younger brother. After all, one link to the King is a feat most people could only dream of, let alone several ties to his family. $15,000 seems like a fair price to pay for a piece of pop culture history. However, as Kim herself admitted upon the purchase, celebrity auctions are her happy place (via Who Wore What Jewels), so something tells us she'd have forked out the cash to secure the pieces, either way.