Jay Leno Suffers More Injuries From Motorcycle Wreck Not Long After His Fiery Accident
lev radin/Shutterstock
Car aficionado Jay Leno is becoming something of a real-life stunt driver. The iconic comedian suffered third-degree burns on the left side of his face in November 2022 while fixing a fuel line in his 1907 White Steam car, per the Las Vegas Review-Journal. After gasoline sprayed on his face and hands, an accidental spark ignited flames, including all over Leno himself. As he spilled on "The Adam Carolla Show" last December, the comic was saved from harsher injuries by a friend present on the scene. Recalling seeing the flames, Leno had told his friend at the time, ""Dave, I'm on fire' ... By that time my face is pretty burnt." Thanks to his friend's quick work — pulling Leno out, covering the flames, and employing a fire extinguisher — the flames did not damage his eyes or ears. 
Admitted to a hospital burn unit immediately, the comedian told TMZ shortly after that he was okay and only needed "a week or two to get back on my feet." Luckily, the former "Tonight Show" host's estimation was accurate, getting back outside just 11 days after he was discharged, per Today.
Unbelievably, the comic just revealed that he — once again — got into a major vehicular wreck recently.
Jay Leno remains unfazed after his second vehicular accident in two months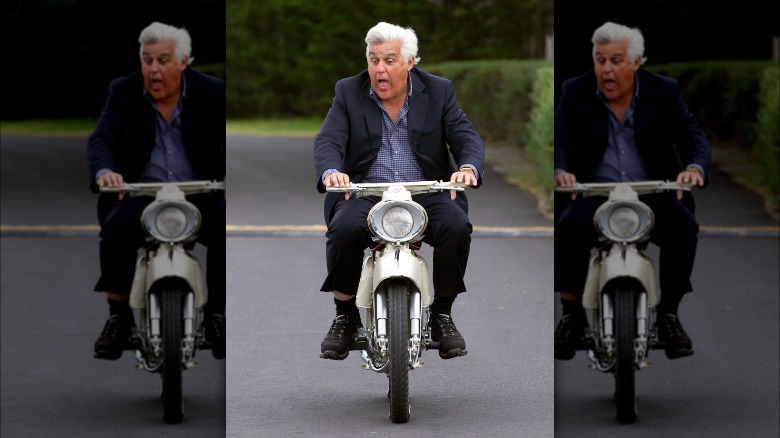 Bloomberg/Getty Images
Jay Leno is somewhat of a living inspiration and cautionary tale all-in-one to gearheads. Two months after experiencing third-degree burns due to his garage accident, the 72-year-old comedian revealed he recently got into a motorcycle wreck, suffering major injuries again. Detailing the incident to the Las Vegas Review-Journal, Leno shared that the January 17 incident, which he kept quiet until now, happened as he was testing a 1940 Indian motorcycle. Noticing the smell of leaking gas, Leno recalled that he "turned down a side street and cut through a parking lot, and unbeknownst to me, some guy had a wire strung across the parking lot." That's when the wire knocked Leno off his bike, sending him flying while "the bike kept going." Emerging with a broken collarbone, two fractured ribs, and two cracked kneecaps, Leno insisted to the Journal, "I'm OK!," adding that he was even working in the coming weekend.
Although it remains to be seen how fast Leno's recovery will be this time around, he was left with pretty damaged skin after last November's burns. In a photo obtained by Today, Leno, while flashing a peace sign to fans at a gas station, showcased a gnarly gash across his forearm and visibly burnt skin across his hands and chin.