T.J. Holmes And Amy Robach Officially Get The Boot From GMA During Ongoing Affair Drama
Dia Dipasupil/Getty Images
T.J. Holmes and Amy Robach have been in hot waters with ABC since November 2022. According to Daily Mail, the two GMA anchors have been in a secret romantic relationship with each other for six months, despite being married to different people. The media outlet obtained photos of the two at a New York bar and at a weekend getaway trip in upstate New York. It was also reported that viewers could sense the chemistry between the two anchors before their relationship was outed.
Once the news broke out about their alleged affair, Holmes and Robach defended the timeline of their relationship. "This was two consenting adults who were each separated," a source told People, mentioning that both of them broke up with their respective spouses in August 2022 before they started romantically seeing each other. "They were both separated so they felt very comfortable dating in the open after that."
Shortly after, Holmes and Robach were both taken off air so ABC could investigate the alleged affair. "The investigation is trying to find out what staff saw before it was exposed in the media," an insider told Us Weekly. It was reported that the investigation was mainly looking into how the secret relationship affected the workplace environment. And now it looks like ABC has made their decision on what to do with these co-anchors.
T.J. Holmes and Amy Robach were fired from GMA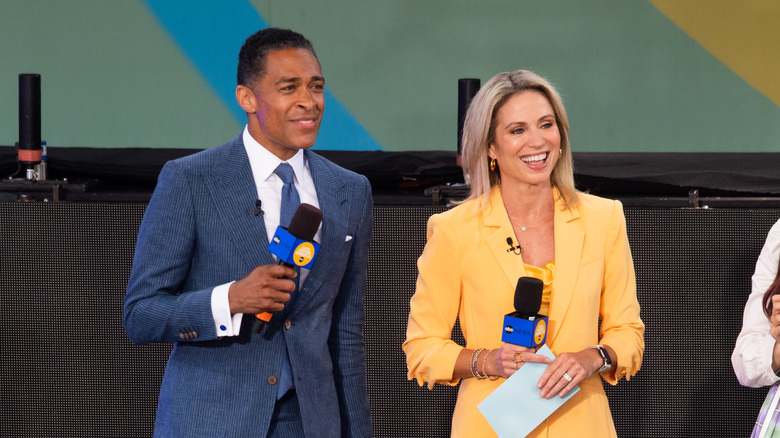 Noam Galai/Getty Images
On January 25, it was reported that ABC was contemplating the future of GMA anchors T.J. Holmes and Amy Robach. "A lot of higher-ups at the show think they should be fired," a source told People. "But the problem is they can't fire them so they're really in trouble and trying to figure it out." It was indicated that punishment was inevitable, but the "degree of punishment" was what was hard to agree on.
And on January 27, the fate of the anchors was determined. According to TMZ, Holmes and Robach were fired from ABC. Insiders told the media outlet that the network determined the two anchors didn't handle their romance well, citing the fact that it took too long to reveal the relationship to network executives and that the secret romance made ABC staff members "uncomfortable."
It was previously reported by ABC network president Kim Godwin that the two had not broken any network rules, per the New York Daily News. But because of the publicity the alleged affair had been getting, it caused "an internal and external disruption" with the network and its public image.