Kanye 'Ye' West Under Investigation Following Confrontation At North's Basketball Game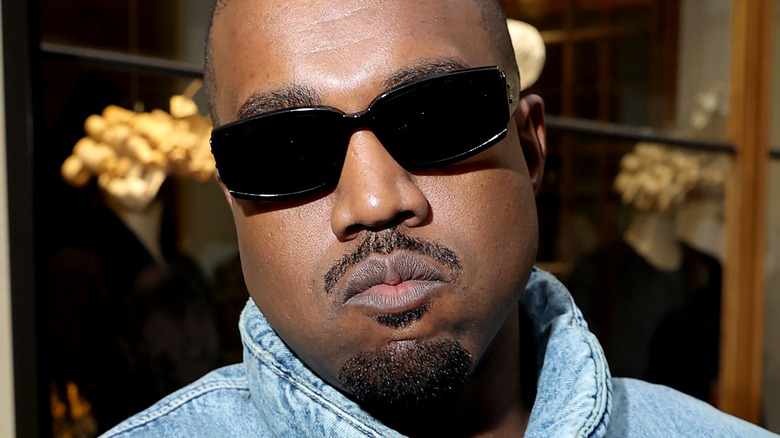 Victor Boyko/Getty Images
Kanye 'Ye' West has faced his share of backlash in the last year. The rapper lit the fire on high-profile partnerships after he made derogatory remarks towards the Jewish community. In a now-deleted tweet (via TMZ), he wrote, "I'm going death con 3 on JEWISH PEOPLE." Balenciaga, Adidas, and GAP subsequently cut ties. In a statement (via CNBC), Adidas explained, "Adidas does not tolerate antisemitism and any other sort of hate speech. Ye's recent comments and actions have been unacceptable, hateful and dangerous, and they violate the company's values of diversity and inclusion, mutual respect and fairness." Other companies expressed similar sentiments.
Ye's ex-wife Kim Kardashian spoke out against Ye, tweeting, "Hate speech is never OK or excusable. I stand together with the Jewish community and call on the terrible violence and hateful rhetoric towards them to come to an immediate end."
Amid his losses, Ye has leaned on his new wife, Bianca Censori, for support. Surprisingly, they were recently seen shopping at Balenciaga, per Page Six. And just a day later, the rapper stirred up a fresh batch of controversy after a run-in with a woman.
Kanye 'Ye' West threw a woman's phone
Kanye 'Ye' West is in serious trouble for an incident after his daughter North West's basketball game. A video on Twitter shows a series of unfortunate events unraveling. While in the car, Ye argued with paparazzi for taking his photo. He said, "I want to just see my kids. Everybody gotta stop when I see my kids." Later in the video, Ye got out of his car to face off with a fan. As she stayed inside her car filming the rapper, Ye confronted her. He said, "Stop with your cameras!" She claimed "You're a celebrity!" which only agitated Ye further, as he grabbed her phone out of her hand and threw it. As a result of this confrontation with the unnamed woman, Ye is now the subject of a battery investigation, per TMZ.
Ye's ex-wife Kim Kardashian has made it clear that she doesn't want to be involved. In a video acquired by Page Six, a photographer asked, "Hey Kim, what do you think of Kanye hitting someone ... [sic] the paparazzi's phone?" Kardashian replied, "Do not talk to me about that."